the history of the burning of tripe swamps in 2014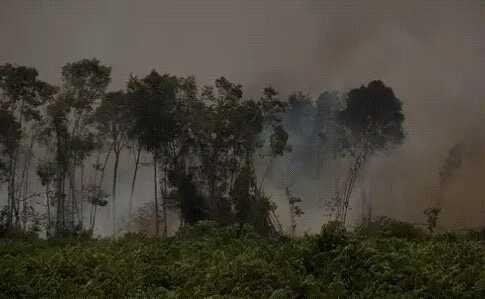 Tripa Peat Swamp, Aceh. again burned since early March 2014. Detected 69 hotspots in oil palm plantation business permit, mostly in concession of PT. Gelora Sawita Makmur (51 hotspots), PT. Kalista Alam (14), PT. Surya Harvest Subur II (2) dam PT. Shining Eternal (2). TKPRT urges the government to act decisively and ask for accountability of concessionaires and HGU concession holders.
Fadila Ibra, spokesperson for the Tripa Swamp Rescue Coalition Team (TKPRT), in Banda Aceh (18/3/14), said there has been no attempt by palm oil concessionaires to extinguish fires in their concessions. In fact, two companies at Tripa Kalista Alam and SBS II are facing legal proceedings for burning land in 2012. "If the fire is not extinguished it will further aggravate the damage to Tripa Swamp ecosystem."
According to him, due to the burning of the land was a thick haze blanket Alue Billie, the capital of Darul Makmur District, Nagan Raya District. "The last information from the community, the thick haze, the ashes of the burning debts of the land fly in the Alue Bilie settlement," he said.
Tripa Swamp in the Leuser Ecosystem Area (KEL), located in the District of Southwest Aceh and Nagan Raya District, covering an area of ​​61,803 hectares. Tripa Swamp is the most important peatlands on the west coast of Aceh besides Swamp Kluet and Rawa Singkil.
TKPRT said there was no reason for the company to allow the burning of land. They have signed a statement certifying the ability to provide adequate facilities, infrastructure and emergency response systems to cope with fires in land clearance or management.
"Check out the field, realization? This field fact should be a reference for the HGU evaluation team that has been declared by the Governor of Aceh, the work we are looking forward to, "Fadila said.
Ilham Sianambela, Head of Rumoh Transparency Atjeh, said that the Aceh Government and district / municipality governments are required to conduct supervision and supervision of plantation business to improve business performance and quality.
According to Ilham, it is time for the Aceh Government to ask for the responsibility of the license holders. "It is imperative that they ensure there is no burning of land in their concessions. If it does not meet the obligation, revoke the permit. "
Since the late 80's Tripa peat swamp area became a palm oil concession. In Tripa area there are five large private estates, namely PT. Kallista Alam, PT Surya Harvest Subur 2 (former PT Agra Para Citra), PT Gelora Sawita Makmur, PT Dua Perkasa Lestari and PT Cemerlang Abadi. Total concessions reached 35,000 hectares, plantation operations have been halted due to the Aceh conflict.