My Love Affair With Nettles...
Yes, I'm talking about the stinging nettles!
In reply to @naturalmedicine question and challenge - How has a natural medicine impacted your life? #NaturalMedicines contest is at: https://steemit.com/naturalmedicine/@naturalmedicine/contest-win-sbd-by-sharing-your-natural-medicine-story I give you: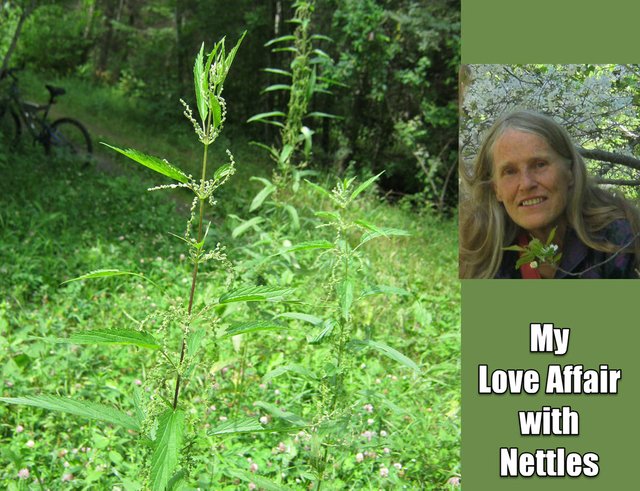 It wasn't always this way. When I was younger, at camp, I had my first run in with stinging nettles and it was painful! I learned to stay clear of that plant.
Fast forward 30 years when I got into intensive gardening and learned about the benefits of nettle teas as a natural fertilizer for my plants and adding them to my compost.
Okay so nettles aren't so bad and I didn't have any in my area anyways.
Next move was up to northern Saskatchewan on our acreage that grows lots of nettles and I'm trying to establish my gardens.
By this time I had made friends with nettles but still didn't want them to grow where I was cultivating my garden because of the stings I was getting working in my garden.
I found a remedy for that - along with all the nettles growing around my garden there was also the plantain herb growing close by. By crushing the leaves and rubbing some of the juice where I was feeling the sting, it would take the sting away. That and learning how to handle nettles so you don't get stinged, allowed me to welcome the nettles into my garden, keeping it in its own area.
After doing more research on nettles I found they had a lot of health benefits if you ingest them (recipes to follow.)
See my prior post on the benefits of nettles at:
https://steemit.com/health/@porters/foraging-from-the-wild-benefits-of-nettles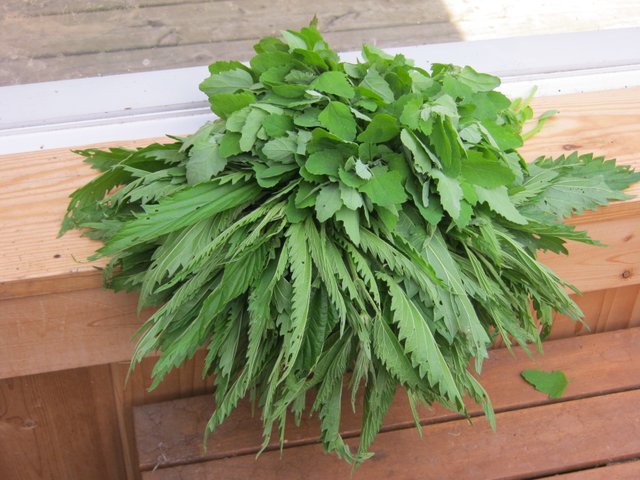 Now I look forward to the first young shoots of nettles coming up in the spring (usually one of the first greens I can harvest.)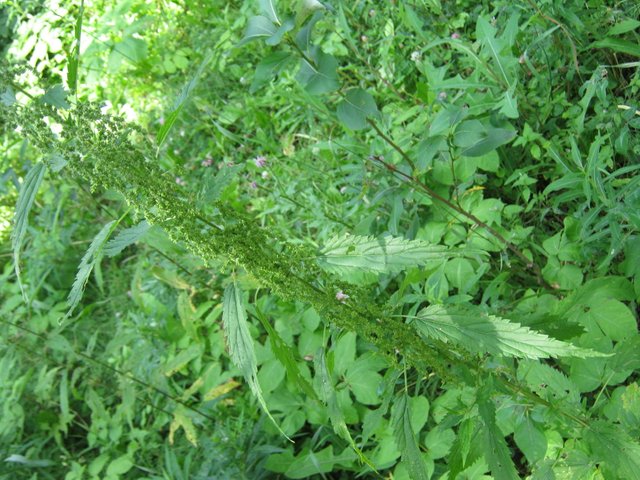 Nettles now gives my garden and me a lift!
I simply snack on the seed (the seeds have no sting) when I'm working or hiking along or I harvest the leaves to include in my favorite recipes (listed below.)
Keep in mind that when crushed or dried there is no longer a sting in the plant.
Nettle Mango Smoothie
Ingredients:
Handful of fresh nettle leaves (wear gloves when handling these)
1 ripe mango peeled and cut into pieces
4 or 5 prunes or dates soaked in water to re-hydrate
2 cups of water plus the water from soaking the prunes or dates
Blend them all together and enjoy! I get a real energy boost from this and it keeps me regular too.
Potato Nettle Soup
Ingredients:
1 Onion, Diced.
1 Leek chopped
1 bundle of Nettle Leaves (fresh or dried), chopped
3 Potatoes peeled and diced
6 cups water
2 cups stock
1 tsp. Mrs. Dash (I like the herb and garlic mix)
2 tablespoons of butter (ghee), or other oils for cooking.
salt and pepper to season to taste
1 tsp molasses (optional)
To turn this into a real tonic I add a bunch of chopped kale leaves and a handful of kelp (re-hydrated)
Directions:
Saute the onion and leeks in the butter or cooking oil until golden brown. Sprinkle with the Mrs. Dash. Add the potatoes, stirring them in the onions and seasoning to pick up some of the flavoring. Next comes the nettles (plus kale and kelp if you are using them). Stir them in with the potatoes, cooking until the nettles start to wilt. Pour in the stock and water bring to a boil. Add the salt and pepper and molasses (if you are using it), turn down to a simmer and cook for about 20 to 30 minutes.
I harvest a lot of nettles and air dry them for the winter to use in my soups, smoothies and teas. I like the combination of mint and nettles for tea.
Since learning of the wonderful qualities of the nettle plant I have been able to share it with my friends. One of the main complains I recommend nettles for is being anemic because it is so high in iron. It's wonderful to see others benefiting from this wonderful plant.
Now you know why I have a love affair with the stinging nettle and I hope this post helps you to welcome the nettles into your life too!

Find out more about Natural Medicine and their efforts Creating a Natural Medicine Community in their introductory post at: https://steemit.com/introduceyourself/@naturalmedicine/introducing-naturalmedicine-celebrating-and-promoting-natural-healing-on-steemit
Join them on the discord at: https://discord.gg/rNgU9CE