Beach panorama at sunrise/Panorama pantai disaat matahari terbit
Hi..
I am looking for a location to create a field that is used for sports sand volleyball, I happen to be appointed to fix some things that need to be resolved soon. Of course the location I'm looking for is a beach-related place, because this sport is one of the volleyball sports and is often referred to as beach volleyball.
Saya sedang mencari lokasi untuk membuat sebuah lapangan yang digunakan untuk olah raga voli pasir, kebetulan saya ditunjuk untuk membenahi beberapa hal yang perlu segera diselesaikan. Tentu lokasi yang saya cari adalah sebuah tempat yang berhubungan dengan pantai, karena olahraga ini adalah salah satu cabang olah raga bola voli dan sering disebut dengan voli pantai.
As usual after dawn, I try to survey the location, this opportunity I use to take some photo of the natural beauty of the beach. The rising sun is very helpful to me in the process of shooting, because the beautiful light from the sun illuminates the nature around it.
Seperti biasa setelah subuh, saya mencoba untuk survei lokasi, kesempatan ini saya gunakan untuk mengambil beberapa photo keindahan alam pantai. Matahari yang terbit sangat membantu saya dalam proses pengambilan gambar, karena cahaya indah dari matahari menerangi alam yang ada disekitarnya.
---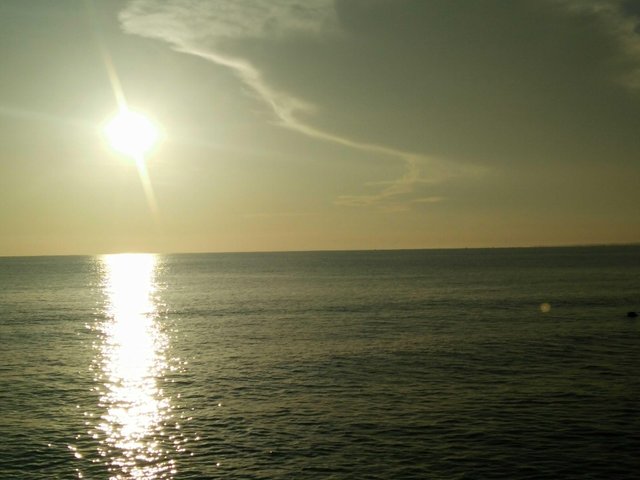 ---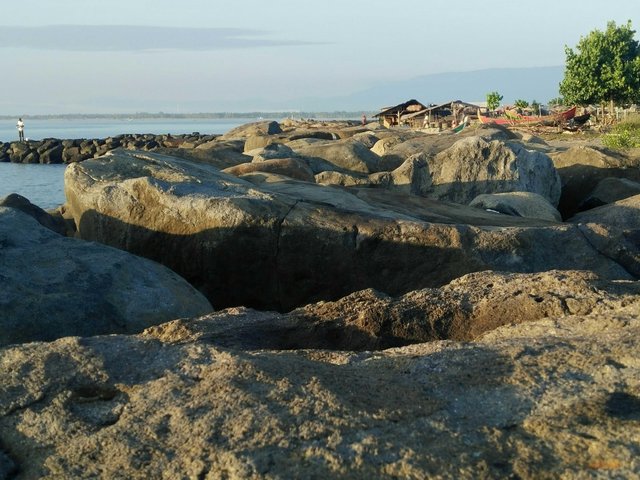 ---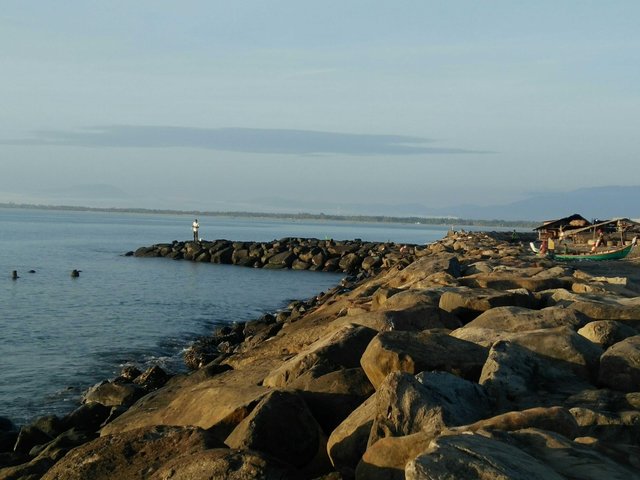 ---
Large rocks arranged as embankments to hold the waves also provide an amazing atmosphere, as well as fishing boats waiting to be steered also give meaning to me. Visible people are fishing to get what God has provided to meet the needs of life.
Batu-batu besar yang tersusun sebagai tanggul untuk menahan ombak juga ikut memberikan suasana yang sangat luar biasa, serta kapal-kapal nelayan yang sedang menunggu untuk dikemudikan juga memberikan makna tersendiri untuk saya. Orang yang terlihat sedang memancing untuk mendapatkan apa yang telah disediakan oleh Tuhan untuk memenuhi kebutuhan hidup.
---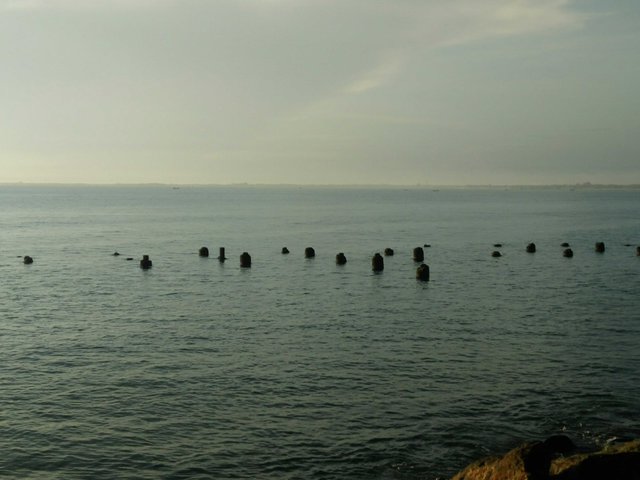 ---
The pillars formerly used for pier foot, proof that once this place once became a port area for ships coming from within and abroad. The harbors that once served as life support and improved people's economy. But this port has vanished and it is only a time lost history.
Pilar-pilar yang dulunya digunakan untuk kaki dermaga, adalah bukti bahwa dulu tempat ini pernah menjadi daerah pelabuhan bagi kapal-kapal yang datang dari dalam dan luar negeri. Pelabuhan yang dulu berfungsi sebagai pendukung kehidupan dan peningkatan ekonomi rakyat. Tetapi pelabuhan ini telah lenyap dan hanya merupakan waktu yang hilang dari sejarah.
---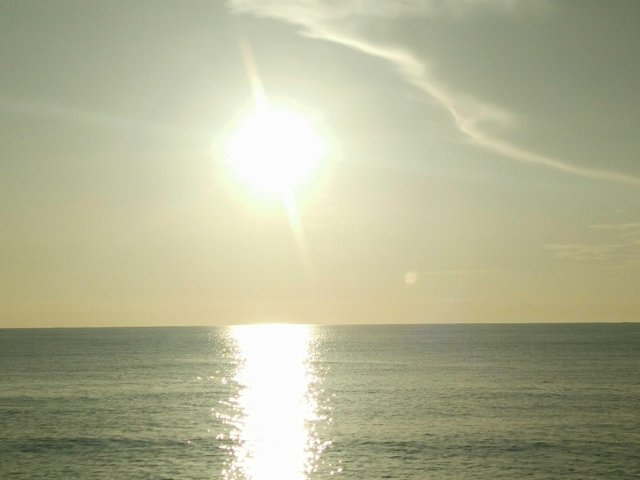 ---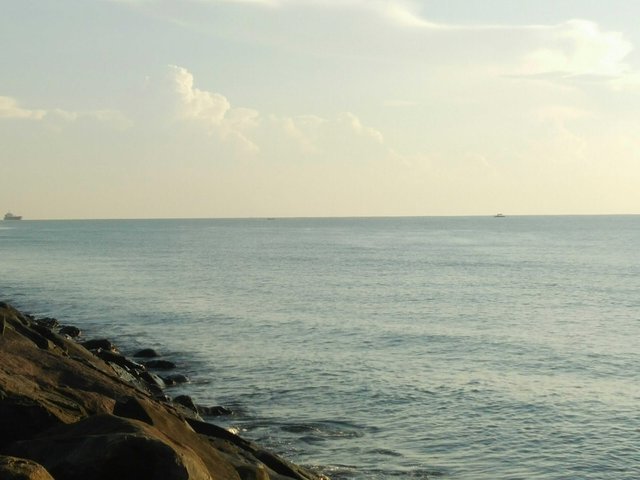 ---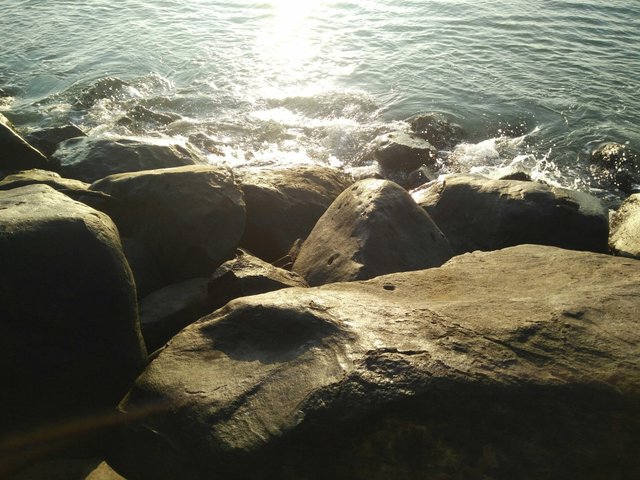 ---
The sun rises from the east, spreading light over a vast ocean, who will deny this beauty? The beauty that no one man can do it, except the who created the heavens and the earth and subdue what lies between its both.
Matahari terbit dari timur, membentangkan cahaya di atas samudera yang sangat luas, siapa yang akan menyangkal keindahan ini ? Keindahan yang tidak ada satu orang pun yang sanggup melakukannya, kecuali tuhan yang menciptakan langit dan bumi serta menundukkan apa yang ada di antara keduanya.
---
Thank you for seeing and visiting my blog, may always be patient in facing all kinds of problems that come up.
Terima kasih sudah melihat dan mengunjungi blog saya, semoga selalu bersabar dalam menghadapi segala macam problema yang datang menghampiri.
---
Until next time..
---

---