Planning for Torres del Paine, Patagonia, Chile (Part 1)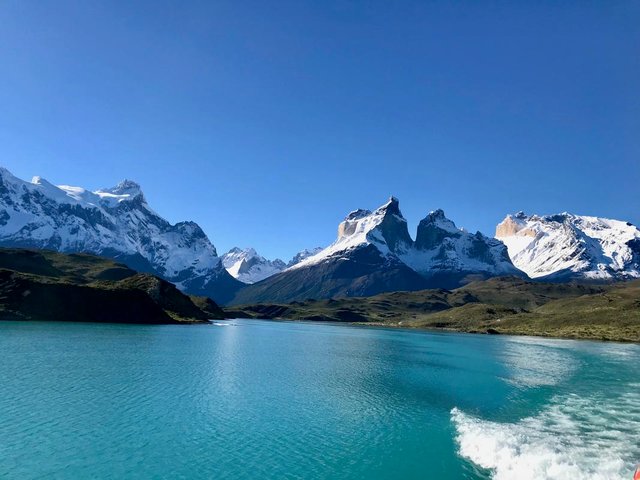 On Lake Pehoé at Torres del Paine National Park, Patagonia, Chile
Torres del Paine
Known for its glacier fields, placid lakes and encompassing mountains, Torres del Paine National Park offers visitors a quintessential taste of rugged Patagonia without compromising the basic comforts of warm food, lodging and well-marked trails.
Arguably the most famous park in South America, Torres del Paine is a hiker's Disneyland, catering to all levels of hiking and all types of hiker— to the well-coifed, the well-seasoned, and, of course the dusty budgeter. :)
The immersive experience of Torres del Paine offers its visitors a profound opportunity to test their physical and mental stamina, and receive the power of raw nature. Personally, the W trek deeply impacted my life, and continues to inspire a deeper relationship with nature.
It is out of my gratitude for the place, that I share all of this information with you. If you are looking for an adventure of a lifetime, tune in for this three-part series on Torres del Paine, where I will offer a park overview, considerations for planning your trip, a packing guide and full hiking itinerary for the W trek.
Happy trails! Brooke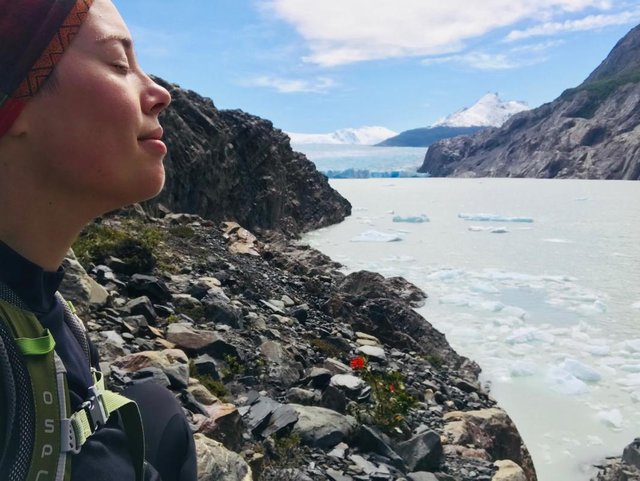 Me at Lago Grey, Torres del Paine, Patagonia, Chile
An overview of the park
Within the 700 square miles of the park, there are numerous trails, varying in length and difficulty. Several companies operate within the park, offering day-trips to kayak alongside the glaciers, navigate Lago Grey by boat, and traverse the park by bus. Still, Torres del Paine's premier offerings are the W Trek and O Circuit, which are multi-day hikes.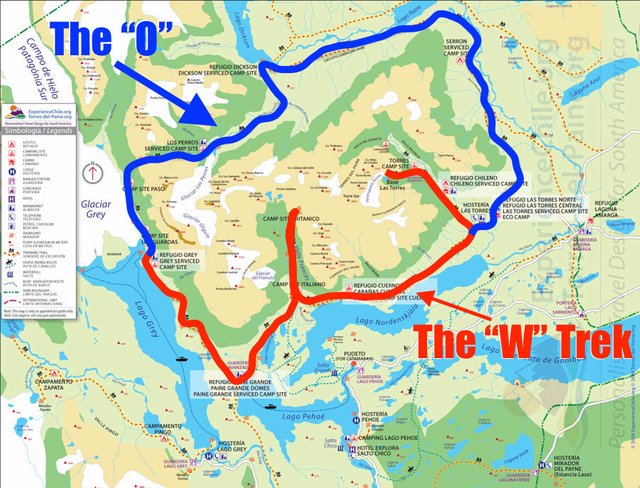 The W Trek and The O Circuit, Torres del Paine National Park
Photo Source
Newcomers to Torres del Paine tend to opt for the W Trek, a "w" shaped hiking trail that covers 50 miles (80km) of the park. Most hikers can expect to complete the trail in 4-5 days and endure moderate- strenuous hiking conditions. A unique feature of the W Trek is its food and lodging accommodations provided along the way; it is actually possible to hike the whole way without carrying food and equipment.
Alternatively, the O is a circuit hike that includes the W trek and extends to encompass the backside of the mountain, making 75 miles (120 km) in total. When conditions are optimal, seasoned hikers can typically complete the O circuit in 8-10 days. There are various parts of the trail, like the John Gardner Pass at 3937 feet (1,200m) that can make the O Circuit darn near impossible at certain times of the year. CONAF can be quick to close the O circuit when the snow is high, which makes planning for the O less predictable. That being said, the O also has less foot traffic and offers hikers a more personal experience. Hikers must pack-in and pack-out all food and equipment, but there are still primitive lodgings, called refugios, along the way.
Planning Your Trip
There was a man-made fire in 2012 that destroyed 14,000 acres of land. Ever since, Torres del Paine has become increasingly strict on park regulations. Torres del Paine demands the accountability of hikers to act responsibly and plan sufficiently. In honesty, the planning component of Torres del Paine can almost be harder than the hike, but the golden towers of Torres del Paine at sunrise on the final day make it all worth it.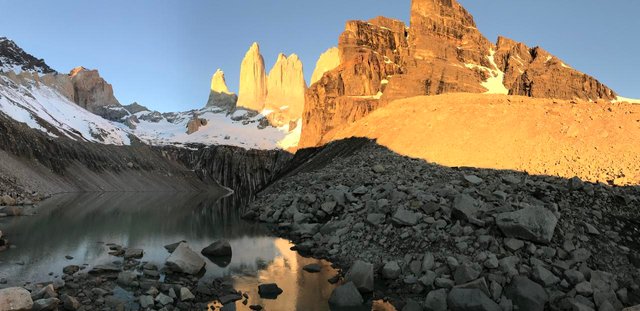 The Towers in Torres del Paine National Park, Patagonia, Chile
When on the trail, the park service mandates that you eat and sleep at a a refugio each night. Each refugio requires reservation in advance and a print-out confirmation upon arrival. The refugios are operated by two private companies, FantasticoSur and Vértice Patagonia, and the Chilean Park service, CONAF.
I found FantasticoSur, Vértice Patagonia and CONAF to be generally disorganized and unresponsive. Booking reservations with the companies online can be down-right maddening, yet it is still recommended if you want to ensure your trip. Alternatively, many tourists try their luck at booking reservations just days in advance at the company offices, located in the nearby town, Puerto Natales.
The decision to book online versus in-person is entirely yours. If you decide to book in person, expect a bit of running back and forth, as the three offices are spread across Puerto Natales. Your success will be contingent upon the time you visit, the weather, your general flexibility in travel plans, and the mood of the employee you hastle with. I met many people on the trail that booked in-person successfully, that being said, I hiked the W trek at the beginning of the season when there were less people in the park.
Refugios operated by Vértice Patagonia and FantasticoSur cost hikers anywhere between $14USD- >$100USD per night. The prices tend to increase as hikers move more central towards the towers, which is considered the park's highlight. Prices also surge in high season.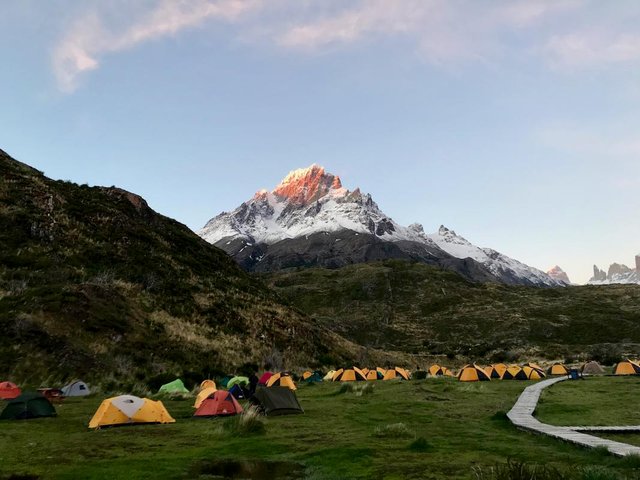 Refugio Paine Grande, Torres del Paine National Park
All refugios operated by CONAF are free, primitive camping sites, but tend to book up quickly. Camping at CONAF sites will save you money, but don't expect the same kind of frills, offered by FantasticoSur and Vertice. CONAF provides a more traditional camping experience with leveled camping sites, compost toilets and a designated cooking space.
Although I tried my best to reserve all my nights at free, CONAF campsites, I ultimately only secured one free night at CONAF. I forked over a little more money than expected with Vértice Patagonia and FantasticoSur, but the perks of warm showers, pre-made tents, and beer on tap were really nice in the end.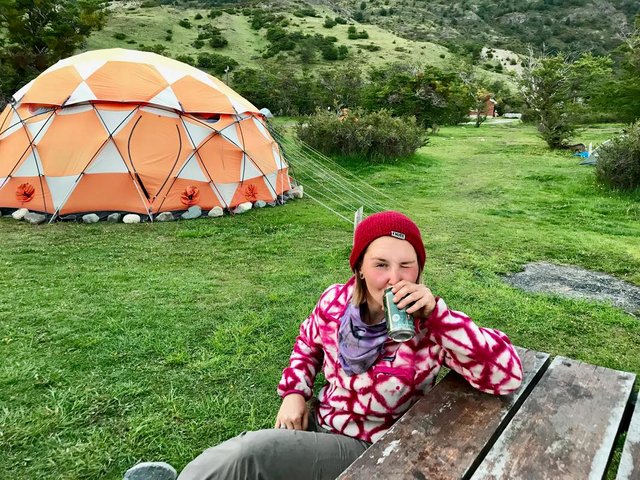 A trail friend at Camping Central, Torres del Paine
Additional costs to consider in planning include the park entrance fee (approx. $18-$35USD), a round-trip bus ticket to the park from Puerto Natales (approx. $25USD), money for the various modes of transportation within the park, and food for your journey. More information on this in the articles to come!
Want to learn more about Torres del Paine? Keep on the lookout for Planning for Torres del Paine, Part 2 and Part 3.