Birds and the Musa paradísiaca
Plantain or banana; It is not a tree, "but a megaforbia, a large perennial herb" that can be grown in tropical countries. Scientifically known as
Musa paradisíaca
, this interesting plant is recognized for having one of the largest leaves in the plant kingdom, its fruit is very rich in calories, fiber, carbohydrates, vitamin A and C.
El plátano o banano; no es un árbol, sino una megaforbia, una hierba perenne de gran tamaño que se puede cultivar en paises tropicales. Conocida científicamente como
Musa paradisíaca
), ésta interesante planta es reconocida por tener una de las hojas más grandes en el reino vegetal, su fruto es muy rico en calorias, fibra, carbohidratos, vitamina A y C.
---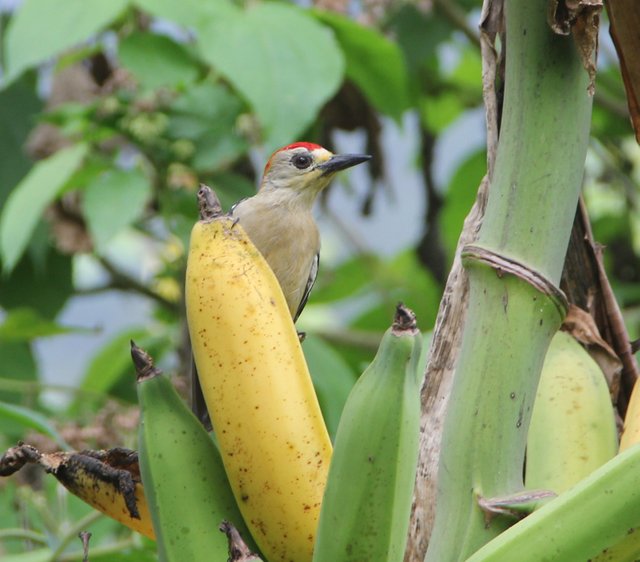 Photo © by Ledis Arango V. Melanerpes rubricapillus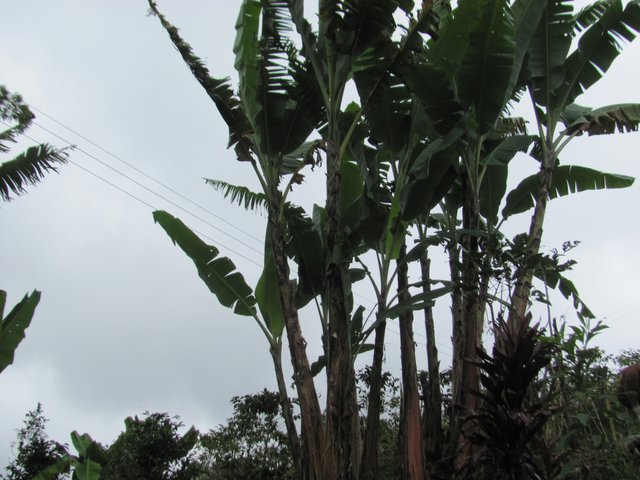 Photo © by Ledis Arango V.
We cultivate and consume the two varieties: the plantain is prepared in different ways; fried, cooked, roasted, in cakes (when it is ripe) and in patacones (when it is green) and the banana we eat when it is ripe (which means yellow ;) directly, only remove the skin and eat. We use their leaves for our typical dishes known as tamal and chupao, I'll tell you about these later c;
Nosotros cultivamos y consuminos las dos variedades: el plátano lo preparamos de diferentes maneras; frito, cocinado, asado, en tortas (cuando esta maduro) y en patacones (cuando esta verde) y el banano lo comemos cuando esta maduro (quiero decir amarillo) directamente, solo quitar la cascara y ya. Y sus hojas las utilizamos para nuestros platos típicos conocidos como tamal y chupado. Que después les voy a contar.
---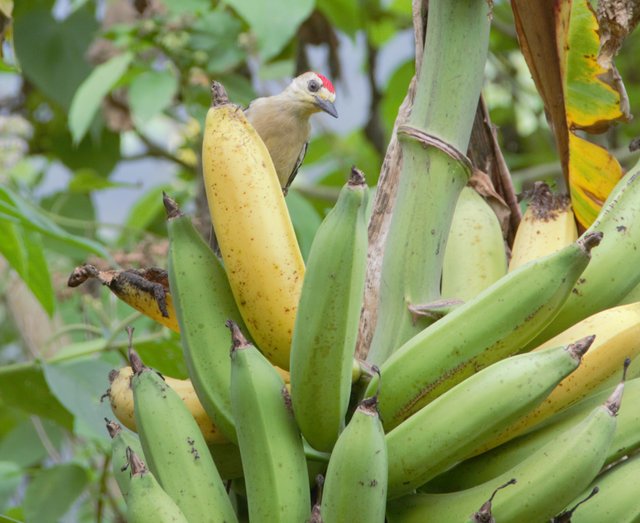 Photo © by Ledis Arango V.
But I know other living beings who enjoy them too, especially ripe which get eaten completely.
Pero conozco otros seres vivos que los disfrutan también, especialmente maduros que comen hasta terminar.
---
---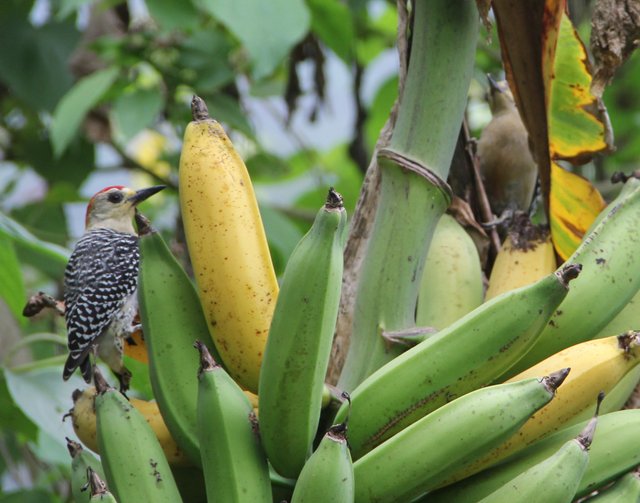 Photo © by Ledis Arango V.
Our beautiful bird, the Red crowned Woodpecker Melanerpes rubricapillus , who we have observed from very early in the morning, he arrives very quietly and eats and eats with such speed, it must taste very delicious, he even makes me crave some plantain...
El carpintero habado Melanerpes rubricapillus, lo hemos observado desde muy temprano, él llega muy callado, come y come con velocidad parece que le sabe muy delicioso, hasta me hace antojar...
---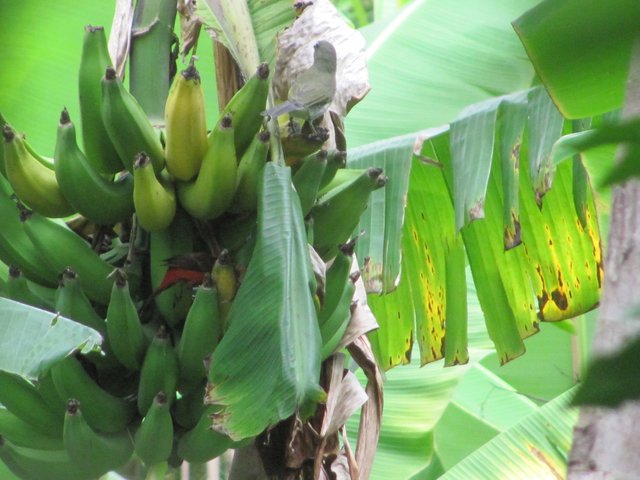 Photo © by Ledis Arango V.
The Crimson backed Tanager Ramphocelus dimidiatus does not stay behind, he knows how to bullously alert the others, some friends that we have not been able to identify yet, because he enjoys the musa, flies off and leaves, and then returns later for more.
El toche pico de plata Ramphocelus dimidiatus no se queda a trás, él bullosamente a los otros sabe alertar, algunos amigos que no hemos logrado identificar, pues disfruta de la musa, vuela y se va, y luego regresa por más.
---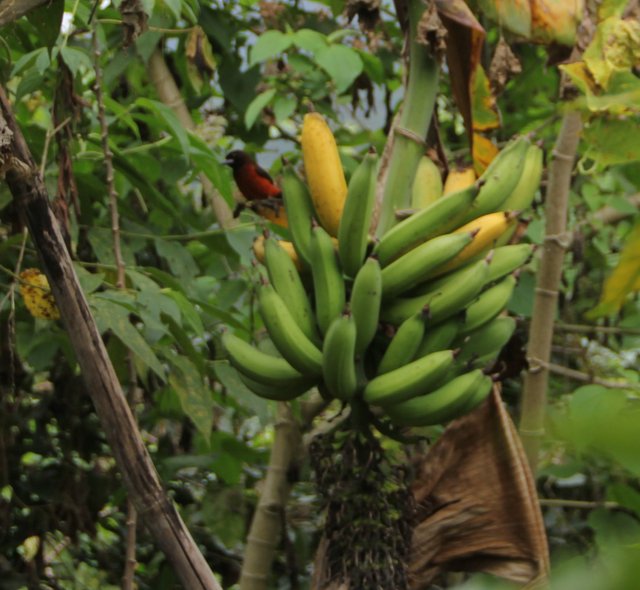 Photo © by Ledis Arango V.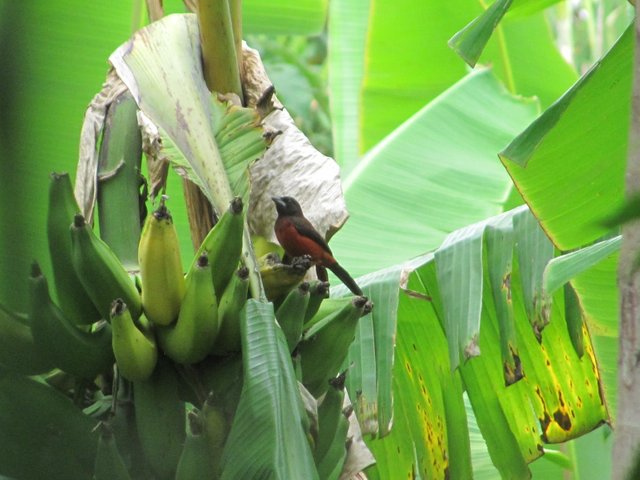 Photo © by Ledis Arango V.
---
Also the mountaineering Turpial Icterus chrysater , enjoys the alimentary properties of the plantain and the banana until the finish, but it will not be a problem because in a single flight it finds others almost ripe that it knows how to begin.
También el Turpial montañero Icterus chrysater, disfruta de las propieades alimenticias del plátano y el banano hasta el final, pero no será un problema por que de un solo vuelo encuentra otros casi maduros que sabe empezar.
---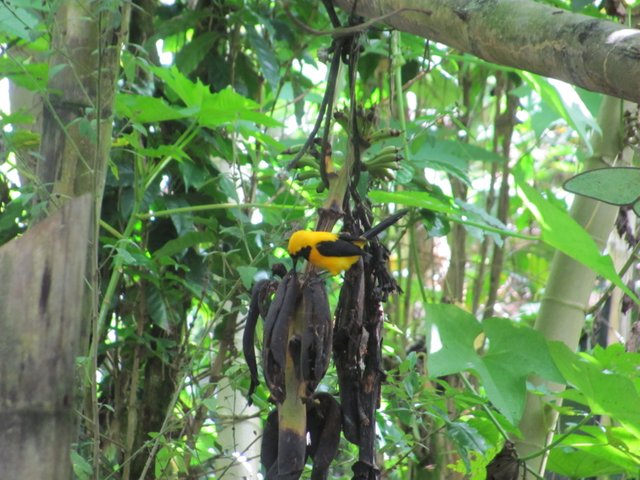 Photo © by Ledis Arango V.
---
---
Now we know that Musa paradísiaca is a delicious hybrid that both humans and birds can enjoy, the goal is to spread the species much more, because there are more birds every day that we want to observe and identify.
Ahora sabemos que la Musa paradísiaca es un delicioso híbrido que tanto humanos como aves la podemos disfrutar, la meta es no parar de propagar la especie, porque más aves cada día queremos observar e identificar.
---
God bless you
Dios los bendiga