Ozark Critters - Wolf Spiders

Tigrosa aspersa...or Tigrosa something-or-another...They're hard to tell apart.
This "little" lady wandered up on my porch the other morning. I told my husband about her and showed him a photo and he insisted that I squash her. She was as big as a baby mouse and I'm not keen on squishing anything like that so I shoo'd her into the garden and left her alone.
Just like the cat that came back, the next morning she appeared again. I caught her in a jar and sat her on the table intending on rereleasing her further away. Unfortunately, I kind of forgot about her for a few...and when the husband saw her in the jar he shouted, "What is that spider doing in that jar?? Didn't you squash it??" Whoops. I quickly took her and let her go out in the yard away from our house. Let's hope she doesn't come back again!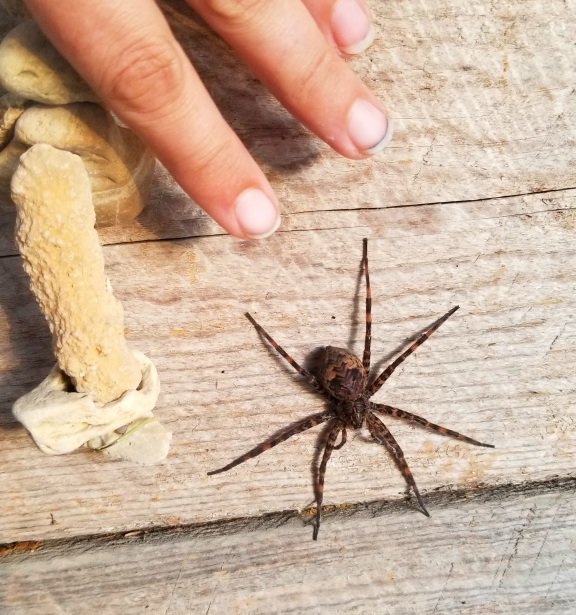 You might have noticed she's missing a leg. I didn't do that. She was missing it from the first time I saw her. We're not into that.
Wolf spiders eat insects including earwigs, crickets (I despise crickets), grasshoppers, and ants.
This next Tigrosa something was at the river! It is definitely also a wolf spider. There are always spiders in the rocks at the river if you look hard enough. I'm always scanning the rocks for stones to polish and fossils so I see quite a few spiders. They don't bother me as long as they just keep chillin' where they are and don't try to run up my leg.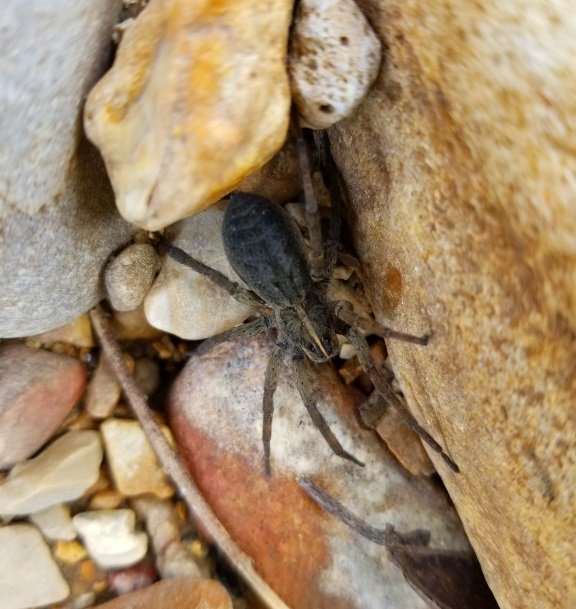 Missouri has lots of other Wolf spiders. Some have more predominate striping. I'm not any kind of spider expert so they're hard for me to tell apart.
Thanks for stopping by! Hope you didn't mind the spider photos!