Der Augarten in Wien // The Augarten Park in Vienna
Natur, Kunst und Kultur.
Wien zählt zu den Städten mit der höchsten Lebensqualität. Das hat zuletzt wieder das
EIU-Ranking
des
Economist
bestätigt. Die österreichische Hauptstadt konnte in dieser Studie über die weltweit lebenswertesten Städte 2019 ihre Spitzenposition verteidigen und die beiden australischen Städte
Melbourne
und
Sydney
auf die Plätze verweisen. 140 Städte wurden nach diversen Kriterien in folgenden Kategorien bewertet: Gesundheitsversorgung, Stabilität, Kultur und Umwelt, Bildung und Infrastruktur. Für mich ist das vielfältige Angebot an Parks und Grünflächen mitten in der Stadt einer der Gründe, warum ich gerne hier lebe.
Nature, Art and Culture
Vienna is one of the cities with the highest quality of life. The Economist's
EIU ranking
confirmed this again recently. The Austrian capital was able to defend its leading position in this study of the world's most liveable cities in 2019. The two Australian cities
Melbourne
and
Sydney
follow in second and third place. 140 cities were evaluated according to various criteria in the following categories: Health care, stability, culture and environment, education and infrastructure. For me, the variety of parks and green spaces in the middle of the city is one of the reasons why I like living here.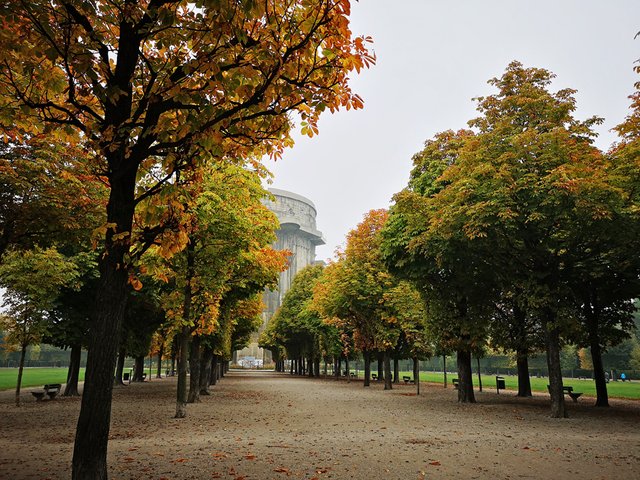 Markanter Flakturm im Hintergrund / Striking flak tower in the background
Heute lade ich euch auf einen Spaziergang im Augarten ein, wo Natur, Kunst und Kultur auf einmalige Weise miteinander verschmelzen. Der weitläufige Park liegt in der Leopoldstadt (2. Bezirk) und ist mit öffentlichen Verkehrsmitteln gut erreichbar. Die Anfänge der rund 50 Hektar großen Gartenanlage im barocken Stil gehen in das 17. Jahrhundert zurück. Die folgenden Fotos stammen von meinen Besuchen während des letzten Jahres und spiegeln damit auch den Wechsel der Jahreszeiten wider.
Today I invite you to take a walk in the Augarten, where nature, art and culture merge in a unique way. The spacious park is located in the Leopoldstadt (2nd district) and is easily accessible by public transport. The beginnings of the approximately 50 hectare baroque gardens date back to the 17th century. The following photos are from my visits during the last year and reflect the change of seasons.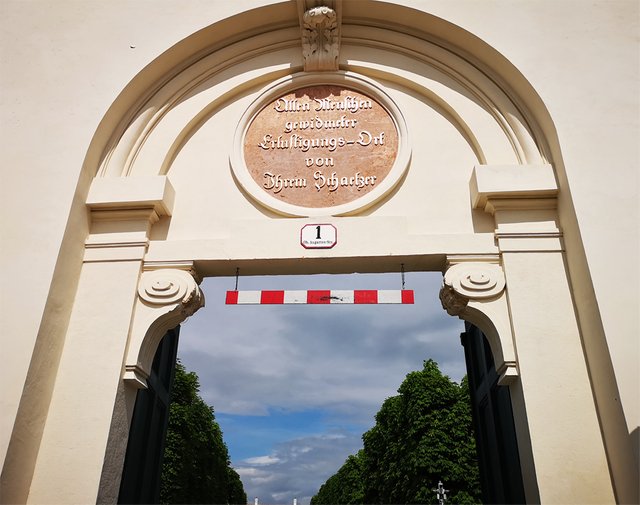 "Allen Menschen gewidmet als Erlustigungs-Ort von Ihrem Schaetzer." Diese Inschrift auf dem Eingangsportal erinnert an Kaiser Joseph II., der den Park 1775 für das Volk geöffnet hatte.
"Dedicated to all men as a place of recreation by your 'Schaetzer' (appreciator)." This inscription on the entrance portal reminds of Emperor Joseph II, who opened the park to the public in 1775.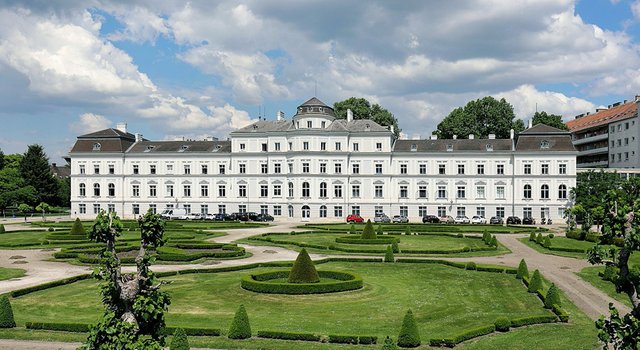 Palais Augarten (© Bwag/Wikimedia )
Am sogenannten "Augartenspitz", dem südlichen Ende des Parks, befindet sich das repräsentative Palais Augarten, das seit 1948 von den Wiener Sängerknaben als Wohnsitz (Internat), Übungsstätte und Ausbildungsort (Gymnasium) genutzt wird. Vorstellungen werden in dem neu errichteten Gebäude namens MuTh (Akronym für Musik und Theater) gegeben.
At the so-called "Augartenspitz", the southern end of the park, there is the representative Palais Augarten, which has been used by the Vienna Boys' Choir since 1948 as a residence (boarding school), training centre and place of education (grammar school). Performances are given in a newly constructed building called MuTh (acronym for music and theatre).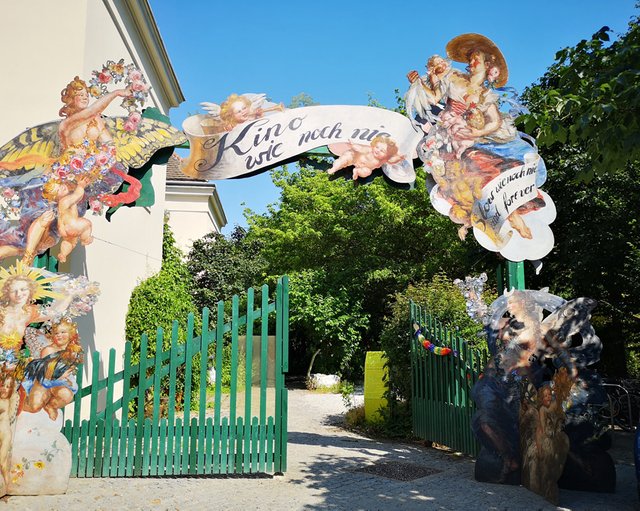 Mit dem Filmarchiv ist ein weiterer kultureller Hotspot im Augarten angesiedelt. Das Audiovisuelle Zentrum Augarten bietet allen Cineasten Zugang zu den Sammlungen des Hauses, die über 100 Jahre Film- und Zeitgeschichte repräsentieren. Im Sommer verwandelt sich der romantische Naturgarten in ein Open-Air Kino, in dem das Sommerkino-Festival "Kino wie noch nie" stattfindet.
The Filmarchiv (film archive) is another cultural hotspot in the Augarten. The Audiovisual Center Augarten offers all cineastes access to the museum's collections, which represent over 100 years of film and contemporary history. In summer, the romantic natural garden is turned into an open-air cinema, where the summer cinema festival "Kino wie nie" takes place.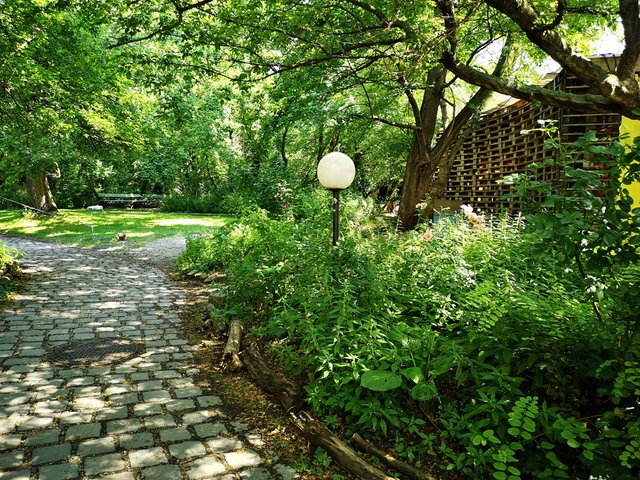 Bienenzucht im Augarten / Beekeeping in the Augarten
Dort, wo um 1770 die Imkerei in Europa professionalisiert wurde, wird heute in einer Schau-Imkerei aus 18 Bienenstöcken Honig, das "Augartengold", gewonnen.
Where beekeeping in Europe was professionalised around 1770, honey, the 'Augartengold', is now extracted from 18 hives in a show beekeeping facility.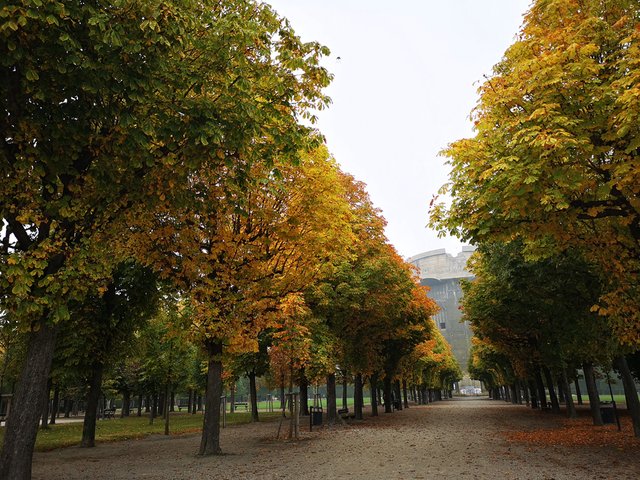 Der Augarten wurde ursprünglich nach dem Vorbild französischer Gärten angelegt. Abbildungen von früher zeigen eine der Zeit entsprechend große Barockanlage mit einem Parterregarten und mehrere Alleen, die von einem Sternplatz ausstrahlen.
The Augarten was originally laid out in the style of French gardens. Pictures from earlier times show a baroque complex with a parterre and several avenues radiating from a star-shaped square.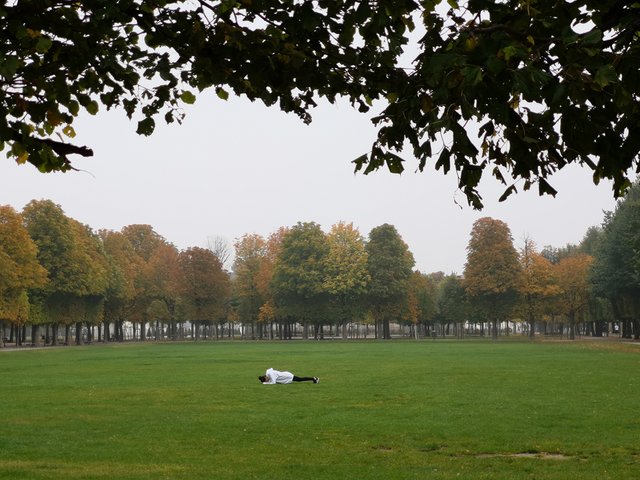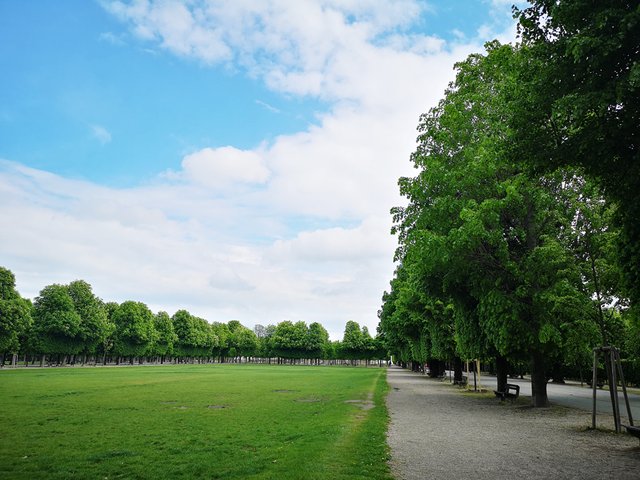 Die weitläufigen Wiesen laden zur sportlichen Betätigung oder zum Entspannen ein. Im Sommer spenden die Alleen aus Kastanien, Ahornbäumen, Linden und Eschen kühlen Schatten. Das Angebot an mehreren Spiel- und Sportplätzen sowie einem Freibad erhöht die Attraktivität des Parks.
The spacious meadows invite you to engage in sporting activities or to relax. In summer the avenues of chestnut, maple, lime and ash trees provide cool shade. The offer of several playgrounds and sports grounds as well as an outdoor swimming pool makes the park more attractive.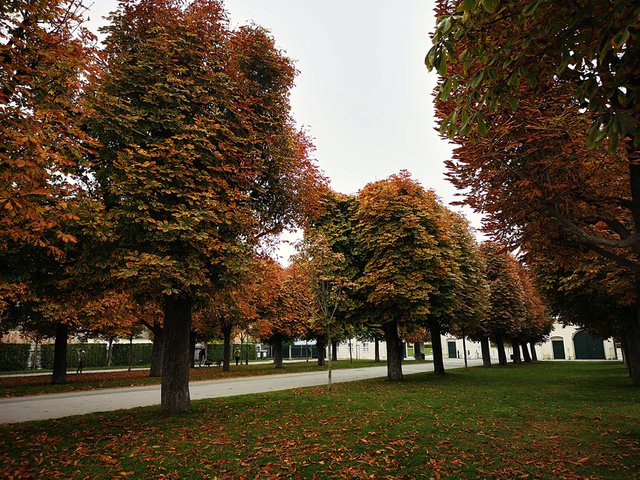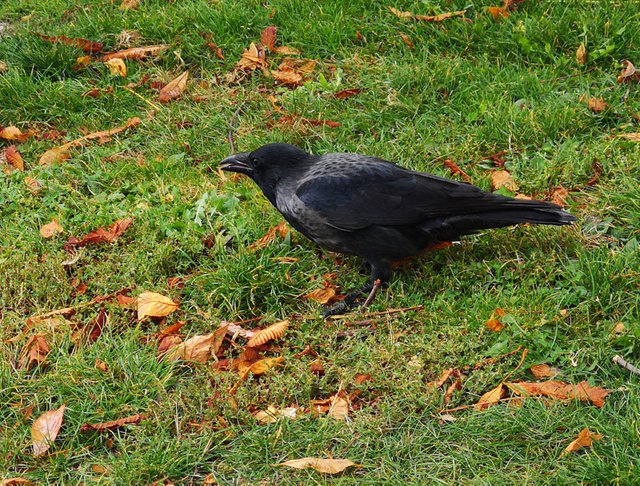 Der Augarten überstand auch schwere Zeiten. So überflutete ein katastrophales Hochwasser im Winter 1830 den Park bis zu einer Höhe von 1,75 Metern. Dies konnte geschehen, weil die Gartenanlage zu jener Zeit im Norden an einen großen Donau-Arm grenzte.
The Augarten survived also hard times. A catastrophic flood in the winter of 1830 flooded the park to a height of 1.75 meters. This was possible because at that time the garden bordered a large arm of the Danube in the north.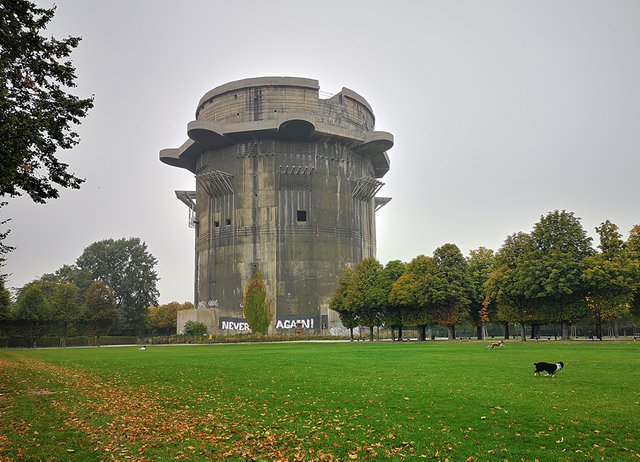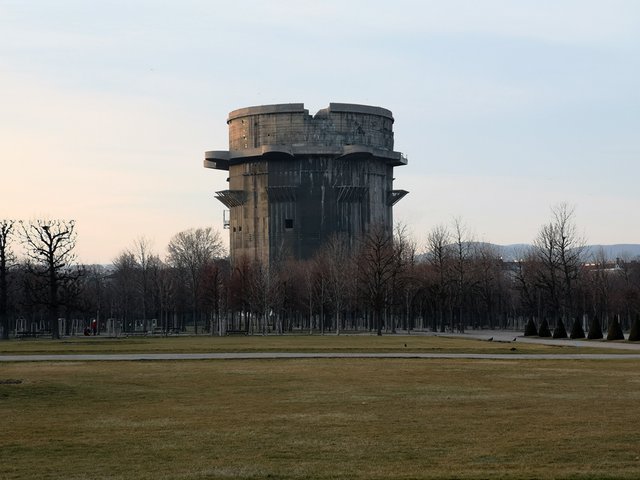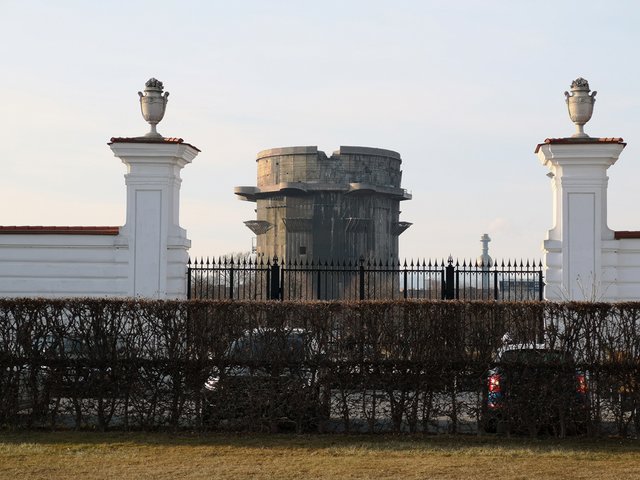 Zwei Flaktürme mahnen und erinnern als stumme Zeugen an die dunkelsten Kapitel der österreichischen Geschichte. In der Aprilschlacht Ende des Zweiten Weltkrieges fanden Hunderte Soldaten hier den Tod und wurden in Massengräbern verscharrt.
Two flak towers are silent witnesses to the darkest chapters of Austrian history. In the April battle at the end of the Second World War, hundreds of soldiers died here and were buried in mass graves.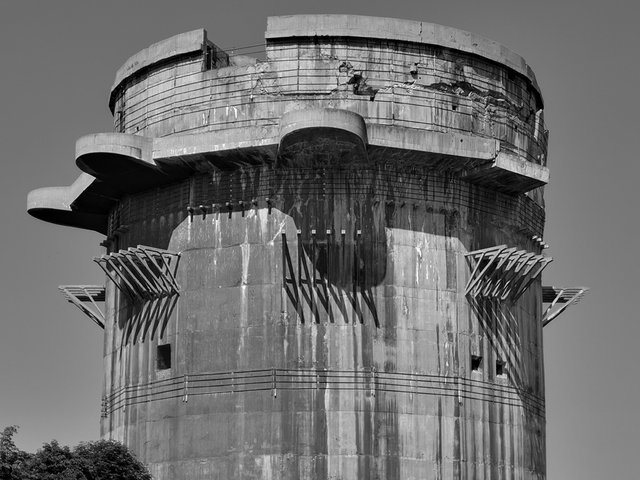 Gefechtsturm / Turret
Die aus Stahlbeton errichteten Flaktürme mit aufmontierten Flugabwehrgeschützen dienten als Luftschutzanlagen. Heute stehen beide Türme leer.
The reinforced concrete towers with mounted anti-aircraft guns served as air-raid shelters. Today both towers are empty.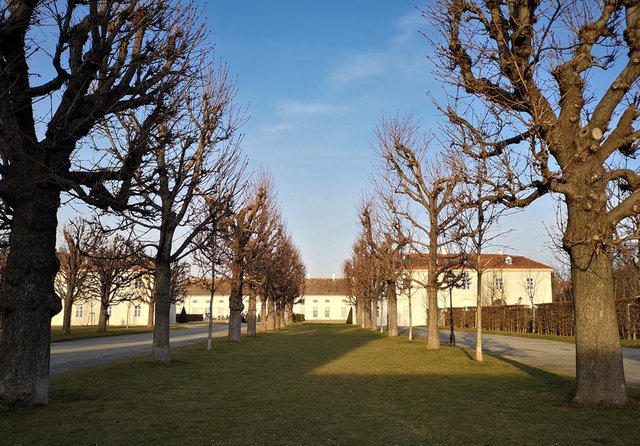 Auch die Porzellanmanufaktur Augarten befindet sich auf dem Areal des Parks. Das Unternehmen wurde in seiner heutigen Form 1923 gegründet und setzt die lange Tradition der Wiener Porzellanmanufaktur fort.
The Vienna Porcelain Manufactory is also located on the park grounds. The company was founded in its present form in 1923 and continues the Viennese porcelain tradition.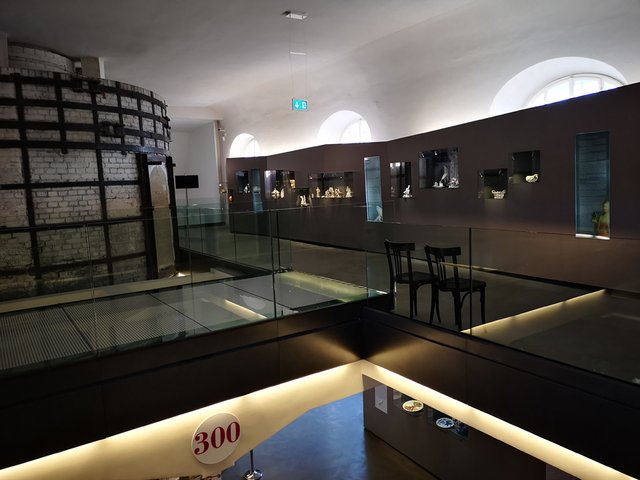 Zweigeschoßiger Brennofen im Hintergrund / Two-storey kiln in the background (Porzellanmuseum im Augarten Wien)
Im Porzellanmuseum wird anhand von repräsentativen historischen Exponaten auf zwei Etagen die Geschichte des Wiener Porzellans erzählt.
In the Porcelain Museum, the history of Viennese porcelain is told by representative historical exhibits on two floors.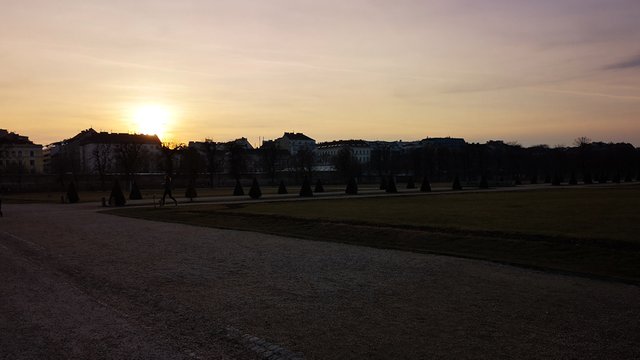 Bei einbrechender Dunkelheit schließt der Augarten seine Tore. Ein Sicherheitsdienst fährt durch die Parkanlage und fordert mit Sirene und Sprechdurchsagen eindringlich zum Verlassen des Parks auf.
At nightfall the Augarten closes its gates. Security guards drive through the park and urge you to leave by using siren and loudspeaker announcements.