Five things you need to know about our OTC
For one, it will provide dividends.
Simple liquidity isn't just a catchy marketing gimmick. It is the life blood of our business, and the driving force for everything we do.
But what is the Over-the Counter (OTC) Marketplace and why is ours special? Read on to learn five key things you need to know about the Spotcoin OTC.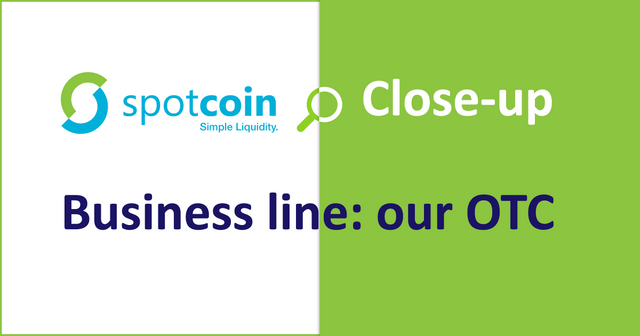 1. A proven method
OTC marketplaces are often constrained by a lack of liquid assets. This results in caps on trade amounts and restrictions on trade flow. There was a need to support high-dollar trades and fiat to digital services, especially in the Black Sea region.
We wanted better. So, we built it.
Established in November 2016, the preliminary OTC processed over $1M per month in trades just two months after launch. The company cleared over $5M in trades by the end of its second quarter in operation.
Key to success was our next day settlement policy and our ability to successfully settle every trade entrusted to us.
2. Next business day settlements
Success flourished with our ability to deliver all settlements within 1 business day of trade request. Our established relationships with multiple banks in Europe allowed us to facilitate high value bank transfers and ensure simple liquidity remains simple.
As we launch the new version of the OTC, our commitment to next business day settlements is stronger than ever.
3. We're making it even better
Never one to sit on our laurels, Spotcoin recognized the $10B marketplace needed a more robust solution. With NEO targeting 100,000 transactions per second (TPS) by 2020, our OTC needed to be scalable to grow with the any large increases in digital currency trade volume and demand.
The new OTC is built on the concept of the first. But better.
Our new platform will include: digital asset wallet integration, automated deposit and withdrawal functionality, 2FA, and a simple user interface. Easy to use, the development of automation tools and strategic partnerships ensure our customers benefit from quick trades and quick results. Any OTC client that trades in excess of $1M per month is assigned a Spotcoin Ambassador that will provide personalized service for each and every trade. They are just a phone call away.
4. The go-to OTC marketplace for Big Trades
The access to capital, banking partnerships, and next business day settlements deliver comfort and security to high-dollar investors. This is a big step up from trading on exchanges where it could take a long time for very large deals an order to be executed, creating sell or or buy 'walls' that stop the easy flow of orders on the exchange. The simple liquidity our OTC provides reduces risk for our clients.
5. Quarterly dividends for SPOT holders
As the ICO launch speeds toward us, the dividend question is ever-present.
The OTC business line provides that dividend. Every quarter, SPOT holders will earn 12% of net profit from the all business lines, including the OTC. This dividend will start the first profitable quarter and continue moving forward. That is on top of the weekly dividends of 51% of the exchange fees coming from our future automated exchange. It's a nice way to earn extra cash.
If you are interested in learning more about the OTC, or our other business lines: Check out our Whitepaper.
---
Interested in more Spotcoin?
Join our Telegram community: Spotcoin Team, Spotcoin News, and Spotcoin Bounty.
Take a look at our complete ICO offering here.
Read our Whitepaper here, for more details.
Visit spotcoin.com, where we make digital currencies work for everyone.
Residents and citizens of the United States and US territories are prohibited from taking part in the SPOT Airdrop and the SPOT public sales. Residents and citizens of the following countries are prohibited from taking part in the SPOT public sales: Bosnia and Herzegovina, China, Ethiopia, Iran, Iraq, North Korea, South Korea, Sudan, Sri Lanka, Syria, Trinidad and Tobago, Tunisia, Serbia, Vanuatu, Yemen
However, certified accredited U.S. investors can take part in the SPOT private sale. Chinese and South Korean investors can participate in the private sale when paying with digital currencies, after signing the SAFT form and completing the KYC /AML process. Any investment in digital currencies comes at a risk. No one should invest money that he or she can not afford to lose.
Forward-looking statements are provided to allow potential investors the opportunity to understand management's beliefs and opinions in respect of the future so that they may use such beliefs and opinions as one factor in evaluating an investment. These statements are not guarantees of future performance and undue reliance should not be placed on them. Such forward-looking statements necessarily involve known and unknown risks and uncertainties, which may cause actual performance and financial results in future periods to differ materially from any projections of future performance or result expressed or implied by such forward-looking statements.
Although forward-looking statements contained in this email are based upon what management of the Company believes are reasonable assumptions, there can be no assurance that forward-looking statements will prove to be accurate, as actual results and future events could differ materially from those anticipated in such statements. The Company undertakes no obligation to update forward-looking statements if circumstances or management's estimates or opinions should change. The reader is cautioned not to place undue reliance on forward-looking statements.