Spotcoin Close-up: our mining operations
Part 2 of our Spotcoin Close-up series
Last week, we highlighted our OTC business line. Today, we want to share with you the power of Spotcoin's mining operation.
Cryptocurrency mining is an increasingly complex operation. Gone are the days of mining blocks with a simple spare computer. Modern mining operations need more computing power and energy to calculate increasingly complex calculations in a short period of time. Spotcoin recognized the changes and integrated a mining operation into our business model.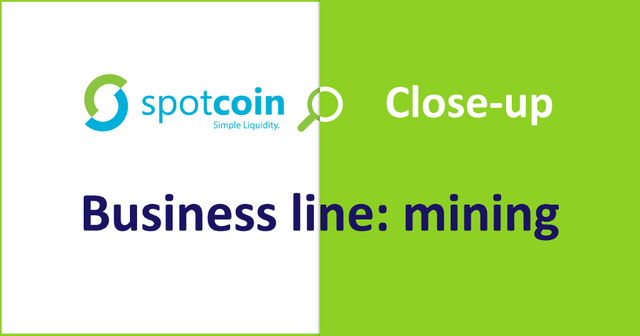 Our mining operation will provide Spotcoin's clients and token holders with far-reaching benefits. Read on to learn five key benefits of our mining business.
Strong Georgian Partnerships
Earlier this week, we highlighted our great partnership with mining experts, Golden Fleece. We love the team so much, we want to highlight them again.
Spotcoin and Golden Fleece partnered in late 2017, in the early formation of our business. Knowing we had a touchstone to the knowledge secured our commitment to building a mining operation that benefited both companies, as well as the Georgian community.
As Andrew Thornhill, co-founder of Spotcoin, said "As an OTC marketplace, Spotcoin offers Golden Fleece additional selling points for their mined currency and Golden Fleece offers Spotcoin tons of technical knowledge, contacts and experience in mining currencies and more specifically, mining currencies in Georgia." It's a match made in heaven.
The mining facility
It's great to have partnerships, but what about the facility. Currently under construction, Spotcoin has invested capital to build the preeminent mining facility. The 10MW facility will have the capacity to scale up to 25MW and run on hydroelectric power. Not only is this good for Spotcoin, this is great for the environment. Hydroelectric power is clean for the environment and supports our value of regional stewardship in Georgia.
Georgia's hydroelectric power infrastructure is a marvel that allows Spotcoin to source cost-effective pricing. The public rate for electricity in Georgia is less than 6 cents per kW in bulk. Spotcoin can further reduce this cost by working directly with the power plants to get the best deal for the community.
The sheer amount of power will support 9,000 GPUs running calculations and mining coins for Spotcoin, Golden Fleece and contracted clients who want to get in on the pool. It is estimated that the building will be commissioned by October 2018 and go live in the first quarter of 2019.
The power of pools
One of the great things about our mining facility is the power of the pools. Banding resources together allows Spotcoin, our partners, and our partners to build liquidity. Sharing in the hydroelectric power and using the sheer computational capacity of 9,000 GPU miners will create a Spotcoin mining pool of our very own. This pool feeds directly into the Spotcore Exchange, building liquidity and feeding a unique, multi-currency pool.
Diversification
Did we mention dividends? Like our OTC business line, all SPOT holders will earn 12% net profit from the mining business line every quarter. The net profits include both the mining itself, as well as renting out excess capacity of the mining facility. This dividend will start the first profitable quarter and continue moving forward. That is on top of the weekly dividends of 51% of the exchange fees coming from our future automated exchange. It's a nice way to bring in extra cash, and build up to a proper return on investment.
What an exciting time to be a part of Spotcoin! If you are interested in learning more about the mining operation, or our other business lines: Check out our Whitepaper.
---
Interested in more Spotcoin?
Join our Telegram community: Spotcoin Team, Spotcoin News, and Spotcoin Bounty.
Take a look at our complete ICO offering here.
Read our Whitepaper here, for more details.
Visit spotcoin.com, where we make digital currencies work for everyone.
Residents and citizens of the United States and US territories are prohibited from taking part in the SPOT Airdrop and the SPOT public sales. Residents and citizens of the following countries are prohibited from taking part in the SPOT public sales: Bosnia and Herzegovina, China, Ethiopia, Iran, Iraq, North Korea, South Korea, Sudan, Sri Lanka, Syria, Trinidad and Tobago, Tunisia, Serbia, Vanuatu, Yemen
However, certified accredited U.S. investors can take part in the SPOT private sale. Chinese and South Korean investors can participate in the private sale when paying with digital currencies, after signing the SAFT form and completing the KYC /AML process. Any investment in digital currencies comes at a risk. No one should invest money that he or she can not afford to lose.
Forward-looking statements are provided to allow potential investors the opportunity to understand management's beliefs and opinions in respect of the future so that they may use such beliefs and opinions as one factor in evaluating an investment. These statements are not guarantees of future performance and undue reliance should not be placed on them. Such forward-looking statements necessarily involve known and unknown risks and uncertainties, which may cause actual performance and financial results in future periods to differ materially from any projections of future performance or result expressed or implied by such forward-looking statements.
Although forward-looking statements contained in this email are based upon what management of the Company believes are reasonable assumptions, there can be no assurance that forward-looking statements will prove to be accurate, as actual results and future events could differ materially from those anticipated in such statements. The Company undertakes no obligation to update forward-looking statements if circumstances or management's estimates or opinions should change. The reader is cautioned not to place undue reliance on forward-looking statements.