Three future government use cases
Part 2 of our series Spotcoin x Government
This is the second part of our series about Spotcoin and government, where we look at the public sector and government issues that we are either directly involved with, or interested in joining. Last week, we stayed close to home and shared our legal vision. This week we look outwards to some of the most exciting developments in the public sector.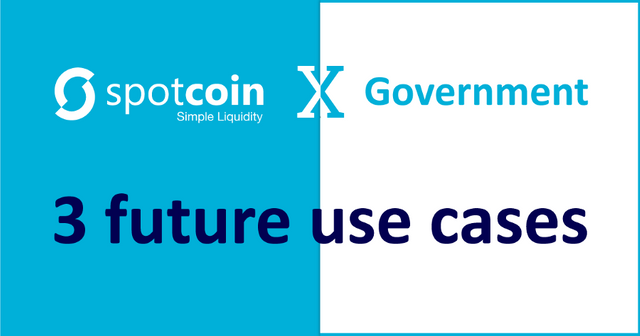 At Spotcoin, we are thrilled by the sheer amount of blockchain growth and opportunities. The new technology is working to upend, alter, and refine financial systems, food and agricultural tracking, real estate records, medical transactions, and secure government systems. According to a 2017 Deloitte Study, governments around the world are embracing the potential: a transformation from stuffy bureaucracy to streamlined, efficient, secure systems.
Today, we want to highlight three government use cases that demonstrate how blockchain technology works for everyone.
Georgia: Reinventing the Tax System
The newly-appointed prime minister in our home base country, Georgia, announced this week that his government will explore how to use blockchain to administer all taxes across the country except for value added tax. Development of the tax system will reduce double payments, map payments and refunds to individual and business entities, ensure accurate tracking mechanisms, and ease the administrative burden. The digital technologies will also provide the government with a cutting-edge elastic system primed for future growth and development.
Prime Minister Mamuka Bakhtadze announced the plan during a press conference in Tbilisi. Within the next year, the Ministry of Finance is expected to present a pilot project centered on revitalization of the tax system. It's a bright beginning for the taxpayers of Georgia and an exciting one for Spotcoin.
Spotcoin selected Georgia as our home base in large part due to the openness and willingness to embrace the smart economy. Our team has an enormous amount of experience in payment processing and navigating finance regulatory issues (especially in Georgia), and we are excited to give back to the country. As Georgia launches the tax project, Spotcoin is ready to support the government with advice and expertise where warranted.
A Fully Digital Government in Dubai
In December 2017, Dubai announced their goal of running the entire city's government on blockchain technology by 2020. Government administration is a burdensome bureaucracy based on paperwork. The jewel of the UAE plan is to shift to a paperless government, build on the backbone of blockchain. Bill payments, license renewals, visa applications, and key city transactions will be fully digitized and integrated into government administration. According to Smart Dubai, the public-private partnerships could save over 25 million man-hours and deliver a total of $1.5 billion in savings.
The development of blockchain backed government systems will integrate the technology into the daily lives of everyday people and support individuals who have been traditionally shut out of economic development. That is a goal that Spotcoin is primed to support with our exchange and Spotpay systems.
Identity Verification in the United Kingdom
Switching gears from the financial systems, the United Kingdom is investigating potential blockchain technologies for identity management. Every day there's a new headline about data breaches and stolen identities. The result is that personal data is no longer as personal as we might expect.
The UK government is in search for a way to secure identities through the blockchain. According to the report from Reform UK, an independent, non-party think tank focused on government efficiency, blockchain-backed identity management can ensure individuals control of their personal information. Most importantly, it allows them to dictate who is allowed access and in what form.
Spotcoin is watching the UK case with anticipation. Secure authorization and government backed identity will make a great case for the secure use of the blockchain. Easily traceable, trackable, digital identity records encourage speedier validation and bolster trust in the smart economy.
The Spotcoin community will benefit from these and hundreds of other projects in the pipeline around the world. Our mission to make the smart economy work for everyone is intricately linked to the success of government adoption and technology innovation. It's a brave new world out there, and Spotcoin is proud to be a part of it.
---
Interested in more Spotcoin?
Join our Telegram community: Spotcoin Team, Spotcoin News, and Spotcoin Bounty.
Take a look at our complete ICO offering here.
Read our Whitepaper here, for more details.
Visit spotcoin.com, where we make digital currencies work for everyone.
Residents and citizens of the United States and US territories are prohibited from taking part in the SPOT Airdrop and the SPOT public sales. Residents and citizens of the following countries are prohibited from taking part in the SPOT public sales: Bosnia and Herzegovina, China, Ethiopia, Iran, Iraq, North Korea, South Korea, Sudan, Sri Lanka, Syria, Trinidad and Tobago, Tunisia, Serbia, Vanuatu, Yemen
However, certified accredited U.S. investors can take part in the SPOT private sale. Chinese and South Korean investors can participate in the private sale when paying with digital currencies, after signing the SAFT form and completing the KYC /AML process. Any investment in digital currencies comes at a risk. No one should invest money that he or she can not afford to lose.
Forward-looking statements are provided to allow potential investors the opportunity to understand management's beliefs and opinions in respect of the future so that they may use such beliefs and opinions as one factor in evaluating an investment. These statements are not guarantees of future performance and undue reliance should not be placed on them. Such forward-looking statements necessarily involve known and unknown risks and uncertainties, which may cause actual performance and financial results in future periods to differ materially from any projections of future performance or result expressed or implied by such forward-looking statements.
Although forward-looking statements contained in this email are based upon what management of the Company believes are reasonable assumptions, there can be no assurance that forward-looking statements will prove to be accurate, as actual results and future events could differ materially from those anticipated in such statements. The Company undertakes no obligation to update forward-looking statements if circumstances or management's estimates or opinions should change. The reader is cautioned not to place undue reliance on forward-looking statements.