✅Netbox Browser: Ensuring Internet Absolute Privacy and Security using a Decentralized Blockchain✅

We all are so much engrossed in the opportunities and endless advantages that the internet technology has brought to mankind but only a few of us really cares to know about the history and modus operandi of this revolution in technology. Its origin can be dated back to 1960's when the first workable prototype was launched.
The advent of the internet technology is what I will refer to as the Savior of human mysteries, the reason being that ever since its innovation, virtually every aspect of the world have being improved ranging from transportation, finance, commerce, entertainment, tourism, education and so many others. In fact as it stands now, a very large percentage of the world population depends solely on this technology for their daily life activities.
Be that as it may, a talk on internet wouldn't be complete without mentioning internet browsers which happens to be my main focus of this article. A lot of popular browser names I am sure will readily come to your mind at the sound of this with each and every one of them having their peculiar characteristics and features that makes their users prefer them over others.
The Problem
However, we are in a global age where data and privacy is paramount to every individual and as such, people are so careful of the amount of information about themselves that they put on the internet through their browsers. This is mainly because the internet browsers in circulation are centralized in operation which gives them the liberty of doing whatever they like with the data of their users.
Imagine yourself purchasing some products online using your credit card only for you to wake up the following morning to an empty bank account? It's not impossible, it has happened to several individual a lot of times. This calls for a much more secure gateway to access the internet which will make internet users much more secured and comfortable surfing the net.
Its in lieu of this that netbox browser was created.
Introducing Netbox Browser
This is the first application for accessing web-resources for both PC and mobile devices without a centralized operation structure. This literally means that this application ensures that personal data of users belong to them only; even developmental decisions are being made by the community of users.
An exclusive feature of this browser is its ability to maintain the functions of netbox.chain blockchain network. This has been made possible by the assignation of individual netbox.chain network addresses to each web browser which can store netbox.coins #NBX that happens to be the currency of the netbox blockchain.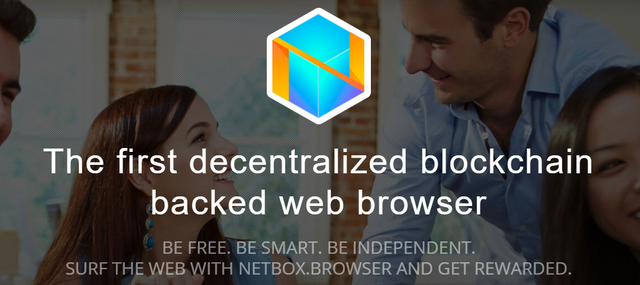 You might want to know the kind of system that the #NetboxGlobal blockchain network operates upon, well I am happy to inform you that it operates on the proof of stake mechanism (PoS) which allows each member of the network to verify their blocks with certain amount of netbox.coin currency. This is made possible through the availability of man online nodes as possible that verifies the blocks.
What other Exciting Features are available in the browser?
Availability of integrated #Netbox multi-currency crypto wallet for storage, management and exchange of netbox coin and other popular crypto and also fiat currencies. Users of this wallet are in total control of their private keys which will be stored in an encrypted form. This means that even the team does not have the access to your keys, isn't this awesome?
Availability of netbox.trust which allows users to evaluate the content to interact in the browser in order to get rid of low-quality contents
Netbox proxy to provide full and private access to the internet through a distributed proxy system
Availability of netbox store which allows users to find and download dApps.

Conclusively, with all these features embedded inside the #Netbox_browser, then it's of no doubt that it's on its way to becoming the most adopted browser for accessing the internet not only because of the decentralized structure and improved privacy for all users but also because of the added features that are available to be enjoyed by its several users which are obviously absent in all other browsers. This is a browser you all definitely want to download and start using.
For more information and enquiries, kindly check the links below;
/Website/Twitter/Telegram/Discord/Linkedin/Medium/YouTube/GitHub/
My Bitcointalk Username: amusanmikel2
Bitcointalk Link: https://bitcointalk.org/index.php?action=profile;u=2305577
Telegram Link: https://t.me/mayowa_eu