Introduction
HELLO STEEMIT
This is Jordie from the Netherlands. Oh.. wait. No worries.. I'll keep it short ;)
When I grew up in the 80s/90s I always had an interest in creating stuff. Mostly I fed my imagination with music, comic books, playing outside and what not. But also had an interest for technology, combined with curiosity and a lack of patience it one time ended up me blowing up that expensive 486dx.. yes.. sorry that was me.
But I am not here to make confessions. Nope, I just would like to share my creative outbursts on Steemit.
Whenever I have the time and I feel like it, I draw weird dots and lines with a .03mm copic liner. That is actually where the name "INKVIZ" comes from; INK and Visuals. Besides the INK part, I create motion graphics on a daily base. Which is actually a big part of my profession.
When I am not at my daily job and still have a little bit of 'creativity' to squeeze out, I draw stuff like this: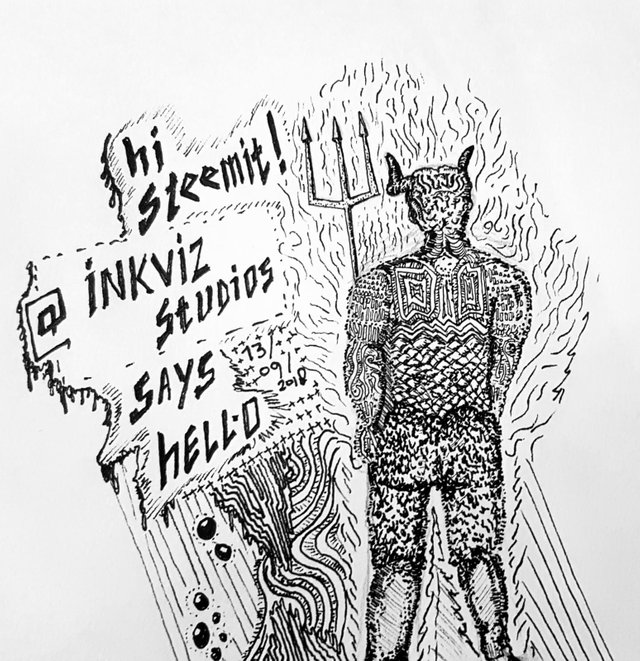 What you can expect of me:
As I am not much of a reader nor writer I'd like to communicate with visuals and will keep my posts short but visually enriched.
So, thanks for reading so far and who knows.. stick around if you'd like to see my creative outbursts.
A BIG THANK YOU TO
@guiltyparties for helping me out with this account
@rubencress for introducing me to the platform
Psyched to explore already :)