Newbiegames Needs Help And Is Looking For Curators!
@newbiegames needs help... a lot of help. Will you become one of the new team members that will make this community a success again?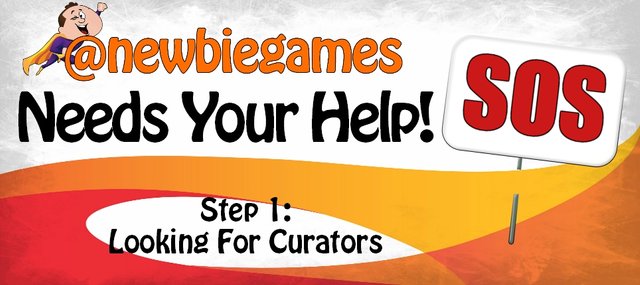 Created with The Logo Creator 7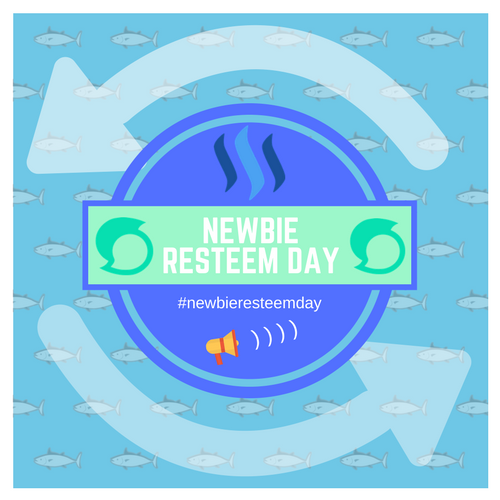 Source
The
@newbiegames
account was started in the first half of this year. It was (and still is) a spinoff of the
@newbieresteemday
initiative, founded by
@davemccoy
and
@mudcat36
.


Back then, @newbiegames had an entire team behind it. We were all redfish and minnows having fun hosting games and contests on this account. The team's goal was to help newcomers to grow their account a little faster while having fun. After all, contests and games are a great way to earn a little extra and to meet new people.
As time passed and our accounts grew, everyone started focusing on other things. That's just how things go in life.
For the last couple of months, I've been 'running' this account alone, and after our very successful Palooza giveaway it became hard to find the time to keep it active.
Just recently, @newbiegames received a generous delegation from @idikuci. I don't want to let it go to waste, but to make the most of this, I need help. Reliable help.
We've got to take this chance to make @newbiegames a team effort again, so it can help more newcomers now and in the future.

How Can You Help?
There are different roles that need to be filled in. I'm looking for:
curators

game makers or contest hosts

people with ideas and organization skills

someone who is willing to work at my side and help me to get this all organized and set up, so we can get @newbiegames going again. (Requirements: being motivated, think long-term, have organisation skills and ideas how we can make @newbiegames great again. If you think you would be the right person to run the account with me, send me a DM on Discord: simplymike#5957)
These last three roles will be clarified in another post I will publish soon. For today, I'm only focusing on finding curators, because I need to get this post out before another day has gone by.
Before I get into it, I'd like to stress that I'm looking for people who really want to get involved long-term and won't drop out again in 2 weeks.
If I can find enough people to help out, playing your part wouldn't take a lot of time. Plus, you'll be rewarded for your actions, of course.

I'm looking for 4 or 5 curators in English. It would be awesome if I could find some people who are able to curate in another language too, but for now, that's not a priority.
As a curator, the following things would be expected of you:
You are good at finding contests, games or challenges that are fit for newcomers. (In other words: check the tag feeds for easy-to-join initiatives.)

You know how curation works. (I'll create a Discord channel with all needed information and some tips)

You can follow up on new games and contests, and upvote and/or resteem the best ones. (The more people we find, the less work this will be.)

You can write 1 or 2 curation posts per week (the number will depend on how many people I can find) in which you highlight 3 to 5 contests/games. (I will provide you with a template for the curation post.)

You are a team player and dedicated to the SteemIt community.
If we can find enough people, you're 'job' at @newbiegames will take no more than an hour, maybe 2, each week.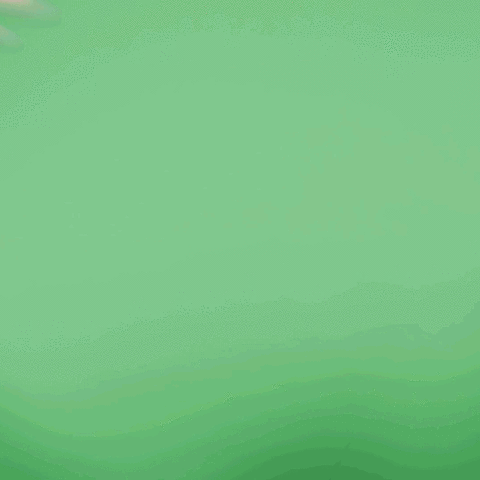 As a curator, this is what you get in exchange for the effort you put in:
You can keep 50% of the payout on every curation post you publish.

You will be rewarded with a Steem Power delegation.

How To Apply?
If you are interested in becoming a curator for @newbiegames, then show me what you can do.
Write a curation post for @newbiegames and publish it on your blog before Tuesday, December 4th.
Be sure to use the tag #newbiegamescurator.
You don't have to worry about the layout. I have created a template you can use. The picture on the right is an example preview. In the real template, there is room for 3 contests/games/challenges.
All you need to do is replace the dummy text and images, and fill in the details of every contest/game.
You can download the template below.

The games/contests/challenges you curate must meet the following requirements:
They must be fit for newcomers.

They can not be older than 2 days on the day you publish your post.

Preferably contests that don't ask for a resteem or a certain upvote %.


Using the #newbiegames tag is not a requirement.
You can download the template here
Click here to see an example curation post


I will check all applications on Tuesday and will get back to each of you.

Spread The Word
For this message to reach as many people as possible, I kindly ask you for a resteem.
Or, if you know people who might be interested, you can also tag them in the comments section to draw their attention to this post.

P.S. Don't forget to join our latest contest: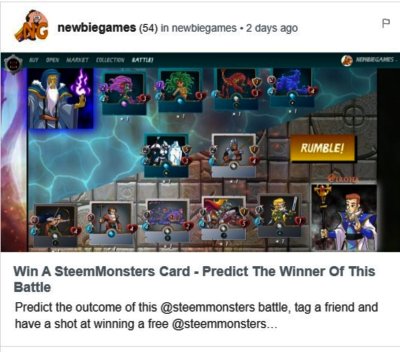 Click Here To Join