Bayer Shares Down 38% After Second Jury Rules Roundup Weed Killer Causes Cancer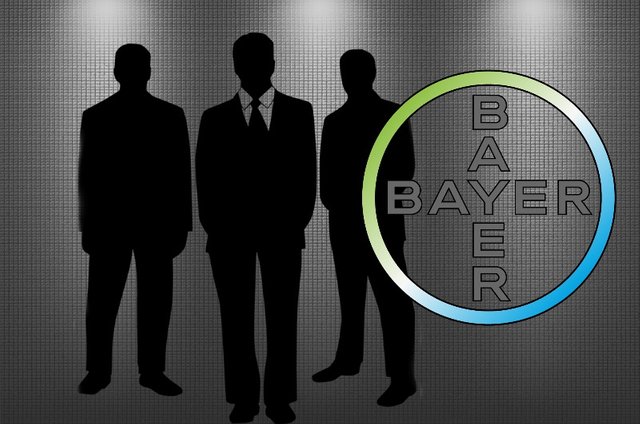 Germany's Bayer formerly Monsanto (name changed after a merger) is in more hot water for its products causing cancer, according to a second U.S. jury who ruled its Roundup weed killer was a carcinogenic substance that caused plaintiff Edwin Hardeman's disease, WSJ reported.
This time, a unanimous jury decision in San Francisco federal court Tuesday will haunt the already struggling company as shares plunged down as much as 38 percent as of March 20th according to The Washington Post.
Yesterday, on Tuesday, a Judge and Jury found that Bayer's Roundup weed killer product RoundUp caused cancer.
Bayer denies the allegations that glyphosate or Roundup cause cancer, stating the company is disappointed with the jury's decision. Bayer acquired Monsanto, the longtime maker of Roundup, for $63 billion last year and dropped the former companies name in the acquisition as reported by CNBC.
Bayer also made weak claims that the jury was influenced by the plaintiffs' lawyer's allegations of corporate misconduct and did not focus on the science.
In favor of various plaintiffs and millions of Americans protesting against Monsanto, U.S. District Judge Vince Chhabria stated Bayer's evidence "a distraction" from the scientific question of whether glyphosate causes cancer.
While Monsanto insists "glyphosate has a long history of safe use," a study by the World Health Organization's International Agency for Research on Cancer classified glyphosate as "probably carcinogenic" back in 2015.
One year later, another organization, PAN, the Pesticide Action Network International, issued a 96-page report stating that glyphosate contaminates the Global Ecosystem. That same year the FDA suspended testing for glyphosate residues in food. Those foods, according to a subsequent report by Food Democracy Now! and the Detox Project, included many of America's most popular foods including – cookies, crackers, popular cold cereals, and chips. The chemical was also found in several wines including organic wines, baby food and formula, breast milk and even tampons.
Glyphosate is also sprayed directly on many types of conventional crops before harvest, including wheat, oats, and barley. In all, glyphosate is used in some fashion in the production of at least 70 food crops, according to the EPA, including a range of fruits, nuts, and veggies.
Glyphosate was also listed as a carcinogen on California EPA's Prop 65 list in July of 2017, while a study published in January of 2017 proved that chronic consumption of low levels of Roundup (which contains glyphosate) caused fatty liver disease in animals.
Meanwhile, in another study scientists have found that exposing rats to ultra-low doses of Roundup caused liver and kidney damage.
Another study done by the WHO and UN experts at the Food and Agriculture Organization (FAO) conflicted the IARC report and found that "glyphosate did not cause cancer and pose a risk to humans."
An additional report earlier this year by the European Chemical Agency agreed with the FAO study stating that glyphosate was "safe."
Monsanto now (Bayer) has an obvious conflicting record on whether or not its Glyphosate chemical is safe or not.
It's no real surprise that there is conflicting research since Monsanto is documented to have paid off Sir Richard Doll, a renowned cancer researcher, for 20 years. Even television personality Dr. Oz has said that Monsanto's products could cause cancerous effects.
Judge Chhabria divided the Hardeman case into two phases: one to decide causation, the other to determine Bayer's liability and damages for the man's cancer.
Under Chhabria's order, the second phase would only take place if the jury found Roundup to be a substantial factor in causing Hardeman's non-Hodgkin's lymphoma. 
Now the second phase will take place for holding Bayer responsible for the man's disease and the jury will find whether or not Bayer has liability.
This is the second time that Monsanto (now Bayer) has been taken to trial and found guilty by a jury of causing cancer on a plaintiff suing the company.
Another California man Dewayne Lee Johnson was awarded $289 million in August last year after a state jury found Roundup caused his own cancer. That award was later reduced to $78 million and is on appeal by Bayer.
One may wonder why they chose to go with Bayer instead of Monsanto, as Bayer also has a nasty history. No one is forgetting anytime soon that Bayer sold tainted hemophiliac medicine which caused them to contract Aids, sorry PR reps. 
Bill Maher runs down both evil companies so-called "achievements" in the video below, which includes "giving heroin to children as medicine, creating Zyklon B, PCBs, Aspartame, DDT, Agent Orange and of course Roundup!"
https://twitter.com/Anonbinary/status/1072302959457910784
Perhaps unsurprisingly Bayer's Roundup product isn't the only product that causes problems, another commodity called Dicamba has also faced a backlash.
Dicamba has been under fire by farmers for causing widespread damage to their crops that are not GMOs designed to resist the chemical. Dicamba was even banned in Arkansas by the Plant Board which Monsanto disputed and sued the group for acting outside its authority in prohibiting its herbicide's use and failing to consider research Monsanto had submitted to federal regulators.
Dicamba is considered more toxic than glyphosate, but less toxic than 2,4-D, the third most common broadleaf herbicide. (Monsanto is working on crops that are resistant to 2,4-D, as well.) Yet, when used properly, dicamba is considered only mildly toxic to people, pollinators, wildlife, and aquatic organisms. There is no scientific consensus on whether it has cancer-causing properties, though the EPA says "Dicamba is not likely to be a human carcinogen."
Then there is Monsanto's product it canceled launching called, NemaStrike designed to be applied to crop seeds to protect them from worms and other bugs after reports indicated that it caused strange rashes on people who came into contact with the chemical.
With two cases against Bayer found to be guilty for causing cancer and a pending 11,200 Roundup lawsuits by farmers, home gardeners and landscapers claiming its glyphosate-based herbicides cause non-Hodgkin lymphoma and other cancers. As well as six more trials due to start this year in federal and state courts to go to trial in the United States, Bayer is going to have a busy time with litigation.
Especially since, this piles on top of a flood of lawsuits over waterways contaminated with PCBs (chemical compounds used in transformers, paints, sealants) and fresh cases emerging over Dicamba set for trial in October 2019 later this year.
The current trial on Roundup for Hardeman is still pending liability ruling, however, with the evidence cited in this article, it seems like Bayer is surely liable.
We can all thank dead former President George H.W. Bush for leaving us with the monstrosity that is now Bayer, for deregulating the industry that as I noted on Twitter formerly Monsanto was responsible for — poisoning people with Agent Orange, responsible for the research of the uranium used for the Manhattan Project' (Dayton Project) and PCBs chemicals. Go figure a chemical company involved with all that is still poisoning people decades later. Who the hell would have thought?
https://twitter.com/An0nAKn0wledge/status/1068338605263867904
https://www.youtube.com/watch?v=HxtItwi6A_Y
Monsanto is facing multiple pronged attacks against its dangerous products, finally being exposed for their cancer-causing elements in their chemicals and other health hazards in not one, not two, but three different commodities. If you want a full history on Monsanto this author highly recommends this article by GM Watch.
Image via NaturalBlaze.com
Written for Activatenow.us
Support this writer:
My work is feared by many and has been banned on - Medium, Twitter and Facebook, the establishment and BIG social has both shown and proven they fear my reporting, which many times drudges up things governments and corporations alike don't want the public to know! I draw up inspirations for my reporting and style from former journalists - Christopher Story, Danny Casolaro, Gary Webb,  Michael Ruppert, Hunter S. Thompson, Sandy Hume, Michael Hastings, Serena Shim, and Andrew Breittbart. Rest in peace.
If you want to support my work and make a difference to journalism/investigation, it's as easy as sharing my well in-depth articles with everyone you know.Alternatively if you want to help me monetarily you can subscribe to my Patreon and become a THOUGHT CRIMINAL or make a one time payment in cryptocurrency below. 
I even accept pre-paid gift cards!Steemit (leave a memo with your name and message then i'll give you a shout out on Steemit, Resteem your work and post some of your Steemit work on my Twitter account depending on the content as a thank you.)
Patreon: https://www.patreon.com/AKswriting 
BitPatron: https://bitpatron.co/an0nkn0wledge.id.blockstack
BTC: 1Nxnj9bQwiydq8R718PYuCDoqm9SCbYyXp
ETH: 0xD86fa546DE7C8e50622DA58CC00Fc57f7938CC4b