Kingsford Charcoal Plant on Strike! November 14th 2017
There is a Union strike at the Kingsford Charcoal plant in Burnside, Kentucky going on right now. I don't know if this is going on at any other Kingsford locations or not. Details are few and not easy to find.
What I've been able to gather in my research is that this strike is organized by the Laborers Union 576 out of Louisville, Kentucky and is in response to employees' dissatisfaction with the Clorox company's recent proposal to move from 3 - 8 hour work shifts to 2- 12 hour work shifts. The 576 Laborers Union converged on the Burnside plant to rally against this proposal.
The only two mentions I have been able to find are a Commonwealth Journal article from two days ago and a thread on Topix.
The Topix thread is mostly people arguing the merits of a union, but I did find this tidbit that employees get a 10 minute break every hour interesting.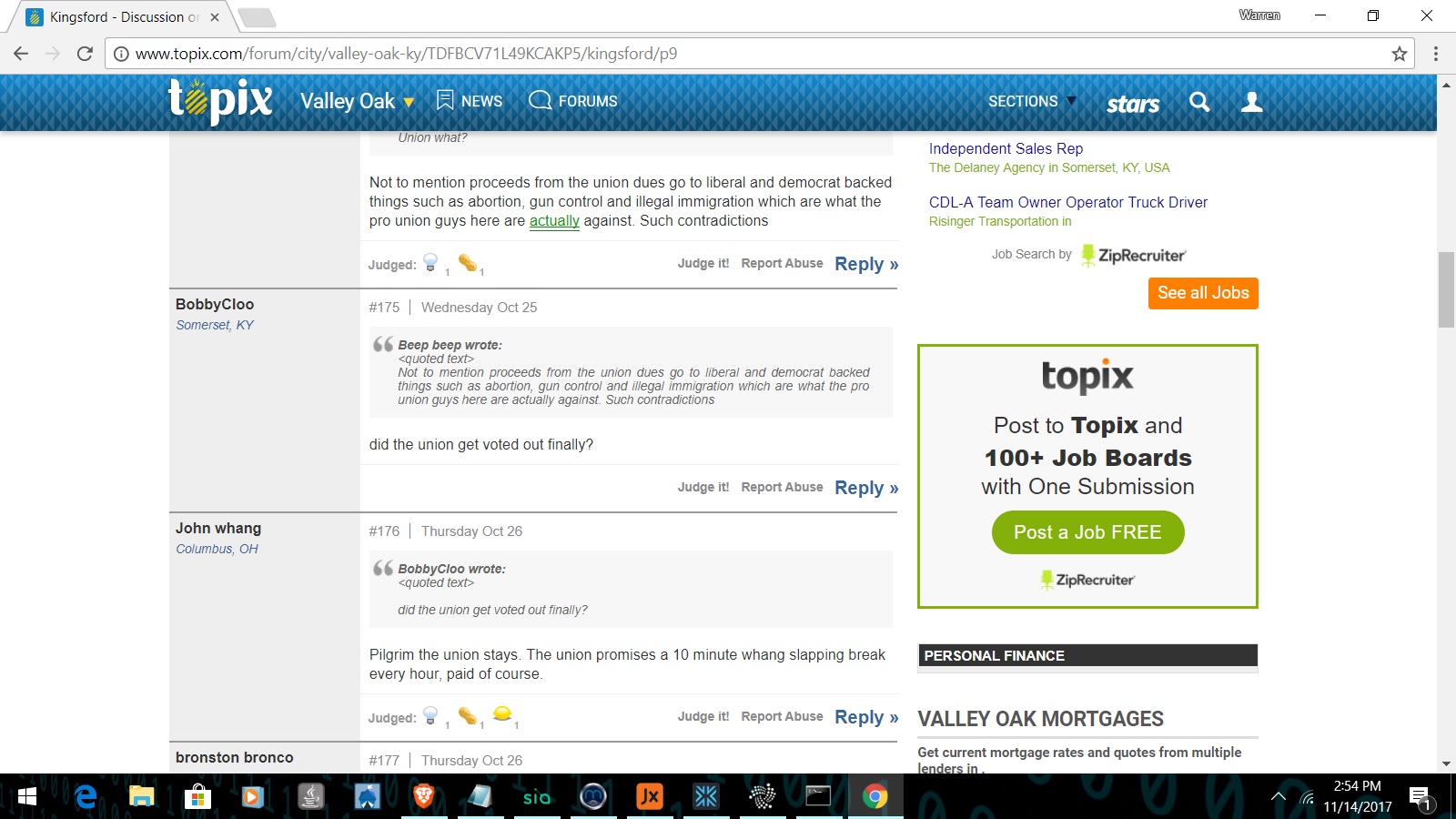 For those doing the math, that's 8- 10 minute breaks per day! Under the proposed scheduling changes it's 12- 10 minute breaks per day! PAID! TWO free hours of pay EVERYDAY!
Here is a short video clip I shot as I was driving past the strike.
Sources: Commonwealth Journal article written by Janie Slaven.
http://www.somerset-kentucky.com/news/kingsford-employees-not-pleased-with-proposed-schedule/article_689fbd42-c733-11e7-af76-9f4982473038.html
Topix thread:
http://www.topix.com/forum/city/somerset-ky/TDFBCV71L49KCAKP5/kingsford/p8
---
Did you find this article useful? Please upvote and Resteem if you wish!
Special thanks to those who have donated and used my mining links and code! It is very much appreciated!
BTC: 1CXAVW4H2hLvsnor2SgwPfRYd586noDLbq
Bitcoin Gold: GanZe2eqADhH9rh5Znn9E61Xs4Hux1XL3a
LTC: LUENAFUWDjoJhoFf3ShzBe9XU82wETkSku
Dogecoin: DNHjTrBssQx6v5u8W6hSrej9ocAX5ShGDb
Monero: 47PwackL2h6H7myZVjMAKfGEViXEHsYgHUup28BeKtEEasYg9MxB5RtaUktb5AUK69YbQ28EYCEe1LTnYcz5AkmFRU1rPWk
Dash: XjQUbmEAqxxMM6GfCV4TLzai947Lp7EUk5
ZEC: t1ZGnFx54UDW66d2rfSvcHMNYqpm8iraCMf
Ethereum: 0xBdAD8baB568f8C1f9F01830fC3B49B1abbD9f32D
ETC: 0x2f185ff241b543d6452455d4b73376b7958b5209
PIVX: DSBKpyUY6epRQmpaFesFFV3H93QTPmJmQQ
Burstcoin: BURST-XFYD-YU7K-9MC5-3GYMT
Golem: 0xBdAD8baB568f8C1f9F01830fC3B49B1abbD9f32D
Augur: 0xBdAD8baB568f8C1f9F01830fC3B49B1abbD9f32D
Iota: DPU9NGESB9VBSUKPBICOV9HSGTVBJIO9U9YLHCTCWHGJUZOBGZXRQ9YXFQEMYCKOZNODOZPKWTGPJFYAXSP9YUEXGA
---
Useful Links Below!!
Earn Bitcoin or Litecoin by selling Items online at Bitify.com!
Sign up at Coinbase and get $10 worth of Bitcoin free after your first $100(sell or purchase) with this link: https://www.coinbase.com/join/511fcbb9c9a6cbb41800003f
EASILY and QUICKLY exchange Cryptocurrencies without registering on an exchange at Changelly.com
Thinking about cryptocurrency mining? Please consider using one of the following:
3% off at Genesis Mining with code: mAWnvI (let me know in the comments if you use this code so I can return the favor when I upgrade)




Visit cryptohwwallet through this banner to save 5% on your order!
Get a FREE T-Shirt at CryptoHWwallet.com with your order by using code: FreeCryptoTshirt.
FreedomPop offers a FREE Basic Cell Phone service and deeply discounted Unlimited Plans!