Finnaly moves towards Peace on korean pennisuly and more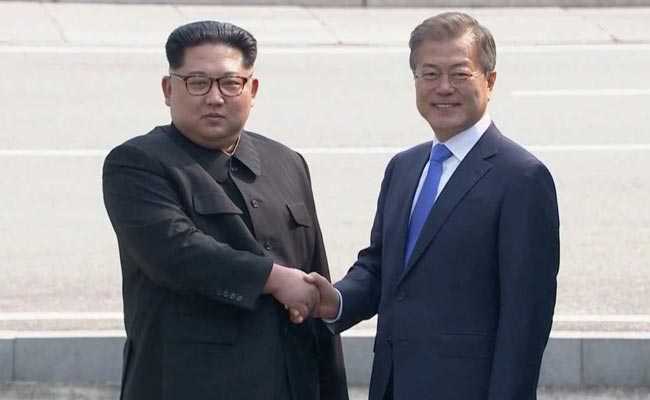 In the early hours of Friday, Kim Jong-un became the first North Korean leader to visit the South in 65 years. The leader was all smiles when he met South Korean President Moon Jae-in, and the two men were even pictured holding hands. While they didn't seal a long-awaited peace agreement, the leaders of North and South Korea on Friday signed a landmark declaration vowing the halt of hostile acts, denuclearization, and a push for joint talks with US and China.
North Korean leader Kim Jong-un and South Korean President Moon Jae-in have confirmed their goal of complete denuclearization of the Korean peninsula. "South and North Korea affirmed their shared objective of achieving a nuclear-free Korean peninsula through complete denuclearization,"reads the declaration signed by the leaders of the two countries, as quoted by Yonhap. Kim and Moon have agreed to stop all hostile acts over "land, sea, and air," which can lead to military tensions and clashes. Beginning on May 1, all the loudspeaker propaganda the two countries have been blaring at each other will be suspended. Broadcasting equipment will also be dismantled.
The two Koreas also said that they will push for joint talks with the US and potentially with China to officially end the 1950-53 Korean War. The conflict ended in an armistice, leaving the two sides still officially at war.
The two sides have agreed to open a permanent communication office in the North Korean town of Kaesong and resume temporary reunions between relatives separated by the Korean War. The reunions are expected to take place around August 15, an anniversary for both Koreas celebrating the peninsula's liberation from Japanese colonial rule after the end of World War Two.
Allegedly Syrian Army is tracing the arrival of French troops to the Hasakeh, which is north-east part of Syria. I couldn't independently verify this.
Weeks after the House Intelligence Committee voted to officially close its investigation into whether President Trump colluded with the Russians, it has finally released its official account of its findings in a heavily redacted 253-page report which unambiguously proclaims that the committee "found no evidence that the Trump campaign colluded, coordinated, or conspired with the Russian government."
You should also check out a great video on "CNN Reporter Sniffs "Poison" On Air" and check out this article on how Canada is in serious trouble financially. You can find a link at the bottom of this page.
You can find all the links to the stories here: libertydotreport.wordpress.com/2018/04/27/finnaly-moves-towards-peace-on-korean-pennisuly-and-more/