Syrian military bases hit by rockets and more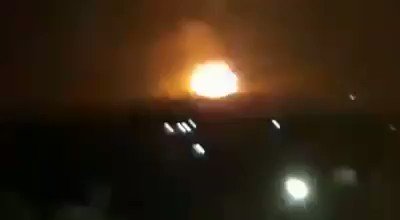 Powerful explosions have been heard in the countryside of Hama and Aleppo provinces, the Syrian state news agency reports. The state media says military bases there were hit by rockets launched by an unspecified enemy. According to a report on a Syrian newspaper facebook page, the attack was attributed to the U.S. and Britain although numerous reports also accuse Israel of being the responsible party. So far nobody has claimed responsibility for the massive airstrikes. An official from a regional alliance including Iran, Hezbollah and Syria, said Monday that the strikes killed 16 people, among them 11 Iranians, according to the New York Times. The report said the bombardment also destroyed 200 missiles. There could be another attack soon, Ynet reports that Israel has closed its airspace near the Golan Heights and the Israel-Syria border, most likely in anticipation of one or more bombing/missile attacks on Syrian territory.
In a speech on Monday evening, Israeli Prime Minister Benjamin Netanyahu said his country has "conclusive proof" about Iran violating the terms of an international nuclear agreement. Netanyahu showed the public a massive bookcase filled with folders, claiming this represents the number of documents that Israel has on Iran's program. He went on through his presentation on human-sized long screens, showing slides and pictures of what he claimed was evidence of Tehran violating the agreement with global powers. "After signing the nuclear deal in 2015, Iran intensified its efforts to hide its secret files," he said. "In 2017 Iran moved its nuclear weapons files to a highly secret location in Tehran." The Israeli premier has repeatedly called for a 2015 nuclear accord between world powers and Iran, Israel's biggest rival, to either be altered or scrapped. Secretary of State Mike Pompeo arrived in Saudi Arabia on Saturday on a hastily-arranged visit to the Middle East as the United States aims to muster support for new sanctions against Iran. "We are urging nations around the world to sanction any individuals and entities associated with Iran's missile program, and it has also been a big part of discussions with Europeans," Brian Hook, a senior policy advisor traveling with Pompeo, told reporters.
Faced with mounting scientific evidence that bee-poisoning neonicotinoids, or neonics, could cause an "ecological Armageddon," European regulators on Friday approved a "groundbreaking" and "historic" ban on the widely-used class of pesticides an announcement met with immediate applause by campaigners. "The E.U.'s groundbreaking ban on bee-killing neonicotinoid pesticides is a huge win for pollinators, people, and the planet," responded Tiffany Finck-Haynes, senior food futures campaigner for Friends of the Earth (FOE). Lori Ann Burd, director of the Center for Biological Diversity's environmental health program, said it's also a win for "science-based regulation of pesticides."
You should also check out how pullout is unlikely as US reinforcements arrive in Syria and a former UN weapons inspector: Syrian gas attack story raises serious questions. You can find links at a bottom of this page.
You can find all the links to the stories here: https://libertydotreport.wordpress.com/2018/04/30/syrian-military-bases-hit-by-rockets-and-more/