'Spiderman' who saved child by climbing up outside of Paris building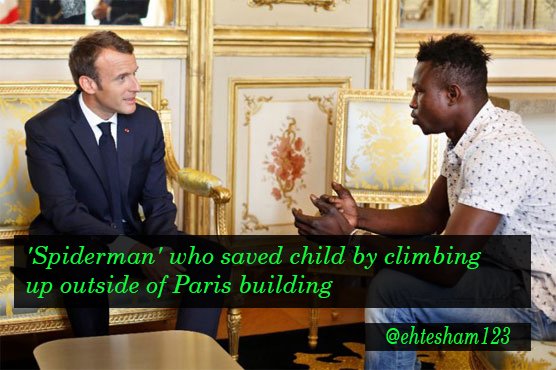 A great efforts we saw by a migrant who saved a 4 years old child hanging from an appartment balcony of 4th storey. This news went viral and French President Emmanuel Macron personally invites him at the Elysee Palace and offered him French Citizenship and a job as a fire fighter in French fire services.
Mamoudous Gassama (Known as Spider-man of Paris), a migrant from Mali came to this city few months ago helped a hanging four year helpless child and didn't cared about his own life and climbed four stories to rescue him. People captured those moments and one of that video went viral on social media and he was like a hero.
Paris Mayor Anne Hidalgo also congratulated him personally for this great effort. She added "He told me that he came here to build his life and i replied that he set an example for all the citizens and that city of Paris will support him to settle in France".
"I did it because it was a child and i had only one thing in mind at that time to save him at any cost. Thanks God i saved him," Mr Gassama said.
Local authorities said the child's parents were not at home at the time.
YouTube Video by CNN