Space Force Members Will Be Called "Guardians" Mike Pence Announces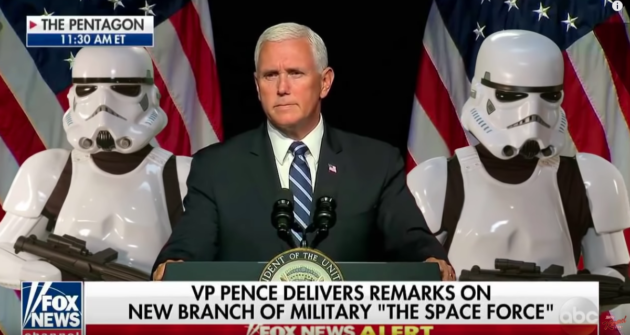 On Friday, Vice President Mike Pence announced that members of the Space Force military service will be called guardians.
"We just returned from the Oval Office and so it is my honor, on behalf of the President of the United States, to announce that henceforth, the men and women of the United States Space Force will be known as guardians," Pence said at an event celebrating the Space Force's first year.
The Space Force tweeted Friday that the name announcement came "after a yearlong process that produced hundreds of submissions and research involving space professionals and members of the general public. Guardians is a name with a long history in space operations, tracing back to the original command motto of Air Force Space Command in 1983, 'Guardians of the High Frontier."
In his opening remarks, Pence called President Donald Trump, the "founder of the United States Space Force."
It is not immediately clear why Trump was not at the ceremony himself, as he had no other events that would cause a scheduling conflict. His absence caused speculation among many media sources.
Pence also announced earlier this month that Florida's Cape Canaveral Air Force Station and Patrick Air Force Base will be renamed Space Force stations.
"Today we make history, with the first two installations in the history of the United States Space force to bear the name of this new branch of the service," Pence said at Cape Canaveral after the announcement.
The two bases will now be referred to as Cape Canaveral Space Force Station and Patrick Space Force Base.
In previous comments about the Space Force, US President Donald Trump promised that the agency would be involved in the creation of a "super duper" missile.
It is likely that the Space Force will be dealing with far more military missions than explorations. During the signing ceremony back in December, Trump defended the new government agency against criticism, saying that "space is the world's newest war-fighting domain."
The Space Force is also officially a branch of the US Armed Forces. More specifically, the new agency is connected with the Air Force, Coast Guard, the Army, and the Marine Corps. The agency is replacing an existing military space program called Air Force Space Command, which was founded in 1982.
The Space Force describes itself as "a military service that organizes, trains, and equips space forces in order to protect U.S. and allied interests in space."
It was also announced this year that Space Force troops had already been deployed to the middle east to assist with the ongoing occupations that the US military is involved with there.
Twenty airmen assigned to the 16th Expeditionary Space Control Flight and the 609th Air Operations Center at Al Udeid Air Base, Qatar, transferred into the military's newest branch during enlistment or oath of office ceremonies earlier this month, according to a press release from the agency.