Bitcoin rate: $ 100,000 this year?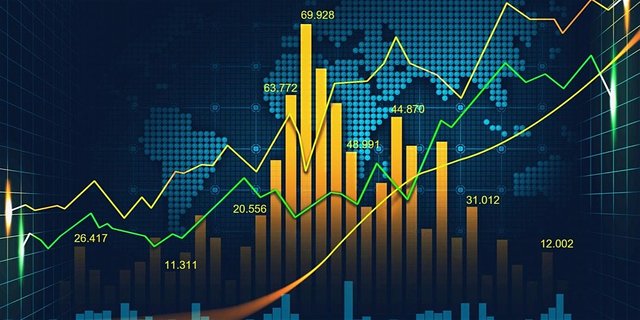 Bitcoin (BTC) has reclaimed $ 50,000 and hit a new high. Even Bitcoin critic Peter Schiff no longer rules out a rate of 100,000 US dollars. The market update.
After the Bitcoin price exceeded the threshold of 50,000 US dollars (USD) for the first time on February 16, profit-taking ensued. Now BTC has conquered the psychologically important brand again - and set a new price record at USD 50,900.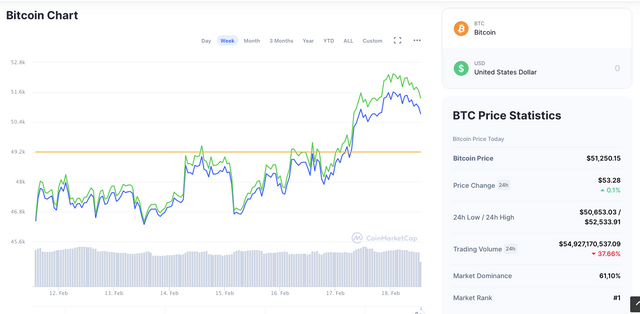 source: Coinmarketcap
Since the US company Microstrategy announced its Bitcoin coup in late summer 2020, the number of imitators has been increasing. Above all, Elon Musk's decision to invest part of the Tesla reserve in BTC had recently given the Bitcoin price a fresh boost.
Nevertheless, most financial executives in the economy seem to be more skeptical about Bitcoin. According to a recently published survey by the market research company Gartner, only 5 percent of the CFOs surveyed can imagine investing in BTC with their company in 2021. Of the 77 financial managers surveyed (including 50 CFOs), 84 percent named the large fluctuations in Bitcoin exchange rates as the biggest stumbling block that made them shy away from investing in digital gold.
"Eighty-four percent of the respondents said that bitcoin's volatility posed a financial risk, it would be extremely difficult to mitigate the kind of price swings seen in the cryptocurrency in the last five years" gartner survey
After all: 16 percent plan to hold BTC one day. Five percent want to get into Bitcoin as early as 2021. Only one percent have such intentions for the period 2022-2023. Nine percent are not considering a BTC investment before 2024.
Companies from the technology sector in particular are bullish. Every second company is planning a Bitcoin investment here. Against the background that, with Microstrategy, Square and Tesla, technology companies in particular have discovered BTC as a reserve asset, this seems logical.
Bitcoin rally brings record profits
One thing is certain: the overwhelming majority are currently doing good business with Bitcoin. The average net profit on BTC transactions is hovering at levels that even the bull run of late 2017 is fading. This is shown by data from the blockchain analysis service provider Glassnode.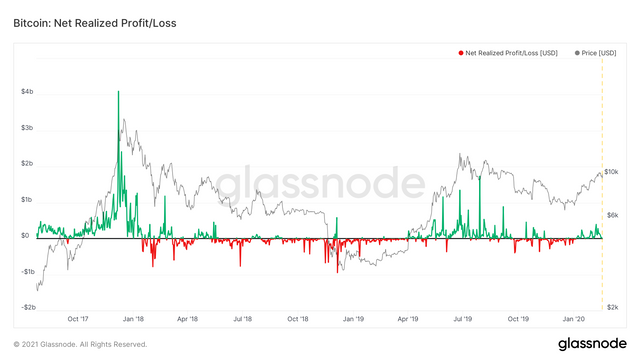 Net profit and loss of BTC units. Source: Glassnode
The metric "Net Realized Profit / Loss" indicates the profit or loss of all coins that are moved at the respective point in time. The biggest net profit came on January 7th, when it broke the $ 40,000 mark for the first time.
BTC: Already at USD 100,000 by the end of 2021?
Even if many companies are still skeptical, the results so far speak clearly in favor of BTC. In particular, the stock-to-flow analysis (S2F) has so far proven to be a useful model for classifying the Bitcoin rate. The stock-to-flow model relates the amount of BTC in circulation to its creation amount over a certain period of time. The crypto analyst PlanB has worked out a connection between the four-year halving of the creation rate (Bitcoin Halving) and the long-term price development.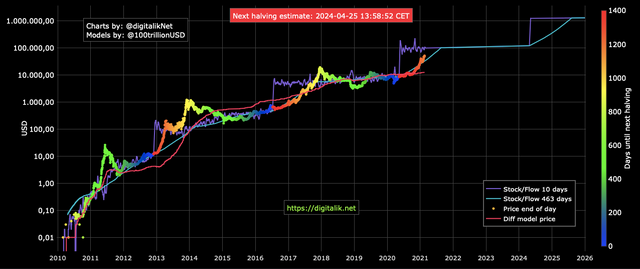 Stock-to-flow model from Plan B. source: digitalik.net
According to this model, the price would have to rise to over 100,000 US dollars as early as 2021. Even the declared Bitcoin opponent Peter Schiff admits that he can succeed:
"Now that #Bitcoin has hit $50,000 I must admit that a move up to $100,000 can't be ruled out. However a move down to zero can't be ruled out either." - on twitter
Of course, Schiff does not assume that the Bitcoin rate can last in the six-digit range. The gold fan therefore advises his Twitter followers to invest in Bitcoin's analogue counterpart:
"While a temporary move up to $100K is possible, a permanent move down to zero is inevitable. If you don't want to gamble buy #gold." - on twitter
It's not the first time Schiff has prophesied the demise of BTC - and it won't be the first time he's been wrong.