You are viewing a single comment's thread from:
RE: Extensive Post Reveals Drills, Anomalies and Child Actors Involved With Parkland School Shooting in Florida on February 14, 2018 (N.S.F.W.)
Dear Christopher,
Outstanding job on this post and so sorry it got somewhat censored (it doesn't appear in your feed). I resteemed it nonetheless and it does appear on my feed (although at first it didn't fully)
I knew something was fishy about the Florida shooting when I saw that video of the blond girl saying she had just spoken to the shooter and was laughing. It just wasn't right, seemed scripted; so I had commented about this somewhere.
You did outstanding work on this post to reveal the whole charade as nicely as you did with the White Helmets extensive post. Well done my friend!
It is obvious that the Deep State is highly embedded with the MSM, and most notably with CCN & MSNBC. But it goes way deeper than that as can be attested by yet another (probably one of tens of thousands) of compromised "so-called" journalists like Olivia Solon of the Guardian (see corbettreport's open letter to her - which includes my own that I had sent to her a few days prior also mentioning your fine investigative work on the White Helmets in the comments section of that post).
It is, therefore, quite obvious that the MSM is pushing Deep State agendas (not only that Trump is the enemy, but there are so deeply pushing for gun control now).
One must ask: why? and look at the BIGGER PICTURE. So here it is,
There is an imminent financial/markets crash (and we are talking 50 to 75% or more). This will fleece and wipe out the masses (via investment losses, bail-in losses, pension losses,etc. ) And the Deep State thieves who will be looting this money know that the population will be pissed. And an armed population is one that is dangerous to them.
So, that is why they are pushing this anti-gun agenda so aggressively. They want peoples' guns at all costs.
BTW, if you are looking for a new villain to expose I suggest Jeff Zucker - the current President of CNN, as he is obviously a significant Deep State tool.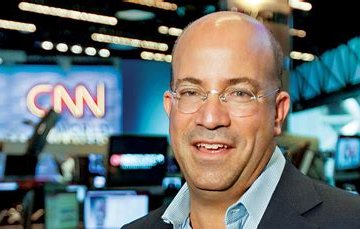 These Deep State operatives are the most despicable and nefarious of TRAITORS. It's time that we root out these rats and cockroaches by shining BIG BRIGHT LIGHTS on them!
I'm with you buddy!