Inflation in Venezuela will grow to a million percent. Maduro blame the United States for the crisis
Inflation in Venezuela could reach up to a million percent by the end of the year. This is predicted by the International Monetary Fund (IMF). The South American country, which is facing the economic crisis for a long time, would come closer to the situation similar to Germany after the First World War or to Zimbabwe in 2009. Opposition blames the government of President Nicholas Maduro. According to the head of state, on the other hand, the United States is responsible.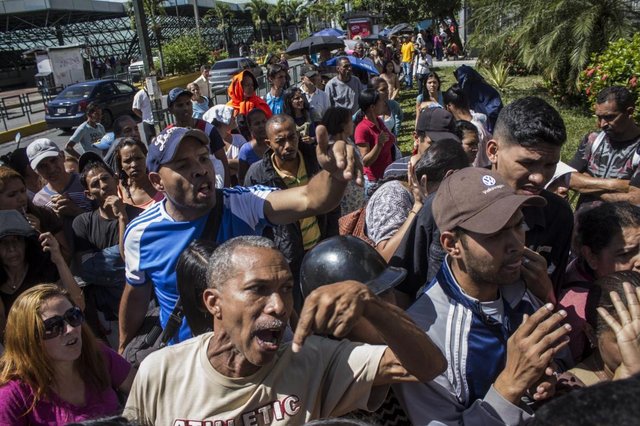 Venezuela's economy will fall by 18 percent by the end of the year, said Alejandro Werner, director of the Western Hemisphere IMF. Residents of Venezuela who lack most of their basic goods, including medicines and food, are waiting for further deterioration in their standard of living.
Economists have to rely on data from international organizations and banks in the forecasts, and the country has stopped publishing macroeconomic indicators. The situation has worsened since 2014, when oil prices have fallen sharply and Venezuela is dependent on exports.
President Nicholas Maduro's government has blamed the United States for the alleged economic war on Venezuela. Critical voices from the opposition but problems attributed to a bad political decision.
Continuous printing of new banknotes, Venetian bolivar, and control of foreign exchange and prices make it impossible for enterprises to import goods and production techniques. The opposition daily El Nacional reported on the lack of electricity in the state of Zulia, but the problem is also beginning to concern other areas. The failure of cities to export waste then causes epidemics in many places.
Protests have at least 12 victims
Protests are breeding in the country: last week, doctors, university professors and pensioners also joined doctors and nurses. "We did not get into this crisis either as a result of a natural disaster or a war, but because of political decisions by the government that does not solve the problems and only try to keep it in power," activist Marco Antonio Ponce said. According to him, about thirty riots a day in Venezuela.
Over the last half-year, at least 12 people died in demonstrations, 11 of which were shot dead by law enforcement. The impending economic collapse has already prompted hundreds of thousands of Venezuelans to emigrate to neighboring countries. Only in Colombia now live about 800 thousand.
With hyperinflation in the past, Zimbabwe was also under the leadership of President Robert Mugabe. The African state was finally forced to abolish its currency, but a similar move by bolivar would not be successful. The reason is, in particular, the history of unsuccessful attempts to recover the currency and the lack of diversity of the Venezuelan economy. The end of the crisis is so unpredictable for local people.