HF21 + Anti-Retaliatory Downvoting System (Proposal) = A Functional STEEM/Steemit
Over the past two years, I've written a LOT about the systemic dysfunctions of our beloved blockchain, stating that said dysfunctions were causing massive negative feedback loops that would, inevitably, destroy the blockchain if not remedied. I've taken a lot of grief for such commentary but with STEEM at $0.16, a ranking of 79th in terms of crypto market cap and a dramatically decreased Active User Base, it would seem as if the market concurs.
HardFork 21 had some roll-out issues (necessitating HardFork 22 to clean up the mess) but putting that aside, did it accomplish anything? Did it do anything to remedy the crippling systemic dysfunctions about which I, and so many others, have written?
Raison d'être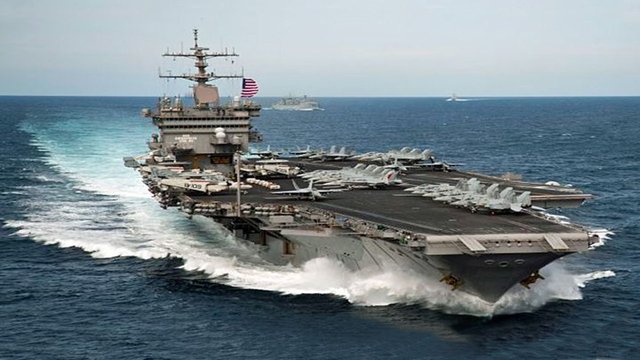 This is the USS Gerald R. Ford. At more than $13 billion, it is, by far, the most expensive, sophisticated and potent weapon ever created. Combined with the might of its Battle Group of submarines, frigates and destroyers, its ability to project power exceeds that of almost every nation on Earth. With a crew of approximately 5,000, the aircraft carrier is, quite literally, a floating city. And, as with all cities, there are innumerable component parts organized into a highly integrated whole. Of those component parts, however, some are more critical than others.
For example, the USS Gerald R. Ford has many dozens of bathrooms. Each of those bathrooms was deemed important and hence included in the ship's design. If one of those bathrooms were to become dysfunctional, it would create problems. But the problems it would create would not be catastrophic. The people for whom its use was intended would compensate by using another. A pain in the ass, but not a pain in the chest.
But consider if the USS Gerald R. Ford's aircraft launch catapult were to fail. Without it one couldn't launch aircraft. If it were to become dysfunctional, the USS Gerald R. Ford's raison d'etre, along with that of its entire protective flotilla, would be completely negated.
Get this one thing wrong and nothing else matters.
In past articles, I've argued that STEEM is the navy, Steemit is the aircraft carrier and the blockchain's other DApps are the support ships in Steemit's flotilla. And, I've argued that Steemit's raison d'etre, its Central Premise, is: "Content Shall Be Compensated Commensurate With Its Quality." 
Further, I've argued that to achieve said objective, there had to be rules prohibiting game-rigging (vote-buying/selling and other voting manipulations), a pragmatic mechanism for enforcing said rules and a highly functional curation system. Absent a defense of the Central Premise, I argued, would cause STEEM/Steemit to wither and die.
HardFork 21
The full effects of the HardFork will not be known for some time. People are still scrambling to understand what it all means and how best to adapt to the new realities. But there are some early indicators that, to be frank, are extremely positive. 
If a picture's worth a thousand words, then this one about bidbot usage speaks volumes: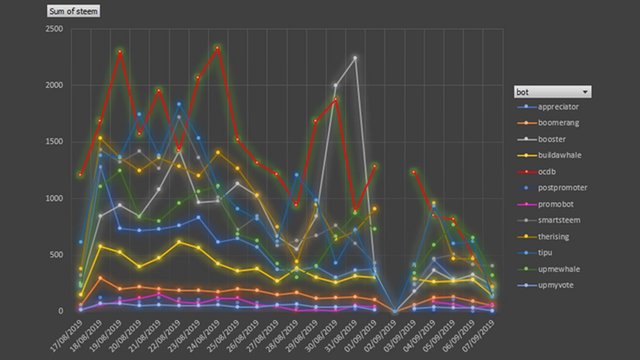 Source: @exyle
Whales and Orcas own approximately 85% of the blockchain's SP. SP is the system's internal capital and how it's distributed dramatically determines how the blockchain operates. Prior to HF21, the vast majority of that internal capital was leased to bidbots in an effort to generate Passive Income. But vote-buying/selling, by definition, is the antithesis of a merit-based compensation system … in essence, a castration of the curation process and hence … the blockchain's launch catapult.
But all of a sudden, post HF21 ... everyone's into curation! (It brings tears to my eyes.) Manual or automated, it would seem as if a plurality of Whales and Orcas want in on the game. And bidbot usage ... well, its suddenly painted a target on your back. 
To be honest, I would have gone about things differently - HF21 was not what I would have considered the optimal solution. And keep in mind, we don't yet know what the final picture will look like ... the instinct to be dastardly seems hard-wired into the DNA of more than a few of our fellows.
That said, one does not let the perfect become the enemy of the good.
Despite the transition pains, this is by far the most encouraging development I've witnessed in the past two years.
But ... There's A Hole In The Hull
The launch catapult is not the only critical system aboard an aircraft carrier. Broken propulsion, for example, would bring operations to a halt just as quickly. As would a gaping hole in the hull.
The Anti-Abuse modifications built into HF21 - that is, the allocation of non-VP-depleting downvotes … is not sustainable.
Already, the retaliation downvoting has commenced. Realistically, Whale Wars are exhausting for the enforcers (the Good Guys), like trying to maintain a sprint for the length of a marathon. And Minnows downvoting Whales ... is the very definition of blockchain suicide.
What's Old Is New Again
A year and a half ago, I published a Proposal about how to deal with Abusive Downvoting. I think it merits a revisit. 
In a nutshell: Establish a Jury Adjudication System by which Abusive Downvotes could be nullified: 
Mary believes Joe's post ought to be downvoted for an "Offensive Behavior" (that term defined and approved by the community … see hypothetical "Downvote Justification Form" below).
So, Mary downvotes Joe's post, clicking the appropriate box and providing a rationale where required.

Downvote Justification Form

Joe is livid, believing the downvote is inappropriate or in retaliation for a downvote he made against one of Mary's posts a couple of days prior.
So, Joe clicks the newly created "Appeals Button."
Joe's downvoted post, and its corresponding Downvote Justification Form, are sent to three Steemians (Jurors) chosen randomly from amongst "then-online users" and possessing Rep Scores in excess of 40 (so they're not complete newbies). Both Mary and Joe's usernames are blocked out to try to ensure impartiality. The identities of the Jurors remain confidential (thereby preventing retaliation by either Joe or Mary) as the allocation system is placed on a non-publicly viewable sidechain or an independent off-blockchain system analogous to the way the blockchain interacts with Discord.
The three Jurors read Joe's downvoted post (or comment/reply). They would then have two choices about how to proceed:
Support the Downvote, in which case the downvote stands ... BUT the downvote gets doubled. The reason for the doubling is that Joe wasted 3 Steemians time with a spurious appeal when he knew that he was guilty. This is necessary as, without it, every downvote would be appealed.
Overturn the Downvote, in which case the downvote is deleted from Joe's post ... and is instead applied to Mary's, adversely affecting her next post(s) until the full amount of the downvote has been used up. This is to punish Mary for downvoting a post without legitimate cause. 

Note: The system would enact whichever action received at least two Jurors votes.
Note: A quick resolution of disputes is vital. To ensure that all do their civic jury duty, designated Jurors who do not respond within an allotted period of time (say 72 hours of Jury Notification) would face a penalty (perhaps a fine or a suspension of posting abilities for 24 hours).

If the Jury Adjudication System was implemented, we would then have a system in which:
The vast majority of SP was being used for the purpose for which it was intended, the curation of content based upon quality; and
A quick and pragmatic way of eliminating abusive behavior, including "retaliatory downvoting" by abusive Whales attempting to protect their ability to game the system via intimidation.
Think about that for a moment.
Those two things, taken together, eliminate the MOST DAMAGING of the blockchain's systemic problems. And, taken together, they lay the foundation for a host of positive feedback loops in which the effects of one action force-multiplies the effects of another (it is these indirect and emergent effects that will send the price of STEEM skyward).
In Sum
The turn towards curation and the ability to prevent blatantly abusive behavior would not solve all the blockchain's problems. Personally, I could rattle off a dozen other shortcomings in need of a fix. But none of those other shortcomings are CRITICAL to the system's very survival.
None of those other shortcomings jeopardize the Central Premise that: "Content Shall Be Compensated Commensurate With Its Quality."
Backed up toilets ... don't sink ships.
Quill

All images are linked to source, are QuillFire originals or are modifications of images in the public domain. Videos and images may also be parodies of original works, therefore relying upon applicable exemptions from copyright. 

You guys know the QuillDrill. Be verbose ... but articulate.
And remember ...
Go Love a Starving Poet
For God's sake ... they're starving!