SpyColony 2.0 - refund options and more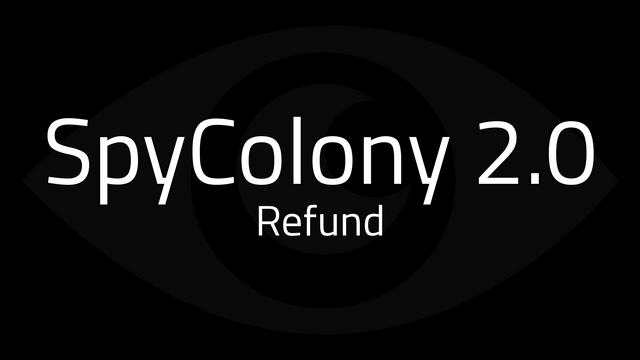 Hello, dear NextColony players (and ex-players)!
It's been a while. I had time to think through a lot of things, so... Now I'm sure that I won't come back to NextColony (@nextcolony) and I won't create or develop any tools for this game anymore. In my opinion, the game is going the wrong way. But I don't want to judge the work of NextColony developers - I believe that they put a lot of effort, time and money into the production of this game, for which they deserve respect.
Before I get to the topic of refunds, I'd like to apologize to all players who have somehow been affected by my abandonment of NextColony (and my tools). I was upset that the creators of NextColony banned me for honest criticism and they said I was offending them. Nevertheless it's a past. I don't hold a grudge. And again, to all affected players - sorry.
SpyColony 2.0 refund options
As the project didn't come to fruition and now I'm 100% sure that I won't take any action to complete it - I owe you a refund. There are two refund options at the moment:
1. Transfer funds back to your Steem account
Anyone who will choose this option will recover the exact number of tokens (STEEM/SBD) that he sent me. The list of people with the exact number of tokens is shown below. This is the default option, so if someone from the list doesn't notice my post and doesn't confirm any option - his funds will be returned to his account anyway.
2. Transfer funds to my new Steem game
Over the next few weeks my new game will be announced. Its temporary name is Death Arena. It's a tactical game with real-time battles in a dark (very dark) fantasy world. More information will be presented during the announcement. Anyone who will choose this option will get the equivalent of a refund in the game's internal currency and, in addition, some special items.
Refund list
@jarunik - 503.546 STEEM
@grid9games - 25.179 STEEM
@tufkat - 251.036 STEEM
@onetin84 - 74.857 STEEM
@hightouch - 0.743 STEEM
@captain.kirk - 75.597 STEEM
@idikuci - 100.000 STEEM
@shaka - 24.611 STEEM
@arkmy - 0.026 SBD
@dachcolony - 10.000 STEEM
@germansailor - 10.000 STEEM
@powernap - 30.761 SBD
@zarlon - 15.160 STEEM
@joebabana - 2.214 SBD
@papabab - 9.620 STEEM
@pundito - 12.403 STEEM
@revisesociology - 22.350 STEEM
Please, let me know about your chosen refund option before October 7.
Thank you.