Chops316 Monday Morning Quarterback: 2019 Week 12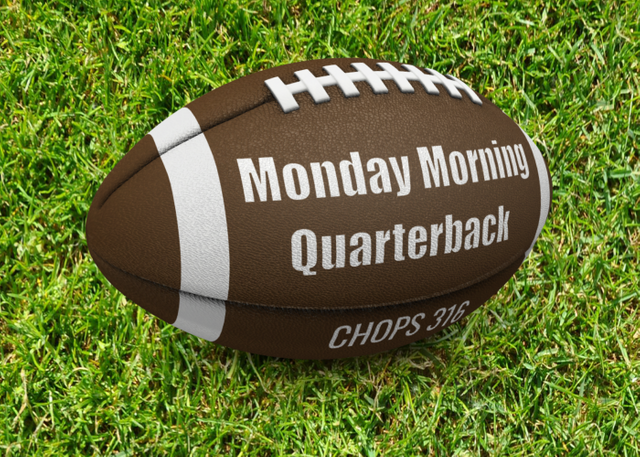 The twelfth Sunday of the 2019 NFL season is in the books so here are the different thoughts and opinions I have on various things I witnessed this past weekend. It was a weekend of misery and anger of epic proportions. Well at least it was for me. Hopefully your weekend was better. At least my favorite holiday, Thanksgiving, is almost here. Why is it my favorite? Because the Cowboys always play of course. Although that doesn't seem like such a good thing this year.
Just remember I am a Dallas Cowboys fan and I'm extremely biased. Feel free to agree or disagree about anything mentioned here. All comments are welcome.

Sometimes I Hate Football
This was no time for a group hug Zeke!
Source
Ugly. That's the word that best describes the Cowboys 13-9 loss to the Patriots. Pissed off. Those are the words that best described me watching the Cowboys lose 13-9 to the Patriots. My TV isn't talking to me, it took quite a verbal beatdown.
This season is so frustrating, watching Dallas lose games they should win time and time again. These aren't the Patriots of old. Yes their defense is spectacular, but their offense is dog shit. Injuries are partly to blame, but the Pat's offense lacks firepower. Why do you think they were so eager to sign Antonio Brown despite all his baggage?
If your defense is reasonably decent, and that is a good description of the Dallas D this year, Brady isn't going to run up the score on you. He lacks targets and he isn't as sharp anymore with his passes. His numbers Sunday were not pretty: 17/37, 190 yards, 1 TD. The Pats got set up for an easy TD with a blocked punt and scored a field goal after intercepting Dak within field goal range. Two costly turnovers set up New England for 10 points. Their offense had to put a drive together to get the other three. The Dallas defense did its job and that is statement I haven't made too many times this season.
The Cowboys offense on the other hand, ugh. The Cowboys have become Dak's team, but on Sunday they needed to return to Zeke. The Patriots are better against the pass than they are against the run and the wet weather cried out for a run heavy game-script.
Believe it or not, the Cowboys coaching staff figured that out. For a half. The Cowboys rushed the ball 18 times in the first half while attempting 15 passes. The result was three drives that ended in field goal attempts, two of them converted. Very modest success, but they were able to move the ball and were only down 10-6 at the half. And the Cowboys set the Patriots up for those ten points. No need to make changes to the plan.
But of course the Cowboys did. They only rushed the rock 8 times in the second half while throwing 18 passes. Dak only connected on nine of those attempts, so there was no reason to shy away from running the ball. The Cowboys only had one drive that ended in points, a useless field goal. Dropped passes and drive-killing penalties didn't help either.
Dallas had a chance for a game-winning drive late in the fourth quarter. After converting a crucial third down, the refs flagged C Travis Frederick for tripping. What a horrible call. Frederick lifted his leg about two inches off the ground and the Patriots defender was already falling in the mud when he made contact. Brutal flag that turned a converted third down attempt into a 3rd & 11. I like Fox's resident official Mike Pereira, he's normally brutally honest. But when he tried to defend that flag I was thrilled when Troy Aikman basically told him to shove it up his ass. It was a bad call that killed the Cowboys last chance. (On Tuesday the league notified Dallas the call was wrong. Thanks for nothing.)
Jerry Jones was highly critical of the coaching staff after this game and he was right on the money. The Cowboys didn't look prepared for the weather, should've have been better prepared on special teams since New England leads the league in blocked punts, changed a game-script that was working to some extent to one that failed miserably and made the decision to kick a field goal late in the game instead of trying for a game-tying touchdown. That field goal didn't make a lick of difference.
Hopefully Jerry realizes head coach Jason Garrett and his crew have to go. This team is wasting its talent. Garrett has proved time and time again he is not the guy to lead this team. I think the only reason he has lasted this long is because Jerry handpicked him to coach and doesn't want to admit he was wrong. But now it so obvious to even himself that a change has to be made.
While watching the Sunday Night pre-game show, I heard both Tony Dungy and Rodney Harrison call out Jones for bitching about the coaching. They suggested the Cowboys simply don't have the talent to compete. What a couple of asshats. All year long these two pick the Cowboys to win and then complain how Dallas has too much talent to lose the way they do. Then when Jones calls out the coaching staff they reverse course. Make up your mind morons.
One more note about this game. It was the highest rated regular season game since 2007. Also it was the highest rated regular season game broadcast by Fox since 1996. Just throwing that out there to all the doubters who don't believe Dallas is still America's Team. Love them or hate them (yes I know you hate them), everybody watches.

Aaron who?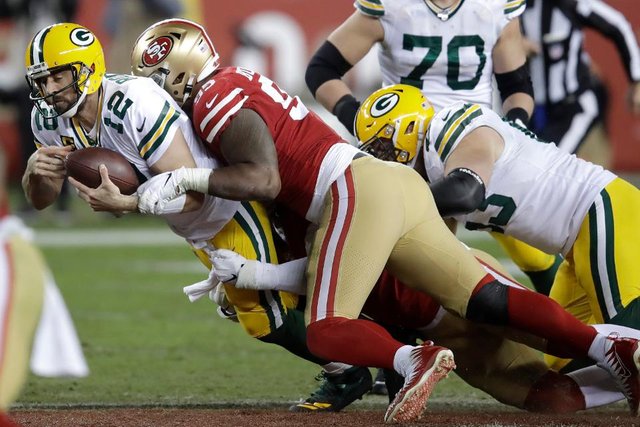 49ers reminding Rodgers why they didn't draft him
Source
After the Cowboys game made me question my love for football I took consolation in the fact we were going to be treated to a fantastic Sunday Night Football contest. NFC heavyweights Green Bay Packers and San Francisco 49ers. 8-2 vs. 9-1. What a matchup!
What a disappointment! The 49ers beat the hell out of the Packers, took their lunch money, kicked some dirt on them and spit right in their face with a 37-8 whooping. If you didn't watch, the game wasn't as close as the final score indicated. Yup it was that bad.
The 49ers have surpassed the Patriots to be the #1 ranked defense and I'm sure Aaron Rodgers agrees. The Packers could do nothing on offense. I mean somehow they scored one TD but I think that was pity from the Niners since the head coaches of each team are good friends.
The nicest thing I can say about Rodgers was he didn't throw any INTs. Otherwise, well you be the judge: 20/33, 104 yards, 1 TD. 104 yards on 33 pass attempts. Ouch. The Niners sacked him five times for good measure. The Packers were an awful 0/13 on third down conversions.
The 49ers on the other hand had no problems moving the ball up and down the field. TE George Kittle returned to the field after missing two games due to injury and he made his presence known: 6 catches, 129 yards, 1 TD. QB Jimmy Garoppolo had a solid game (14/20, 253 yards, 2 TDs) and a committee of RBs racked up 122 yards in 22 rushes with 2 TDs.
Before this week I still believed the Saints were the team to beat in the NFC. Not anymore. The 49ers are playing the best right now and their game against Baltimore next week is must watch TV. With a 10-1 record the Niners stay one game ahead of Seattle in the NFC West. The Packers loss drops them to 8-3 and a tie with the Vikings atop the NFC North, although Green Bay currently holds the tie-breaker.

L.A. Story: Nevermore Quoth the Raven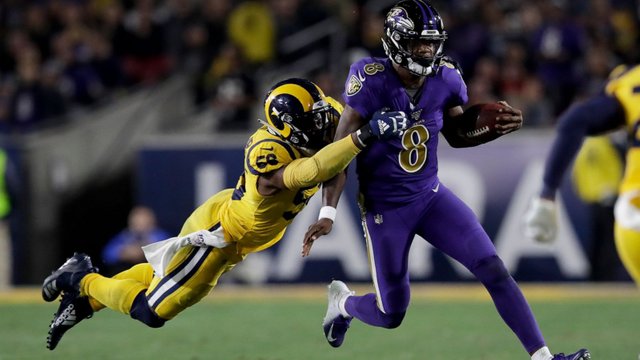 You can't bring me down!
Source
Oh well. The Sunday Night game was a stinker. The Monday Night game had to be better right? Baltimore having to travel across the country to face a Los Angeles squad fighting for their playoff life. Should be a good one.
Never mind. If San Fran mugged Green Bay it is safe to say the Ravens left the Rams for dead in a 45-6 shellacking. I think the only reason Baltimore didn't score more points was they were tired from running up and down the field.
Can anyone stop Lamar Jackson? The Rams sure as hell couldn't. He was unstoppable through the air (15/20, 169 yards, 5 TDs) and on the ground (8 carries, 95 yards). MVP numbers. RB Mark Ingram joined in on the fun as well with 111 yards on 15 carries with 1 TD.
The Ravens scored a TD on their first six possessions. The Rams defense should have just stayed home. It doesn't get more embarrassing than that, although they finally "stepped up" and held Baltimore to a field goal on their seventh possession. Progress!
Last week the Rams turned their offense over to RB Todd Gurley. This week he ran the ball six times for 22 yards. The Rams fell behind so fast they had to turn to QB Jared Goff to air out the ball. As we have seen this year that is a recipe for disaster and this week was no different: 26/37, 212 yards, 2 INTs.
The Rams are now 6-5, one year after reaching the Super Bowl they might have to win out just to get a Wild Card spot. The Ravens move to 9-2 and are waiting for somebody else to beat the Patriots so they can claim the top seed in the AFC.

Trending Upward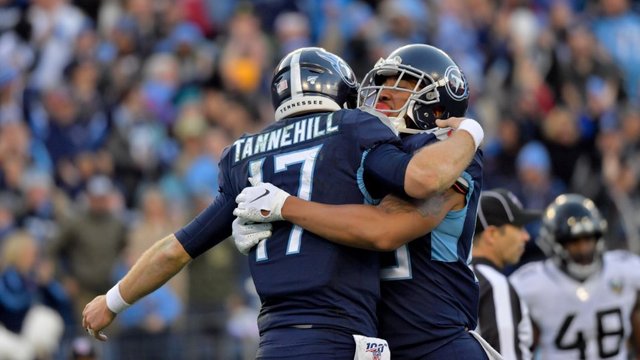 These guys earned a hug
Source
Flying a bit under the radar, the Titans have been reborn hardcore since naming Ryan Tannehill their starting QB. Tannehill has now led Tennessee to four wins in five games after smashing the Jaguars 42-20 on Sunday.
Remember when the Jaguars defense used to be good? It is quickly becoming a distant memory. The Titans showed them no respect at all. RB Derrick Henry ran all over them (19 carries, 159 yards, 2 TDs) and QB Tannehill took advantage to pick his spots well: 14/18, 259 yards, 2 TDs.
The Dolphins decided in the offseason that Tannehill wasn't the future and cut him loose. The Titans are sure happy they did. He's completing 72% of his passes and has a QB rating of 111.4. With Henry pounding opposing defenses Tannehill doesn't have to be spectacular, he just needs to be efficient when his number is called. So far he has.
The Jaguars on the other hand are quietly watching their season being flushed down the toilet. The return of QB Nick Foles hasn't given them a jump start. He threw for 272 yards against Tennessee but it took him 48 pass attempts to do it. That would be the exact opposite of efficient. Jacksonville has now dropped three division games in a row and can kiss their playoff hopes goodbye.
Houston sits atop of the AFC South with a 7-4 record but Indianapolis and Tennessee are both right behind them at 6-5. The Titans have two games with Houston and one with Indy left on the schedule. If the Titans want to break through and win the division they have some golden opportunities ahead of them. It has been 11 years since Tennessee has won the AFC South, can they break out of their 9-7 rut? I won't be surprised if they do.

Tanking Update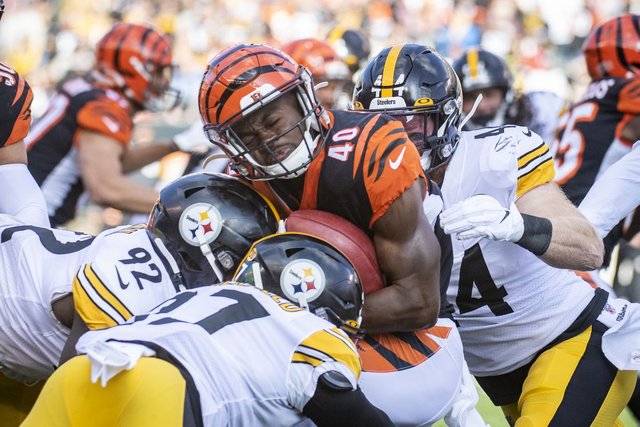 It's been a painful season
Source
I swear I am not making this up. The Bengals actually held a 7-3 lead over the Steelers at halftime this week. Could they finally capture that elusive first victory of the season? HAHAHA. Of course not. The Steelers realized they like QB Mason Rudolph about as much as Myles Garrett does and replaced him with Devlin Hodges, who led Pittsburgh to a 16-10 comeback win.
The Bengals had a chance. Down by six they made it into the red zone late in the fourth quarter. Then WR Tyler Boyd ruined his otherwise excellent game (5 catches, 101 yards, 1 TD) by fumbling the ball, with Pittsburgh S Minkah Fitzpatrick recovering. Fitzmagic II strikes again!
The Bengals are now an atrocious 0-11. The #1 pick might be secure because the Redskins did the unthinkable: they actually won a second game! That's right, despite gaining a meager 243 yards of total offense the Skins still managed to defeat the Lions 19-16. Congrats Lions fans, your team has officially hit a new low.
The Washington defense made a rare appearance this year forcing 4 turnovers and sacking Lions QB Jeff Driskel six times. The special teams contributed with a 92 yard kick-off return for the Skins only TD. That's how you win without any offense.
The Skins are now tied with the Giants and Dolphins for the second worst record in the league at 2-9. Since I can't see the Bengals winning one game, let alone two, the #1 pick seems to be in hand for Cincinnati. I'm sure they'll blow it.

Around the League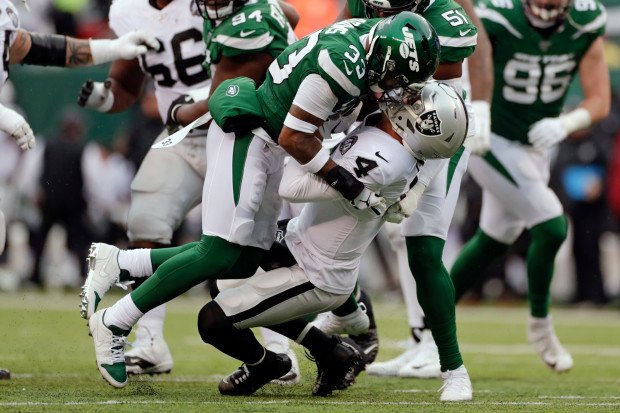 Nice to meet you Derek
Source
With the Chiefs resting on their bye week, the Oakland Raiders had a chance to move into a first place tie in the AFC West. All they had to do was travel to New Jersey and beat the lowly Jets. Simple right? Not so fast my friend, as ESPN Commentator Lee Corso likes to say.
The Raiders laid an egg, getting hammered by the Jets 34-3. What the hell Oakland? How do you completely disappear with so much on the line? I bet Gruden's Chucky faces were priceless on the sidelines.
At 6-5 the Raiders are still in the hunt for an AFC Wild Card, which tells you how poor the AFC is overall this season. With this loss and a very weak showing against the Bengals last week I don't think the Raiders are going to make it.



Until this weekend I thought the Saints were the team to beat in the NFC. They defeated the Panthers 34-31, but they needed an awful day by Carolina's K Joey Slye to do it. Slye missed two extra points and a field goal attempt that was even shorter than an extra point attempt. Ouch.
The Saints are 9-2 and still a very dangerous team, but the 49ers have surpassed them. For now at least. The two teams play in the Superdome in two weeks. I hope that epic matchup plays better than this week's big games. The Panthers fell to 5-6 and are pretty much out of playoff contention.



The Browns continued their turnaround from awful to good by beating the Dolphins 41-24. WR Jarvis Landry had a field day against his former team: 10 catches, 148 yards, 2 TDs. QB Baker Mayfield looked good (24/34, 327 yards, 3 TDs, 1 INT) but he usually looks good against terrible defenses. He still hasn't had a good game against a good defense. It's only his second season so it might still come to him.
At 5-6 the Browns still have a shot at a Wild Card. Man the AFC is bad outside of a few teams. Two games left against the Bengals will certainly help. A December 22nd game against the Ravens won't. I'll crap my pants if they can upset Baltimore again.



One AFC team that hasn't disappointed is the Buffalo Bills. They improved to 8-3 with a 20-3 win over the Broncos. The Bills defense held Denver to less than a hundred yards passing and less than a hundred yards rushing. The Broncos had a total of 134 yards. Damn that's impressive. I mean it was against Denver, but c'mon they are still a NFL team. Barely.
I hope the Bills make the playoffs because their fans deserve it. I also hope they lose to Dallas on Thanksgiving Day. Hmm, the odds are much better for one of those statements over the other. I'll leave it to you to figure out which is which.



The Bears needed a win bad and they got one 19-14 over the Giants in Chicago. Of course they needed the Giants to miss two mid-range field goals and have QB Daniel Jones fumble on his own three yard line to do it, but hey a win is a win. I guess. It sure wasn't a good win. The Giants defense is bad (29th in the league) and the Bears still needed help to score 19 points.



Speaking of a win is a win, the Seahawks beat the Eagles 17-9. Coming off of a bye week Seattle sure played sloppy, with QB Russell Wilson missing receivers all over the field and having his receivers drop multiple balls when he was on target. And they really failed to take advantage of five Eagles turnovers. A 58 yard TD run by RB Rashaad Penny bailed the Seahawks out in this one.
The Eagles are missing a lot of guys on offense, but QB Carson Wentz really looked lost. He needed 45 pass attempts to come up with just 256 yards. He was as off-target as Wilson. Maybe the Eagle should have rushed the ball more since they racked up 106 yards on 23 carries. Except that would have made sense and head coach Doug Pederson refuses to recognize the obvious. I swear he would rather have his QB chuck the ball 50 times and lose than rush the rock 30 times and win. Have I mentioned as a Cowboys fan I love this guy? Sign him to a long-term deal Philly!



If you are celebrating Thanksgiving this week I hope you and your family have a wonderful holiday. I'm worried Buffalo is going to ruin mine. Oh hell, at least the food will be delicious. Let me know your thoughts on Week 12.