NFL Divisional Playoff Predictions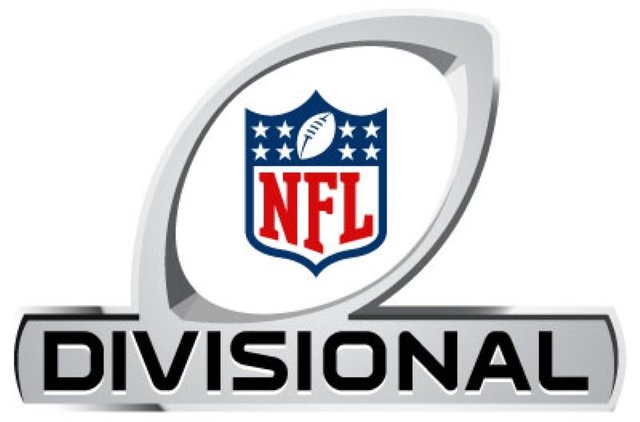 Source
After a "wild" Wild Card weekend we now move on to the divisional round of the NFL playoffs. Or simply Week Two if you have no interest in such formalities. How did your picks go last week? I went 2-2. The Texans and Seahawks were victorious as I so brilliantly forecasted. The other two games were rigged!
Just kidding. Maybe. Anyway I was thrilled the Titans beat the Patriots. Despite their late season failings, I thought Belichick and Brady would find a way to win at home. Derrick Henry thought otherwise. I'm glad I got this pick wrong because I don't think I could stomach another Patriots Super Bowl.
The Saints on the other hand, what the hell New Orleans? They say the definition of insanity is repeating the same things over and over again while expecting a different outcome. Well I'm officially insane (some of you already knew that) since I picked the Saints to win the Super Bowl for the third year in a row and was proven wrong for the third year in a row. When will I ever learn?
OK time to move on to Divisional weekend. Last season I went 1-3. If you haven't noticed the pattern forming, I suck at picking winners. That's why I am here making this post instead of visiting my local casino to lay down cash. I'm going to try to do better this year, but if you want to bet the complete opposite of my picks I won't blame you. I might hit you up for a loan after you collect your riches, but I won't blame you.

TV Schedule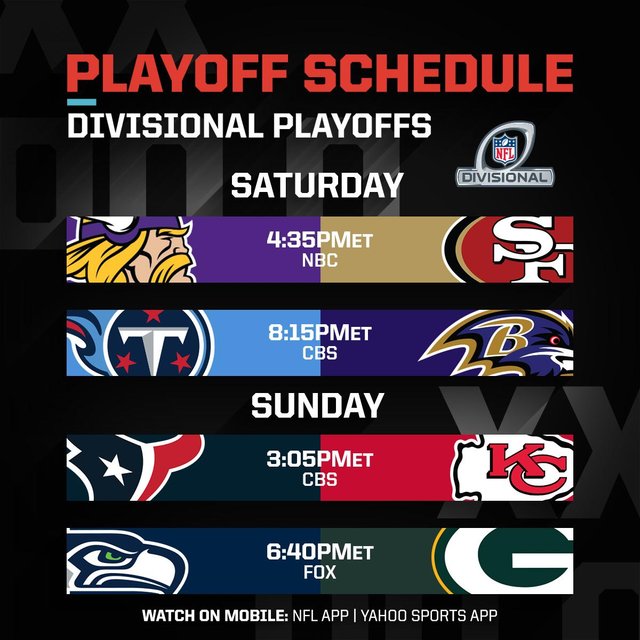 Source
Minnesota Vikings at San Francisco 49ers (-7)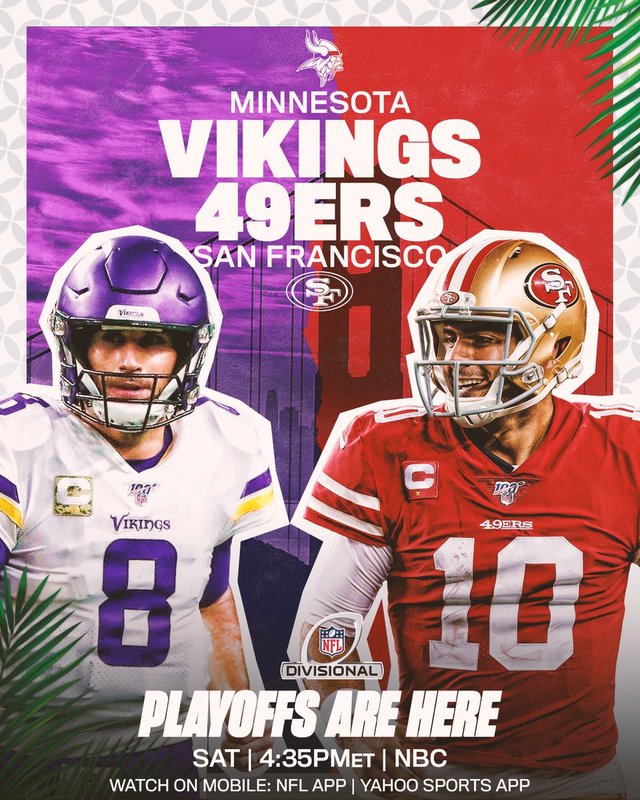 Source
Fresh off of their big upset win against the Saints, the Minnesota Vikings travel west to face the NFC West champion and #1 seed the San Francisco 49ers. The playoff tv schedule makers certainly didn't do the Vikings any favors. After a grueling overtime contest last Sunday, Minnesota has to travel again on a short week to kick off Divisional weekend. Meanwhile the Niners will be well rested after their bye week.
Niners QB Jimmy Garoppolo is making his first playoff start and I do not trust QB's making their first playoff start. For good reason, first-timers have gone 6-17 in the last 7 seasons. On the other hand I don't trust Vikings QB Kirk Cousins either. Especially against San Francisco's vicious pass rush.
The Vikings defense stepped up big time against New Orleans last week, but the 49ers are a much better rushing offense than the Saints. I expect the Niners to pound the rock and gain good yardage. The Vikings will have to do the same to compete, I think the San Fran defense will shut down their passing game.
In the end there is just too many factors working against Minnesota. A #6 seed hasn't upset a #1 seed in 10 years. They had to play a tough game against the Saints and turn right around for a short week on the road while the 49ers rested on their bye. San Francisco's defense was fairly banged up, but they are reportedly healthy and ready to go after their rest.
Both teams are likely to use run-first offense so it should be a close game. I simply have faith in the Niners defense to make more plays.
My Pick: 49ers 24 Vikings 17

Tennessee Titans at Baltimore Ravens (-9)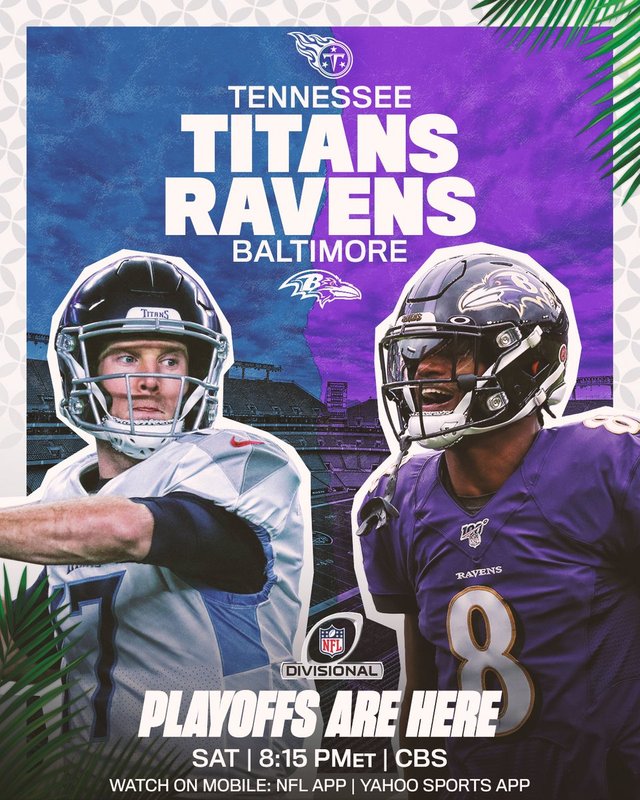 Source
The Titans strolled into New England last week and punched the Patriots right in the mouth. It was glorious. However they face a much stiffer foe this week as they travel to Baltimore to take on the AFC North winner and #1 seed Ravens.
I don't believe I'll get much of an argument from anybody when I say the Ravens are the best team in the NFL right now. Does that mean the Titans don't have a shot of winning? No, but it's a longshot for sure.
Baltimore rested nearly all of their starters in Week 17 and had the bye last week. They are well-rested, but they be a little rusty to start the game. The Titans will have to hope so and pounce on them early. Tennessee was content to just ram the ball down the Patriots throat with Derrick Henry since New England was going to struggle to score. Baltimore will put up points, Tennessee will have to get more out of QB Ryan Tannehill to compete.
The Titans have had a great season, but I feel it's going to end here. Tennessee will score some points, it just won't be enough. The Ravens offense is a steamroller and even if they need some time at the start of the game to get rolling, they eventually will. The Titans won't be able to sit back and ride Henry, they'll have to throw the ball more to try and keep up. That will play right into the Baltimore defense's hands.
My Pick: Ravens 31 Titans 21

Houston Texans at Kansas City Chiefs (-9.5)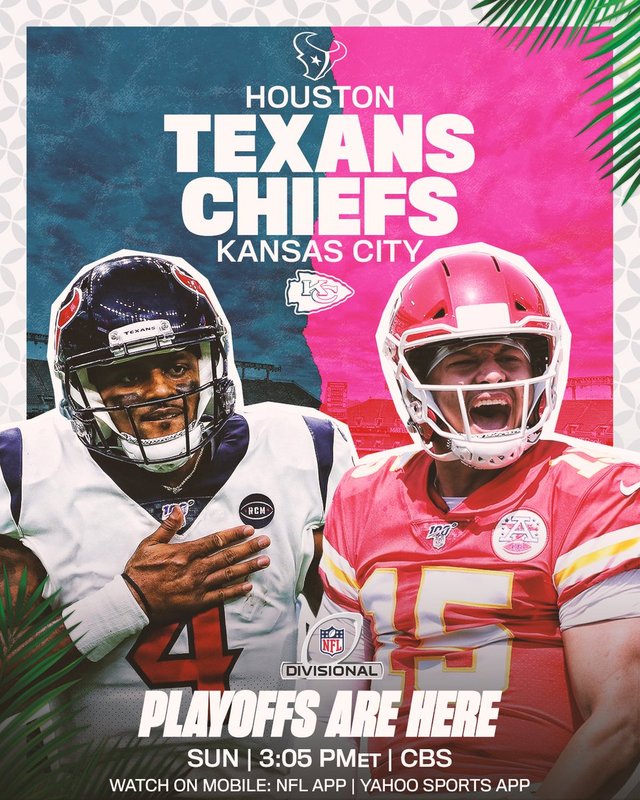 Source
After holding off the Buffalo Bills last week in overtime, the Houston Texans head to Kansas City to square off against the AFC West winning Chiefs. The Texans are getting no love from Las Vegas, they are the biggest underdog of the weekend as the Chiefs are favored by nine and ½ points.
At first glance that point spread seems rather odd considering Houston already traveled to Kansas City once this season and knocked off the Chiefs 31-24 back in October. Yet the Chiefs were playing much better football to end the season than they were in the first half and the bye week has them healthier than they have been in a long time.
Kansas City is always dangerous when QB Patrick Mahomes plays. As the season wore on the Chief's running attack and defense improved by leaps and bounds. Mahomes doesn't have to carry the load by himself for the Chiefs to win.
Houston's defense gave up over 400 yards last week to a Bill's offense that isn't exactly elite. The Chiefs have weapons all over the field and shouldn't struggle to score. The Texans offense usually depends on the health of WR Will Fuller. When Fuller plays, they put up big points. Fuller missed last week's game and is very iffy for this week's showdown. Even if he does suit up, he'll probably be very gimpy and not much of a threat.
Plus you can't forget about the Andy Reid bye week factor. KC head coach Andy Reid has led his teams to an 18-3 record following a bye in the regular season and a 4-2 record after a playoff bye. Reid knows exactly how to prepare with the extra time off.
The Texans have to be taken seriously as long as QB Deshaun Watson is on the field, but I think the Chiefs are going to be too much for Houston. The Chiefs finished the season strong and are rested while the Texans had a rough overtime game last week.
My Pick: Chiefs 35 Texans 21

Seattle Seahawks at Green Bay Packers (-4)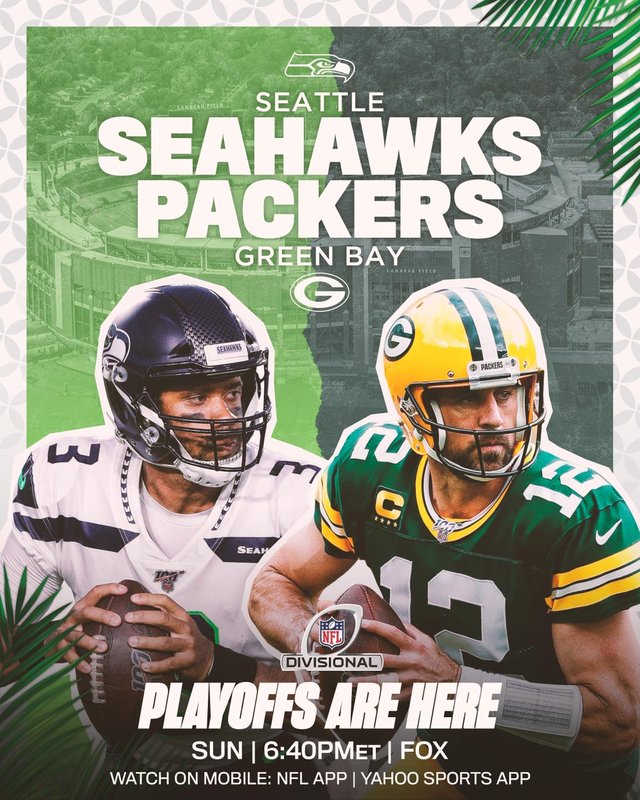 Source
The Seahawks didn't exactly bring their "A" game to Philadelphia last week. Fortunately for them their "D+" game was good enough to defeat the Eagles practice squad. They'll have to play better if they want to advance past the NFC North champion Packers in Green Bay this week.
The Packers went 13-3 this season, but if you watched them play you wonder how. QB Aaron Rodgers had a bad year by his standards. They tended to play down to the competition. The same thing can be said about Seattle. Yet both teams managed to win a lot of games.
Russell Wilson had a great season and would be a MVP contender if Lamar Jackson hadn't blown everyone out of the water. Wilson will have to carry the load again if Seattle is to win. The running game has been decimated by injuries.
As I said Aaron Rodgers had a down year, but his RB Aaron Jones had a career year. The Packers have lacked balance in their offense for a long time, yet they have it now. That is especially important in January. The forecast is calling for cold weather and snow in Green Bay which favors the running game.
I went back and forth on this game a lot. In the end the frozen tundra of Lambeau Field swayed my decision. Russell Wilson is 0-3 in his career at Lambeau and doesn't have a lot of experience playing in the harsh winter conditions. Rodgers, like any QB who finds success in Green Bay, can have a good game regardless of the weather. The Seahawks lackluster performance against the Eagles and the fact that the Packers are rested after the bye seals the deal.
My Pick: Packers 24 Seahawks 21

Hmm, I picked all four of the favored home teams to win. I'm not exactly going out on a limb here, but that is the way I see it. Chances are there will be at least one upset and I'd have to say the Seahawks are the most likely team to pull it off. We'll find out this weekend.
In my last predictions post I said the New Orleans Saints were going to win the Super Bowl. Then they lost on Wild Card weekend. D'oh. Well that means it's time for a new prediction.
My New and Improved Super Bowl Prediction: Kansas City Chiefs 31 San Francisco 49ers 24
With the Saints out of the picture I see a clear path for the 49ers to win the NFC. I know Baltimore will be difficult to knock off, but I just think it might be Andy Reid's time to take KC to the big game. If this matchup does happen I trust Patrick Mahomes a lot more than Jimmy Garoppolo.
So who do you like this weekend? Are the home teams going to dominate or do you believe a few road warriors will pull through? Let me know in the comments and if your favorite team is still alive I wish you the best of luck.