AirNFTs - Upcoming NFT marketplace on Binance Smart Chain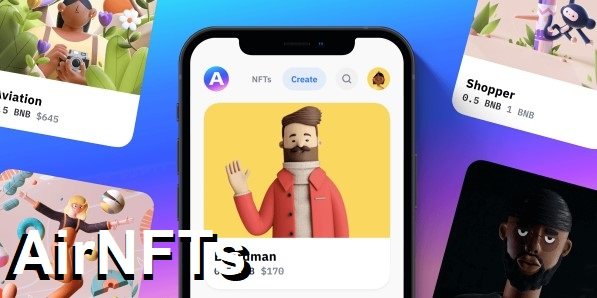 Everyone knows BSC has a considerable edge over Ethereum in transaction speed and low fees. However, the major drawback is that the available marketplaces are just a minute section of these DApps. And navigating these exchange markets for beginners can be pretty tricky. It is high time sole NFT marketplaces sprouted on Binance Smart Chain.
What is AirNFTs
AirNFTs is an upcoming NFT marketplace on Binance Smart Chain that is designed be at the same time fast, easy to use and the best easy to use for even the less tech savy NFT artists. The platform combines BSC edge in transaction speed, low fees and extremely easy to use user experience to bring NFTs to everyone.

The Marketplace: The AirNFTs DApp has a very simple, easy to use design and here's a quick walkthrough.
Home page: The homepage features a collection of NFTs. Each NFT is an art piece containing the owner tab and price in BNB (and its USD equivalent)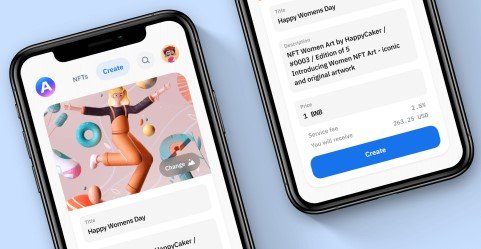 Search: The search feature allows you to search for artworks by name and sort by price if you have specifics in mind.
Profile: Your profile displays your account name and available asset balance.
Create: The create function allows you to make your NFT with ease.
Here's how to do that:
Upload the file — in GIF, PNG or JPEG formats, with a maximum size of 10MB. And, of course, all files must be original.
Fill in the name and description boxes.
Set the price. There's an inbuilt price calculator that tells you what you will receive (in BNB and the USD equivalent).
Click on Create.
And that's it! You have your first NFT.
Note that Airnft charges a meagre 2.5% on NFT sales.
The AIRT Token
Token economy is built around the AIRT Token, a unit of value on the platform that enables token holders to use applications on this platform, participate in network governance, and earn additional token rewards by using this project.
For More Information visit link at below:
WEBSITE: https://www.airnfts.com/
TWITTER: https://twitter.com/airnfts
YOUTUBE: https://www.youtube.com/channel/UC4K-vxcaen9QkpDJSefBdrA
TELEGRAM: https://t.me/airnfts
INSTAGRAM: https://www.instagram.com/airnfts
DISCORD: https://discord.com/invite/TXjQUVWXx7
Author: cold_murchete
Profile Bct: https://bitcointalk.org/index.php?action=profile
AIRT Wallet: 0xc57D4230AC875e048e7845AcF0E9Ee99B4FA5cF1