HUP.LIFE-An NFT Marketplace that Legally Protects your Digital Assets through Copyright Protection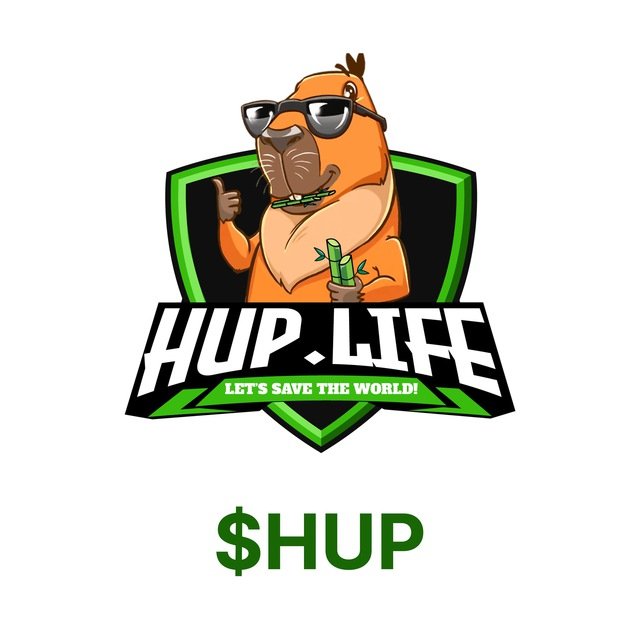 HUP.LIFE is the World's 1st NFT Platform
Enabling Socially Conscious Artists to Mint & Sell Copyright-Enabled (ceNFTs) Through a Framework Complying with International Copyright and Securities Law, While Receiving a % of Future Sales & Licensing Deals.
HUP.LIFE - Endorsed by Apple co-founder Steve Woziak. Introducing World's 1st Platform that Enables Socially Conscious Artists to Mint & Sell Copyright-Enabled NFTs (ceNFTs).
They protect IPs using a Framework Complying with International Copyright Law and Securities Law
REASONS TO CHOOSE HUP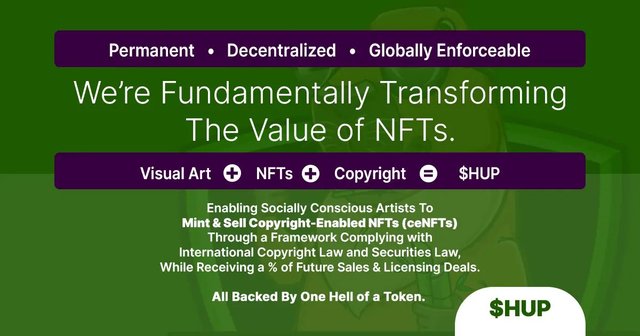 ✔ $HUP is Launching its $HUP Token on PancakeSwap starting June 15th
✔ $HUP is a Fair-Launch Project - Which Means no Early Access and no Pre-Mine
✔ $HUP Automatically Rewards Holders
✔ $HUP Automatically Burns a Portion of Its Tokens
✔ $HUP Automatically Pledges a Contribution to Charity With Every Transaction
✔ $HUP Has Anti-Whale Dumping Mechanisms That Support Growth and Stability
✔ $HUP Helps shape and determine its future through our One Wallet, One Vote Community Governance
✔ HUP.LIFE employs a Framework Complying with International Copyright Law and Securities Law
✔ The HUP.LIFE platform receives a % of Future Sales & Licensing Deals completed on the platform
Bringing Transparency To Project Token Split Structures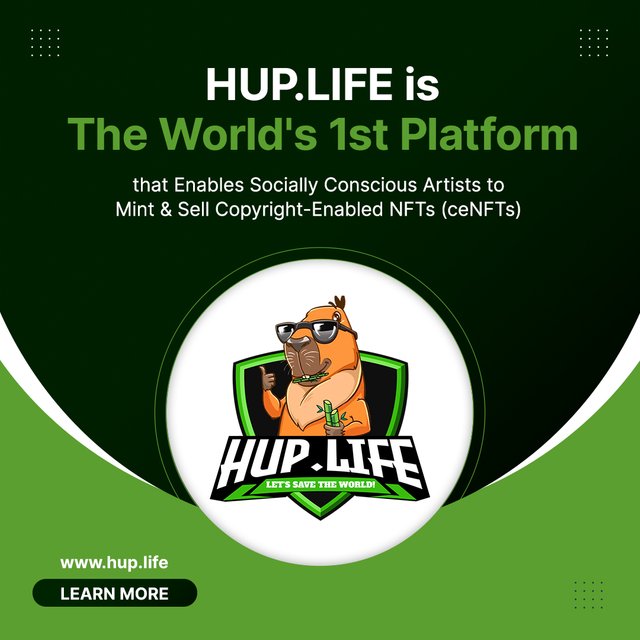 Not only does $HUP have a novel token split structure that aims to achieve its ambitious goal of bringing the complete roadmap to fruition while being entirely financially self-sufficient with no outside liquidity or traditional fundraising, we also provide transparency to our community that is unprecedented in blockchain projects.
In addition to our charity wallet, community members can also view the transaction wallets of each of the nine specific, team-managed wallets, namely:
✅ Initial Liquidity for PancakeSwap (25%)
✅ R&D/Tech (15%)
✅ Marketing/Admin/Misc (15%)
✅ NFT Authenticators (10%)
✅ Airdrops & Bounties (10%)
✅ Leadership & Advisors (10%)
✅ Legal Expenses (5%)
✅ Liquidity for Other DEXs & Listing Fees for Platforms (5%)
✅ 1:1 Capybara Art NFTs For Early Adopters (5%)
This is so you can take a look at and stay on top of all crypto funds moving in and out of the project - particular to the specific category of expense.
Should you have questions about anything related to the team-managed wallets, you are invited to ask any questions during the planned weekly Discord voice chat AMAs.
TOKENOMICS
Transaction Taxing Mechanisms
2% Auto-Rewarded Back to Holders ➕
2% Auto-Burned Forever ➕
2% Auto-Sent to Charity Wallet➕
2% Auto-Turned Into Lqiduity
Liquidity: Locked. Rug Pull: Eliminated
THE ROADMAP
Hire Marketing Team April 2021
Hire Compliance Officer April 2021
Begin strong marketing campaign May 2021
Reveal token address June 2021
$HUP Token Launch - PancakeSwap June 15 2021
Strategic Partnership Announcements Q3 2021
Smart Contract Audit Completion Q3 2021
Launch NFT Marketplace (HUP.MARKET) November 1st, 2021
The token is going to be launched on Pancakeswap on 15th June.
They have an anti-whale mechanism that simply means if anybody is holding more than 0.25%, then his token will get locked for 24hrs.
It will also burn a portion of its supply automatically with every transaction. So grab your opportunity as this is going to be big.
$HUP isn't just a rug pull-free, fairly-launched project with auto-yield, auto-burn & auto-charity tokenomics, anti-whale dumping mechanisms, high-yield staking opportunities and a novel, decentralized and democratized 1 Wallet, 1 Vote community governance framework.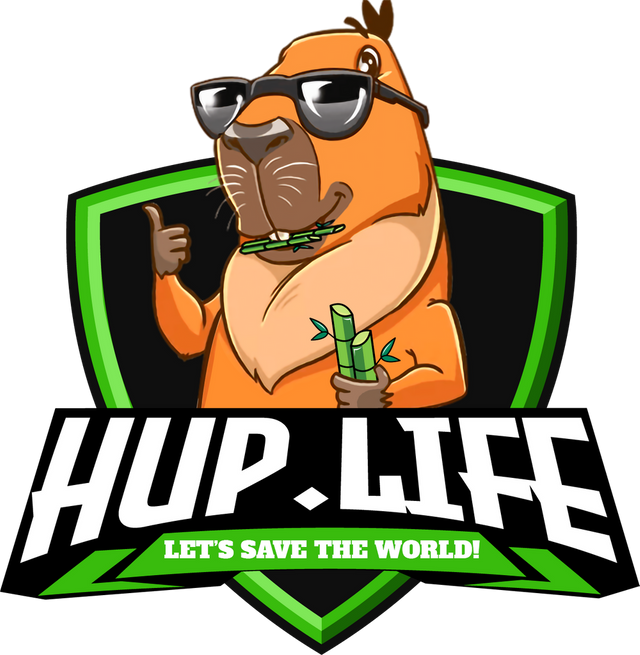 Hip.life is Setting The Standard for Socially Conscious Token Projects
Twitter: https://twitter.com/hupdotlife
Telegram: https://t.me/hupdotlife
Discord: https://discord.gg/JNXcZqHMX2
Github: https://github.com/HUP-LIFE/HUP
Website: https://www.hup.life/
BountyOx Username- Sandycee