GLX.com - Class A (XA) Common Share Tokens

What is GLX.COM / GLOBAL LISTING EXCHANGE?
GLX is a blockchain-powered Capital Market Directory and Social Finance Network. The destination is a global capital market news data portal and ground-breaking financial networking platform.
GLX revolutionizes the way each and every member of the world's capital markets connects, communicates, shares, and accesses information.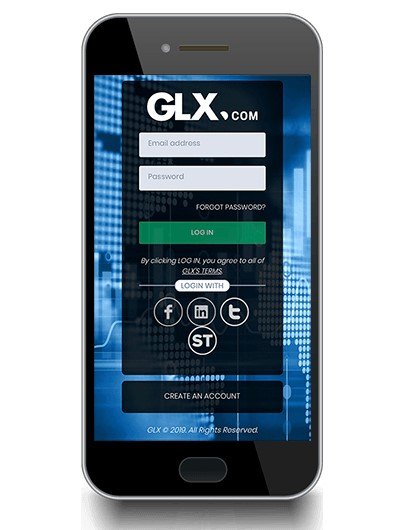 GLX - Global Listing Exchange builds the world's only network of reference directories for capital markets and a social finance network on GLX.com. The destination is a global capital market news portal and an innovative platform for financial networks. The GLX platform will be developed as a blockchain-based distributed network, creating the world's first Global Capital Market computer. GLX - DAppExchange (DappExchange.com) is the GLX "decentralized app store" where everyone can publish DApps that can be used in the GLX ecosystem. GLXCoin (GLXC) / GLXCoin.eth is the payment protocol for our network. We will strive to raise $ 50 million as part of our Initial Coin Offer (ICO) on February 1, 2018.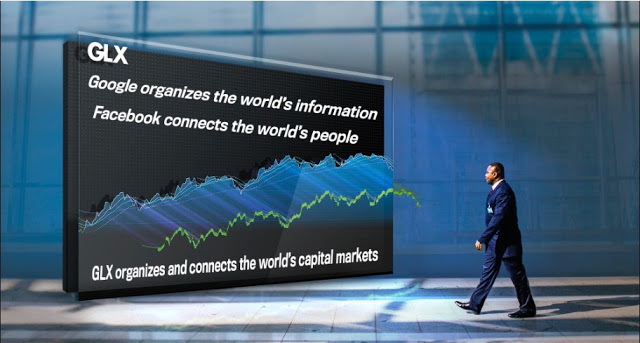 Mission
Our mission is to make global capital markets more transparent, open and connected.



GLX SOLUTION FOR DEDUCERCENTRALIZATION AND DEMOCRATIZATION OF ACCESS TO FINANCIAL MARKET AND COMMUNICATION DATA
WHY NOW?
INTERNET ACCESS AND BANDWIDTH CONTINUES GLOBALLY ENLARGE WORLD MARKETS ARE GLOBALIZED IN THE ACCELERATING PACE BLOCKCHAIN ​​- FUNDAMENTALLY CHANGING MARKET STRUCTURE GLOBAL NEED FOR DEMOCRATIZATION OF ACCESS TO FINANCIAL MARKET DATA AND COMMUNICATION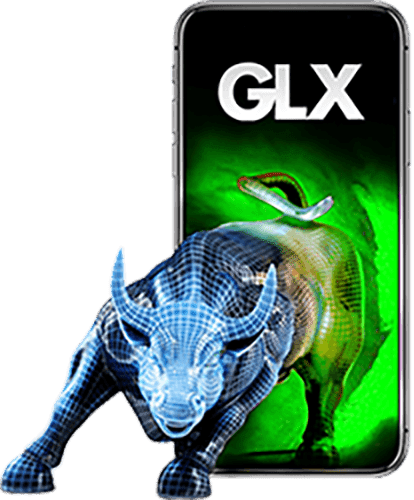 Product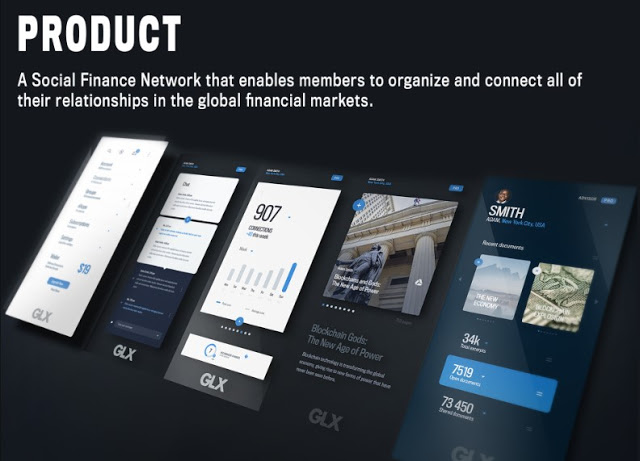 Features
Markets - GLX bridges fragmented markets Communication - A social finance network Data - GLX aggregates disparate data
Integrity - GLX allows users to control potential inaccuracies
Transparency - GLX delivers a self-policed user regulated platform
MILESTONES & ROADMAP
2017 | 2018 | 2019 | 2020
Summary for each Stage
2017 Q1
IP / brand value
Vishal Singh joins GLX Advisory Board
Michael J. Pitt joins GLX Advisory Board
2017 Q2
The concept of a financial chart has been developed.
Larry Johnston joins GLX Advisory Board
2017 Q3
Integrated GLX base / external databases
David L. Ronn joins GLX Advisory Board
2017 Q4
Global Exchange listing
Barry Romic joins GLX Advisory Board
2018 Q1
GLX.CO
Frank Heilman Joins GLX Advisory Board
Russ Feldkamp joins GLX Advisory Board
2018 Q2
Ben Fairbank joins GLX Advisory Board
Start developing blockchain
2018 Q3
Audit completed for 2015 and 2016
Market / News
2018 Q4
GLX Bl0ck Explorer goes on the air
GLX token created on Polymath
2019 Q1
Financial statements for 2017/2018 completed
Launch security token offer (STO)
Social Sign in Gos live
2019 Q2
GLX Wallet goes on air
Listing of several offshore exchanges
Market / News Data terminal goes on the air
GLX.com Beta goes on the air
Virus Invitation Campaign
2017/2018 proven financial
Former board of directors
Form 1-A Filling Section
2019 Q3
Reg A + Public Offer
Enterprise Innovation Partnership Program
Services for participants / customers
Partnership Initiatives
GLX core / ID Development
Start XR Development
2019 Q4
Start trading in the US.
GLX MXRKET Engine (SDK)
GLX Developer Campaign
2020 Q1
DAPPEXCHANGE .COM
2020 Q2
Launch WXRX
2020 Q3
GLX Global Economic Council
2020 Q4
GLX 4.0 XR Board
CORPORATE
This Offering is being made by GLX, Inc., a Nevada corporation, having its principal place of business at 340 Royal Poinciana Way, Ste 317-335, Palm Beach, FL 33480 (hereinafter "GLX" or the "Company"). The Company was formed on April 13, 2015. We have PCAOB (Public Company Accounting Oversight Board) audited financial statements for 2015 and 2016 and are in the process of completing 2017 and 2018. Upon completion we expect to file a registration statement with the U.S. Securities and Exchange Commission (SEC) for a Tier II Reg A+ Crowdfunding offering in the second quarter of 2019. GLX will seek a regulated security token exchange listing shortly thereafter. GLX also has ticker symbol "GLX" reserved with NASDAQ.
TEAM
Ronald P. Rousseau: Founder, Social Affairs Officer
Esteban Hurtado: CRM Developer, Engineer
Felipe Alberto Lopez: engineer, data developer
CONSULTANTS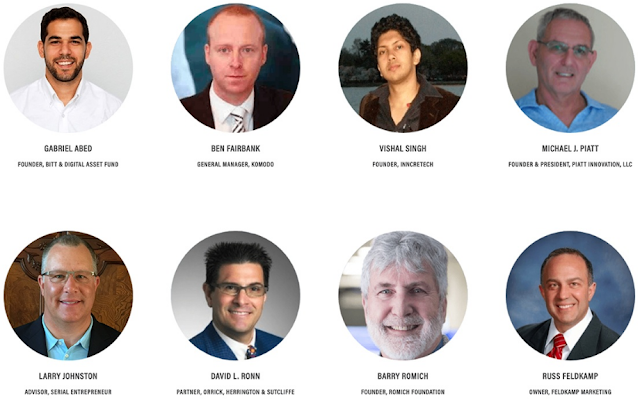 To find more information, please follow several sources for the following links:
WEBSITE| INVESTOR DECK | OFFERING MEMORANDUM | BUG BOUNTY | BLOCKCHAIN
FACEBOOK | GITHUB | INSTAGRAM | LINKEDIN | MEDIUM | REDDIT | SLACK | STOCKTWITS | TELEGRAM GROUP | TELEGRAM CHANNEL | TWITTER | YOUTUBE
Author: typhucoin2
My Bitcointalk Profile: https://bitcointalk.org/index.php?action=profile;u=2359472
ETH dress: 0x5fFa08cf190089cd35F80E4F9514AD42Ab52DBFa