Ponzi's!!!! How I got involved with Cryptocurrencies (A True Story)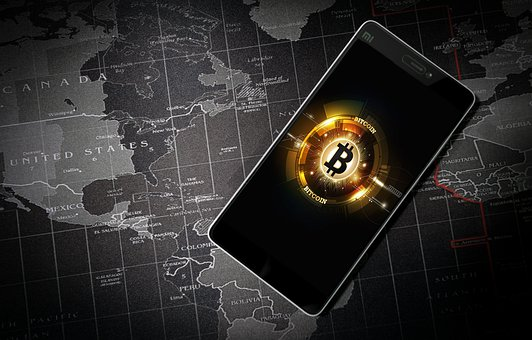 Image Source
The Beginning
Back in 2016, I was going through a difficult period in my life; I had no job, my savings were almost gone, and I had lost money to the famous internet scam "Lara-with-me", in short it was like living in hell!
My younger brother @slimdame, had called me up and asked me to sign-up under him in MMM-Nigeria, and considering the fact that a 30% monthly return on investment was quite appealing, I took the gamble and signed up, howbeit using a very small amount of money.
Somewhere along the line I wasn't satisfied with just 30% monthly ROI and so I began searching…..
Enter MMM-UNITED & Bitcoin!
I was broke, skeptical, and almost frustrated! I couldn't trust MMM-Nigeria to consistently deliver the goods and joining them in September 2016, I felt that I was already late to the party!
My desperation led me to scouring the internet for 'MMM' related opportunities that used a system of payment that did not involve Nigerian bank accounts.
It was in the 1st week of October 2016 that I finally discovered a Facebook ad talking about MMM-United and the fact that it could give 100% ROI monthly; didn't require the use of Nigerian banks for transaction, and was using a new form of currency called Bitcoin!
Gbam!!!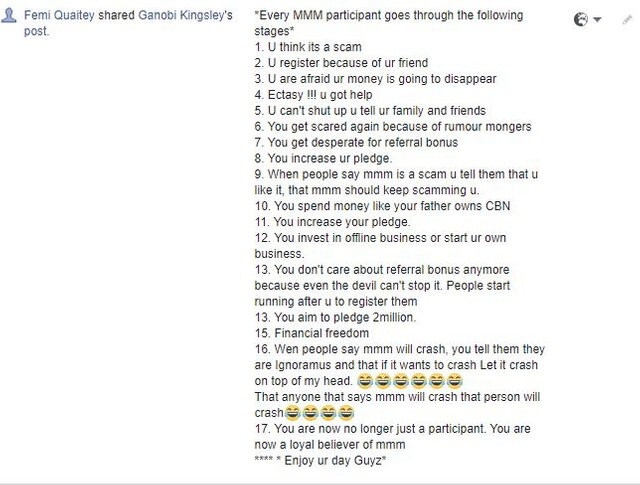 The Bitcoin/MMM Adventure
What is Bitcoin? Truly I had no answers, but I was curious about the technology and considering that MMM-United was promising 100% monthly on every single bitcoin donation-I knew that I had stumbled on a potential jackpot.
I quickly started doing my research online, and under 24hrs, I had opened my 1st bitcoin account on www.blockchain.info , opened my mmmunited account and even discovered a Nigerian online exchange selling bitcoin! Wow!!!
My life will never be the same again! Between 10th of October to December 10 2017, I went on a bitcoin and networking rampage that saw my network grow from (0) zero to over one thousand (1000) persons.
I became a 1k-guider and was earning bitcoins on a daily basis, I even became a bitcoin trader, and on Facebook I was known as the 'African Bitcoin Expert' lolz….. I was living the 'American Dream' right here in Naija! Little did I know that disaster would soon strike…..

The Crash
'All that glitters is not gold'
If I was wise enough, when I had acquired about 10 btc on the mmmunited platform, I should have quietly cashed out my coins and left only a little amount in the system. Alas! I was the ideal guider; a paragon of uprightness, an incorruptible priest!
Abeg make we hear word jare!
December 2016 would prove to be a disastrous month for the MMM community in Nigeria and all around the world. In that month, I would eventually lose 95% of all that I had made by investing in the mmmunited scheme and the only reason my downlines did not call for my head was because I had given them proper education about the scheme and also made them to understand the risks of participating in it.
January 2017 will see the price of bitcoin rise to 1000$ and herald the beginning of one of the longest bull runs in the history of cryptocurrencies.
By March 2017 I was left with only 0.1 btc from the original 10 btc that I had acquired.
I was fortunate that I had gotten another monthly paying job and I could continue with my life.
The 0.1 Btc Miracle
'Out of a little seed grew a mighty forest!'
In March 2017, left with just 0.1 btc, I reopened my poloniex account and deposited my btc. I went on to purchase Steem and several other coins that would see the value of my 0.1btc grow to as much as 1.3btc by July 2017!!!
I ended 2017 on a high!
If you are interested in learning the strategies I used to grow my btc, feel free to ask in the comments section below….Cheers
Upvote! Resteeem! Comment!
Thanks Folks