Why Nigerians would benefit from Steem In Nigeria (SIN) event
Over the years it was a norm for people to get a job, work 9 to 5 but the advent of the internet brought a lot of new opportunities which enabled people to earn a living while working from home, e-commerce, blogging, vlogging etc.
The beauty about steemit is that it is decentralized which makes it easy for a newbie to breakthrough and make it to the top with dedication and determination ( I'm still trying to learn these qualities as well... ).
What Steemit in Nigeria can achieve
A lot can be achieved with steemit in Nigeria especially with the current situation of things and also looking forward to the future.
Below are a few things that can be achievable:
Flexibility to decide your own work hours to some extent is the most important aspect of this as you can decide the hours of the day that suits you best and use your most productive hours of the day to get better results.
Achieve your dreams: Unlike traditional blogging system that requires you to stick to a particular theme like health, sports, celebrity gists(Aunty Linda etc), steemit gives an audience to a more wider group as there are tags for each topic that interest anyone. For example, you wouldn't see me on Linda Ikeji but you may find me on most football or sports blogs. Now imagine all this integrated into one, that's how powerful steemit presently is.
Help build personality: I'll explain. Steemit can help build personality as it requires persistent efforts. You don't expect two minutes of focus to earn you enough money. This makes you resilient.
Earn income from home: An extra source of income from a legitimate source never hurt anyone. Rather having multiple sources of income gives a person financial freedom.
Broaden your horizon: Reading other steemians articles and connecting with them would help build a good network and make you realize that a lot is achievable, also the togetherness and camaraderie of steemians is exceptional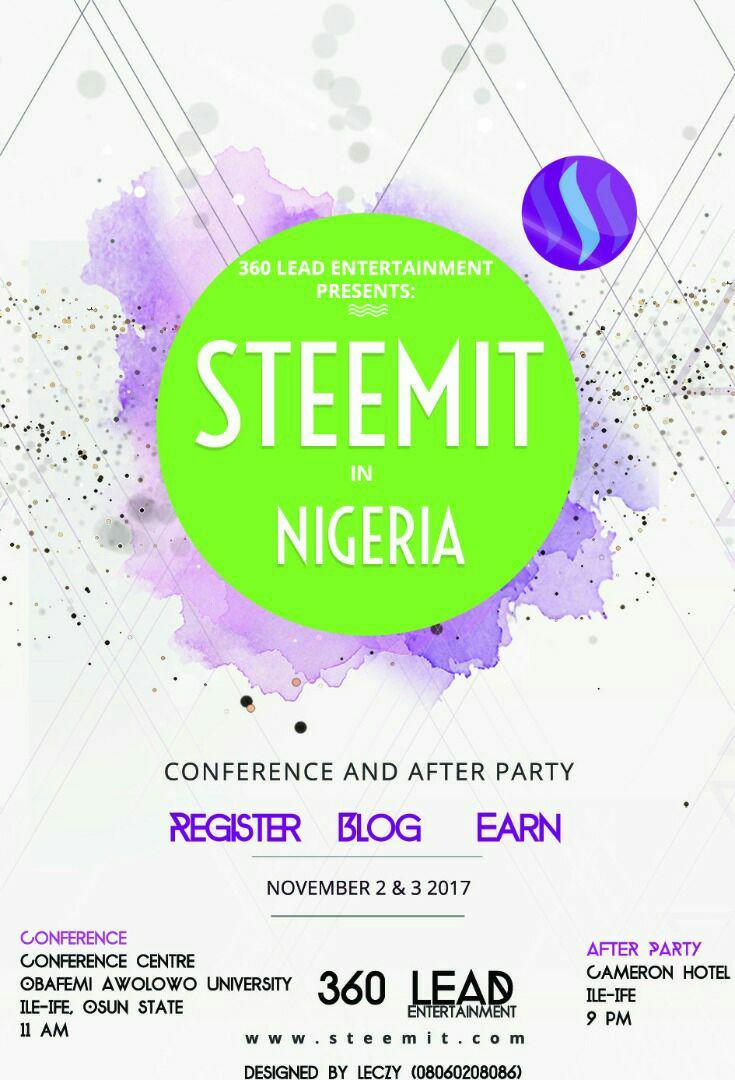 Image Source
Why you should be at the Steemit In Nigeria (SIN) Event
As seen in the picture above the conference would aim to enlighten, train and educate about steemit as well as network with others you'll also benefit from the few below:
The energy of like-minded individuals who are willing to take time away and learn something new, improve and add value to themselves
The tips & tactics shared from other people to enable you enhance your skills or for newbies just getting started.
Attending the conference would help you break out of your comfort zone and give you the confidence to start something you have always wanted to do and/or discover fresh ideas.
You meet experts and influencers face to face, I do hope you would be able to take advantage of this.
How can steemit in Nigeria succeed?
The success of steemit in Nigeria would be for we Nigerians to be an early adopter of steemit and make the best use of it, post original contents, promote our values and culture ( the world needs to know how rich and diverse our culture is) , be an active user and make sure as steemians we contribute to the growth of the platform.
What I hope to achieve when I attend the event
No doubts regarding my attendance for this wonderful conference as I aim to accomplish a lot at the conference, I'll be looking forward to building stronger relationships with people both old and new friends, connect with the speakers at any conference and above all learn.
No community can grow without proper support from the members and other people hence your support is needed for the Steemit In Nigeria event which is coming up in November.
Feel free to upvote, comment and resteem.


TTYL.