STEEMIT IN NIGERIA a YES FOR ME WHAT ABOUT YOU?
Months ago ..i join the community steemitdotcom created by @dreamchasser in Nigeria . in the journey of steemit i have made a couple of friends on this channel ....it wasn't so easy to understand at first but i believe in write an article and get upvoted.
the good thing about steemit is the more u are in , the better you will become.....i never believe in this but today i can say a big thank u to the brain behiind this whole thing..getting paid for what i like to do real time.
I was skeptical about the whole thing called Blockchain technology at first because my first experience with it is awful.. i was scammed over 20btc when i know nothing about the whole game..i fell for someone that promised to keep my account safe and went with all i ever worked for...i keep my research on the go i read more about the blockchain and about the Almighty Bitcoin and am like is this thing what i can actually do on my own without anyone managing acounts for me?
here i am today Earning om my articles day after day
WHAT IS STEEMIT?
Steemit is a social network that looks and functions a lot like Reddit, but with one HUGE difference: Steemit pays both the content creators when their work gets upvoted, as well as the people who curate the best content on the site by upvoting others work.
STEEMIT IS A UNIQUE PLATFORM do you believe so to? have you ever got rewarded of been you for what u do just like that without a stress ? by putting up great article and ull be upvoted for
have u ever find a community such as NIGERIA TEAM ON STEEMIT? A tag to Nigeria bring magnificent curators on a credited post of you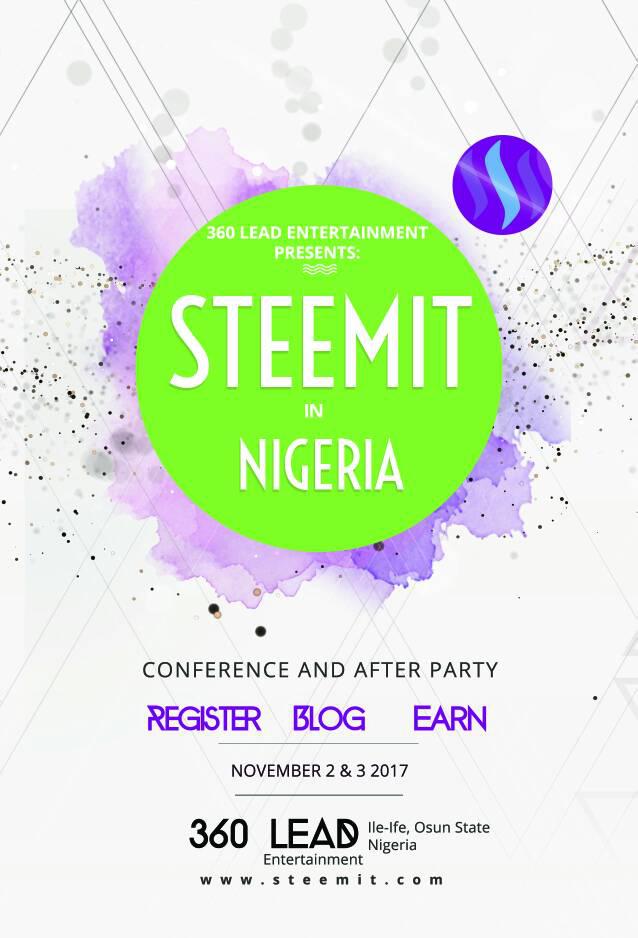 image source
STEEMIT IN NIGERIA
This is an upcoming events in nigeria bringing waves of credited Nigerians on steemit together to create a better awarness of steemit on Blockchain technology. it is said the voice that keeps talking will be listen to most expecially if its voice of the hummingbird steemit has got this voice and evidences. since it has been on AIR alot of pple has already adopted this great opportuniy in which i found my self lucky to be part of this future.... to be successful in the journey of steemit 2 major things are classified 1.Originality of article 2. Encouragement
steemit in nigeria will release a better Road map for writers if you follow the rukes u are safe ..little guard to none is all one need to become a professional blogger on steemit.
WHAT DO I FEEL ABOUT THIS WHOLE STEEMIT IDEAS
This is is the most creditable platform i believe is going to eradicated unempoyment in my country Nigeria, what makes one happy more? when u Can do something for yourself and u are payed for excessively. Working hard pays in all thing we do. Fingers that works get much to eat. a decentralizes system of earning this is a big show and a BIG YES for me.
HOW CAN STEEMIT IN NIGERIA BE A SUCCESS
Creating more Awareness , helping newbies on the platform , encouragement and guides on the do's and don't of the community ...then a wild success await the growth of steemit in nigeria and In Africa at Large.
WHAT WILL I ACHEIVE BY ATTENDING THE EVENT COMMING UP
This is one thing i have been waiting for for a very long time to meet more poeple to delegate on what will move this ministry forward. I believe heads is better than one ideas will be shared and we will look into the problems facing the whole steemit adoptation to my fellow Nigerians and find solutins to work on it together.. ita YES or me . like we know that blockchain technology is going on mainstream in Africa it is still dificult to explain to some adamamnt pople but motivation and examples will be discussed and the key point to use within and out will be questions ill like to ask the oragniser.
ASK ME ANYTHING I REP NIGERIA . ONE LOVE