Nokia even fitted two microphones on the n93i.
Nokia even fitted two microphones on the n93i to capture better audio recording in video which is something we take for granted today on premium devices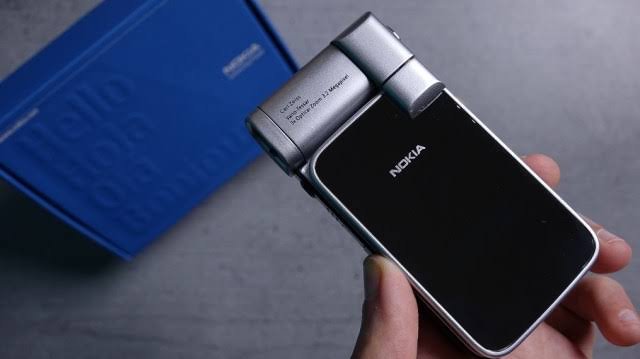 src
on the side you have the buttons to make full use of the camera from the record button to the zoom slider that surrounds it to a joystick to help
control the camera interface you even had a dedicated button to enable or disable flash and another one to quickly switch between photo mode and video mode
the n93i came with the same internals as the n95 so it had a dual core processor clocked at 332 megahertz and even a dedicated hardware accelerator
what we call today a gpu and thanks to that it was even capable of playing 3d games for the time which was rare the device ran on symbian s60 version 9.1
and here are some of its capabilities real multitasking powerful music player powerful video player you could sideload third party apps different profiles
and themes tv out functionality so what were the issues of the n93i it was still considered hefty and very large compared to most phones back then despite losings
over 17 grams compared to the n93 so it weighed just over 160 grams the image quality of the main camera wasn't great and the battery capacity and endurance went down compared to the original n93
in order to make it a smaller device the n93 i also didn't have a 3.5 millimeter headphone jack and finally it was really expensive back then costing close to about 500 euros the n93 and the n93i
are the definition of niche devices but the latter still remains one of the coolest devices nokia came up with it's just tried to do a bit too much in a form factor that wasn't exactly very
comfortable to use and at a price that was out of reach for most people so it never really sold that well plus back then the n95 existed
and it was just a far superior product overall but i love such crazy experiments and this is where the n93i gains its classic status.
[KR]
노키아도 장착된 두 개의 마이크에 n93i 게 나 오디오에서 녹화 영상은 뭔가가 우리가 당연한 걸로 오늘날에 고급 장치
측면에서 당신은 도움이 조이스틱으로 둘러싸고있는 줌 슬라이더에 기록 버튼에서 카메라를 최대한 활용할 수있는 버튼이 있습니다
카메라를 제어 인터페이스도에 전념 버튼을 활성화 또는 비활성화 플래시고 또 다른 하나는 신속히 전환 모드 사진 및 비디오모드
n93i 는 n95 와 동일한 내부와 함께 제공되므로 332 메가 헤르츠에서 클럭 된 듀얼 코어 프로세서와 전용 하드웨어 가속기까지했습니다
우리가 오늘 gpu 라고 부르며 그 덕분에 장치가 심비안 s60 버전 9.1 에서 실행되는 희귀 한 시간 동안 3d 게임을 할 수도있었습니다
그리고 여기에 몇 가지고 그 기능을 실행중인 강력한 음악 플레이어 강력한 비디오 플레이어할 수 있습드 세 번째 파티 앱을 다른 프로파일
테마 tv 에서는 무엇이었는 문제의 n93i 그것은 여전히 고려고 무거운에 비해 매우 큰 대부분의 휴대폰을 다시 그럼에도 불구하고 losings
17 그램에 비해 n93 그래서 그것에 무게를 160 그램 이미지 품질의 카메라가 위대하고 전지 용량과 지구력이 내려 갔 원본에 비해 n93
하기 위해서 그것을 작은 장치 n93 나도 하지 않았 3.5 밀리미터 헤드폰 잭을 마지막으로 그것이 정말로 비싼 다시 그 비용이 가까운 약 500 유로 n93 및 n93i
은 틈새의 정의는 장치 후자는 여전히 중 하나 남아있는 멋진 장치 노키아 와서 그냥을 시도 하십시요 너무 많은 양식에서 요인지 정확하게 아주
편하게 사용하고 가격에 그 밖의 대부분의 사람들이 그래서 그것은 결코 진짜로 판매되는 게 그 당시에 존재하는 n95
그냥 멀리 우수한 제품 전반적으로 사랑 하지만 이러한 미친 실험과 이것은 어디 n93i 이익을 고전적인 상태입니다.