how to earn more STEEM while having some fun... And best of all it's FREE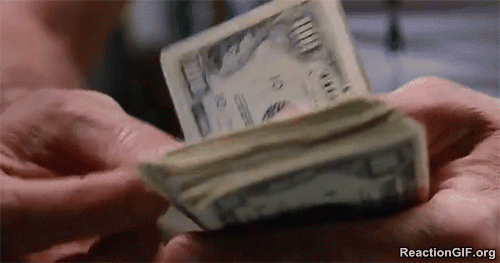 A few days ago I came across this cool new game. DRUGWARS @drugwars
https://staging.drugwars.io/#!/ref/@everydaycoach
Use my link and i Will give you some nice upvotes in return. After signing up and I see that you have put me down as your ref. I will go too your account and upvote you as a big thanks.
This is free to join and don't require any investments to start earning more STEEM. But if you do invest. You will of course get more in return and much faster.
Today my reward daily will be:
YOU WILL RECEIVE 1.668 STEEM BASED ON YOUR PRODUCTION OF 51.75K DRUGS (0.031%)
So I will earn 1,668 Steem today, tomorrow i hope i will reach 2 STEEM. How much can you earn??
Be sure to join this game early so you manage to build up a good profile before this game will be on everyone's laptop.
What is the game play?
Build your own small/big Mafia headquarters, dealing drugs, producing weapons and alcohol.
Soon there will also be possible to attack other players and steal from them, so don't forget to also build up you defense army . You can also invest drugs in a heist and earn more Steem.
Rewards are paid out once a day. As you can see below, I will get income in 5 hours from when I'm writing this post.
If you want to know more about the game please hit me up with questions. I'm in the beginning to learn. but if you don't know the game I probably know more then u:-)
Here you see my stats so far.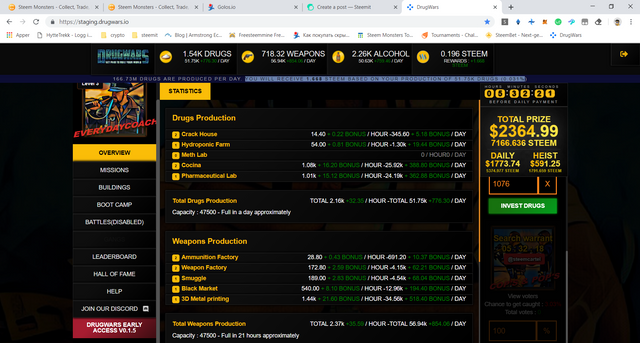 https://staging.drugwars.io/#!/ref/@everydaycoach
Best regards @EveryDayCoach