Making some drugs and trying to reach top 100 rank. Get FREE STEEM from playing
Hi, have you not joined the game hosted by @drugwars yet. You should hurry up and get the production started.
I started some days ago and get paid Steem every day since. No I have not gotten back all my investments but hopefully it will get to a point where i start to earn more then I spend.
This is how my production is going so far.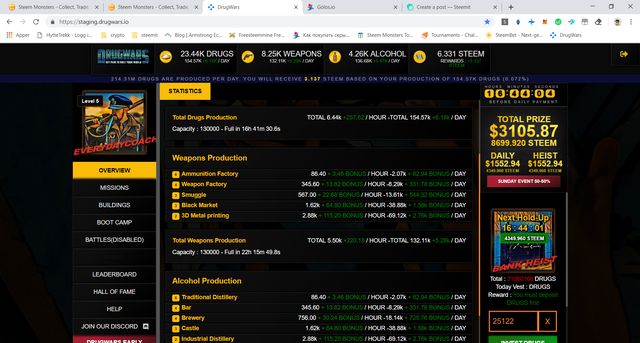 As i mentioned in the headliner I want to reach top 100. But missing some more drug prod. to reach it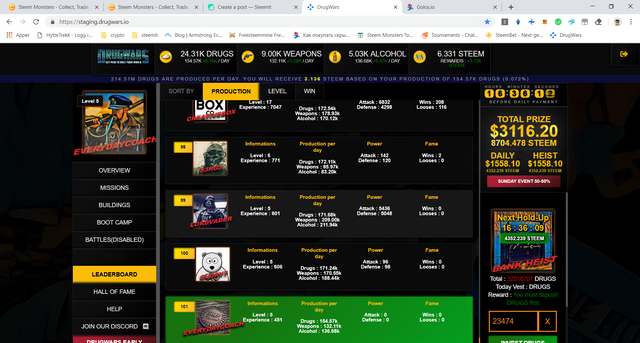 i'm still waiting for the dev. to open so we can build gangs.
Til nordmenn
Håper vi kan få samlet ett norsk lag eller noe slikt. Har sett at @valth spiller, er @flatman og @gyldenhorn @onebitnews kommet i gang ennå? Noen andre norske som spiller?
Have a great sunday everyone
Please feel free to use my invite link if you want to start playing.
https://staging.drugwars.io/#!/ref/@everydaycoach
@bookkeeping has comed up with a cool funtction, test it out like this.
Write a comment with !bookkeeping followed by drugwars, steemmonsters, magicdice, steemslotgames or steembet.
!bookkeeping drugwars
Best regard @EveryDayCoach