Top 10 Spanish foods with recipes part 1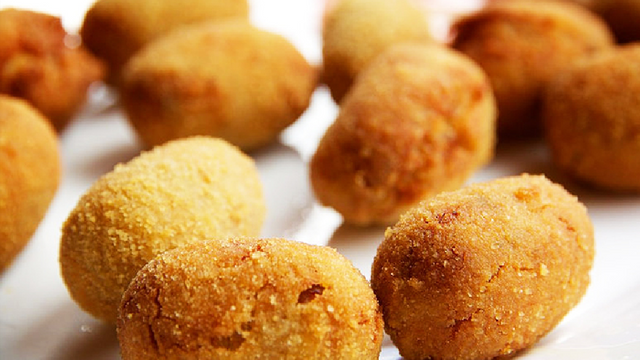 Croquettes
You can find Spanish a plate of croquetas in almost any restaurant or bar, each made to the establishment's own – sometimes secret – recipe, combining ingredients such as jamon (cured ham) or bacalao (Atlantic cod fish) with béchamel sauce, which is then breaded and fried. The creamy cheese (queso) croquettes pack a smooth flavour, or try the croquettes of local sweet-spiced black sausage (morcilla) or Spanish blue cheese (queso de Cabrales) for unique Spanish flavours.
It's also a good yardstick for comparing food in Spain: the quality of a bar-restaurant can often be judged by their ability to handle the Spanish tapa staples of croquettes or bravas (Spanish potato chips). The traditional, scrubbed-down bars usually serve the best.
Make your own:
Perfect the ham and béchamel croquette.
Try this variation with blue cheese.
A local recipe for mushroom croquettes.
Croquetts with mushrooms":
Ingredients:
n -1 liter of whole milk
n -15 gr. Of dehydrated mushrooms
n - ½ onion
n - 3 tablespoon of flour
n -100 gr. Of butter
n - Salt
n - Pepper
n - Nutmeg
n - Eggs
n - Breadcrumbs
   For this kind of dough of croquettes, we will not first make a bechamel roux of butter and flour, but incorporate the flour to the sautéed mushrooms, and then, little by little, we will be adding milk until getting a slightly thickened béchamel.

  We start chopping half an onion into very small pieces and we rehydrating the mushrooms, dipping about 20 minutes in warm water. After that time we will have a generous amount, equivalent to about 150 grams of fresh or frozen mushrooms.

   If using frozen mushrooms, thaw them in the refrigerator, placing them in a colander over a bowl to drain water and not left flooded. This will require thinking ahead and do that operation the day before and so we get the best results. Drain well and chop into small pieces, which are the trips that we find in each croquette.

  In a large skillet, melted butter and in it sauté the onion and mushrooms for about three or four minutes. Season and lower the heat to low and add the flour all at once. With a wooden spoon, stir to let the flour is distributed on the stir, covering every portion of onions and mushrooms, and forming a kind of sticky paste. We leave it to brown the flour stirring until dough begins to turn brown.

  Added a stream of milk and stir the slurry, allowing the liquid absorbs it, until it virtually has disappeared. We continue to add streams of milk, and letting the paste dissolves gradually, it will not take more than 15 minutes have added almost three quarters of a liter of milk or a little more, until our cakes dough is perfect and to our liking .