"A Rip In Time" (Detail) by Matthew Holden Bates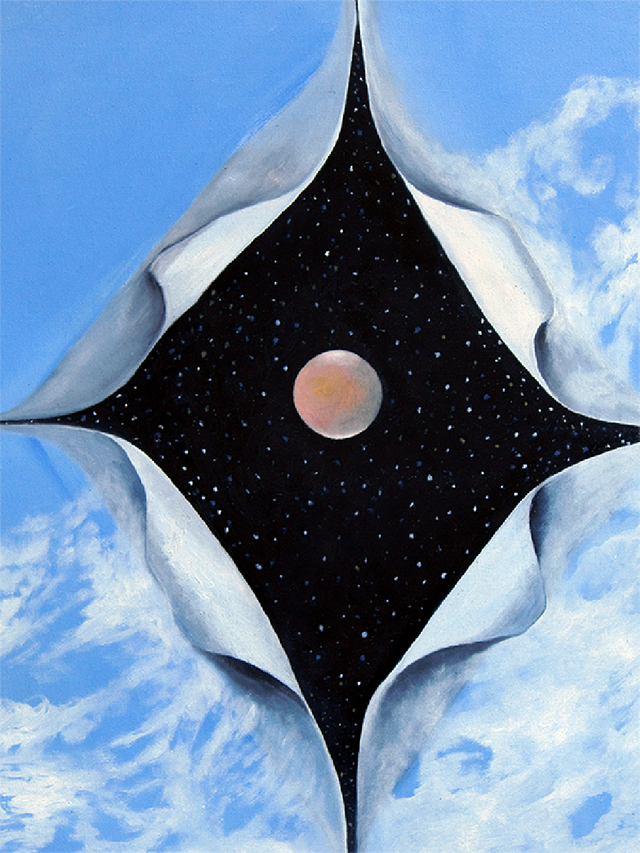 "A Rip In Time" (Detail)
Oil on Canvas / ©️Matthew Holden Bates, All Rights Reserved
This painting takes me all the way back to 1992, the first year I lived in Firenze after I was finished with school. "A Rip In Time" is based loosely on the short story "The Langoliers" by Stephen King which is part of the Bestselling book "Four Past Midnight". In the short story we find ourselves on a plane which goes though a portal. On the other side of the portal only people who were asleep survived. They wak up in a bleak reality where everything is grey and sad. It turns out they went to a place where the past lives, they are out of actual time/space and into a world that is about to be devoured by the Langoliers, the eaters of the past.
I loved the story and was inspired to paint a portal into another world. Why I chose Mars is beyond me, I don't even know if I had ever seen a picture of Mars like this before. We are talking about a time way before the internet. I must have seen something, maybe in a museum, I don't remember. I know that this is a very important painting for me, I still have, it is in my bedroom and I look at it in the morning every day. Here is the entire painting: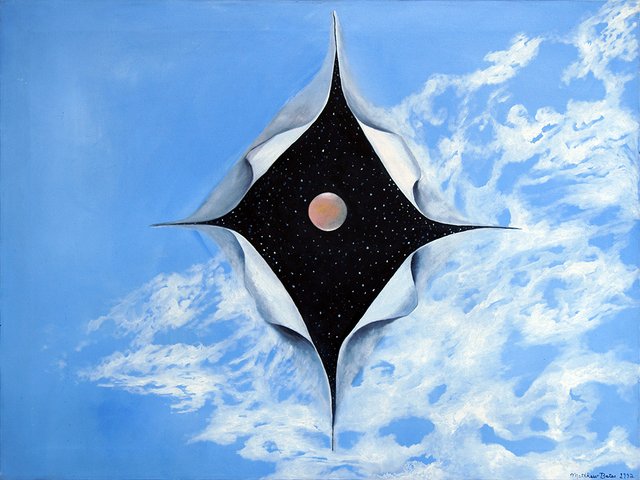 "A Rip In Time" Oil On Canvas / ©️Matthew Holden Bates, All Rights Reserved
I was only 22 years old when I made this painting. I was different back then, more of a dreamer, plus the world was a different place. I would like to be able to follow my inspiration all of the way to the end of the painting, but that is hard, I have too much experience to leave my training behind, maybe when I am old and grey and my eyes are no good, I'll let the brush find its way across the universe again.
If you like my art and would like to see more you can follow me on Steemit @matteopaints and visit my official website . I appreciate your support, and would love to hear from you in the comments below. If you are an artist and would like to share your work with me leave a link to your work and I'll check it out!
A presto, Matteo