Plant Based Eating - Meh - this is my breakfast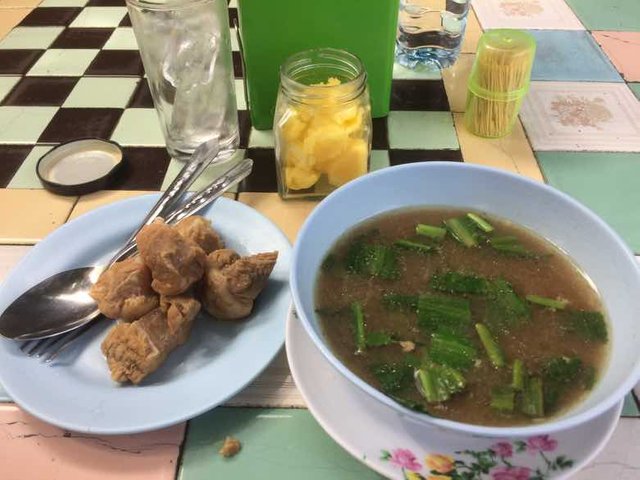 This is what I have been eating for breakfast lately, I don't eat lunch as I don't get hungry again for at least 8 hours even on a highly active day.
I did some stretches this morning after doing 10 minutes of up-hill sprints on my bicycle to max out my heart rate. This is what I do instead of coffee lately. I could skip breakfast and just eat one meal a day easily but I am training hard to build functional strength at the moment. Still trying to nail a handstand press up, not there yet.
First I remove the pork to let it cool, normally I prefer ribs with cartilage on, for the minerals and collagen, but I ate somewhere new today. That yellow stuff in the jar in the background is Ghee.
Ghee
Ghee, is butter fat that has had the proteins strained out of it. It is essentially butyric acid, or saturated fat, but as it is from grass fed animals, it contains the following fat soluble vitamins:
Vitamin A, (beta carotene - a powerful anti oxidant that is most well known for being great for preserving eyesight. Regrettably I only learned about this a year or so ago, wish I had been given it as a child. I have long suffered with poor eyesight.
Vitamin K2 and D3 - among other things, these work together to reallocate calcium from arteries into teeth and bones.
Vitamin E - another powerful anti-oxidant
Being "Fat Soluble" allows these vital substances to pass through our cell membranes, which are also made of fats, preferable high in Omega 3, which is also found in high concentration in grass fed animal products.
Seeds,(such as grains) are generally very high in Omega 6. This is probably because seeds require an impermeable membrane to protect their cargo. (Omega 3 is permeable - meaning it allows passage)
We require a little Omega 6 in our diet, but too much is inflammatory as hell, as it tends to bock Omega 3 uptake and it is a very unstable, (oxidises easily and therefore robs our cells precious anti oxidant supplies).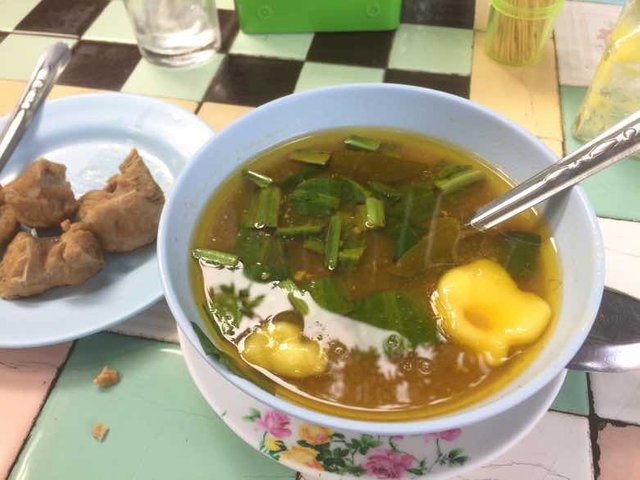 Now I stir my ghee,( that I brought from home) into my soup and allow it to melt, while I eat the pork. Pigs are not ruminants, they don't have 4 stomaches full of enzymes for fermenting fibre into precious fats. They are easily abused, as they eat almost anything, and tolerate crowded living conditions if you give them enough antibiotics.
I would rather source pork from farms where it is allowed to roam and graze freely as part of a diverse eco-system, same as the other animals I eat. However most of the worlds functional ecosystems have been replaced with agriculture, industry and housing. So I do what I can with what remains of our prior to, perfect ecology.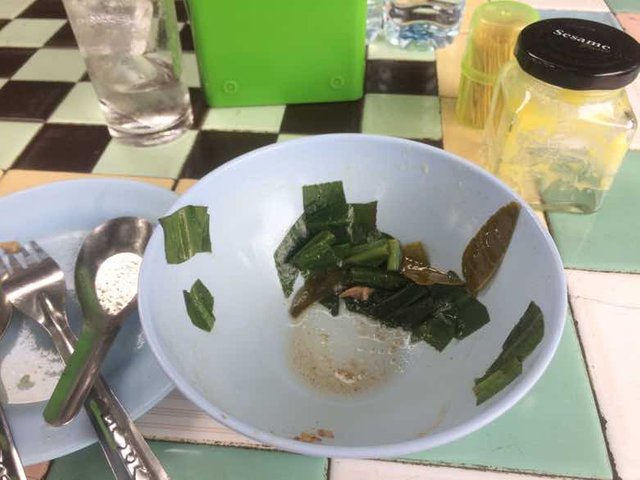 The herbs left in the bowl are cilantro, or (Paak Chee Farrang in Thai) a kind of coriander. I really like the flavour of the coriander and the other herbs in the soup, but I prefer not to put plant fibre into my body, not saying its bad, I just personally operate better without it. (my pooh is soft as clay and I only need to go every 3 days or so since I eat only meat and fat. I love being this light and having zero gut inflammation).
Plant Based Good for who?
Well this is all very contradictory to what mainstream media have been telling us is healthy - ie fruit and vegetables.
However, since when has mainstream told us anything that was in our best interests? To them, we appear to exist to pay taxes and consume crap to drive the lifestyles of a few spoilt brats who control enough assets to keep covering their stupid mistakes. Ok thats a more than a little cynical, but seriously, what am I supposed to think?
Breaking free
Here's to blockchain, and the better projects, hope it can bring the change we need, before nature corrects our foolishness for us. Of course I could be wrong about everything, best to look around, see who is old and healthy enough by your standards, then do your own experiments. Personally I am not inspired by anyone who can not do handstand pushups at 70.