My night friend - watercolor step by step /// Il mio amico notturno - acquarello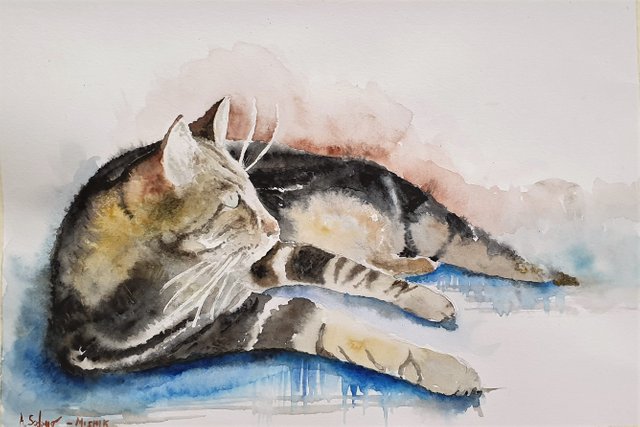 My night friend

2  0  1 9 
watercolor on paper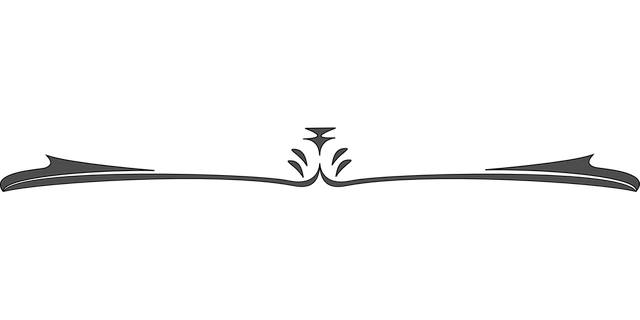 [ENG]
My night friend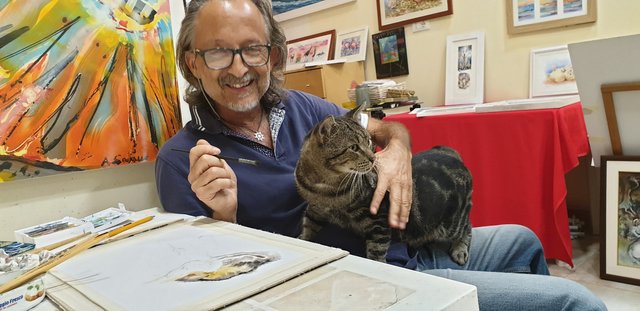 Greetings to all.
In a previous post I mentioned that every night I come to see a new friend.
A beautiful Sorian cat over 7 kilos, shows up outside my studio, looks around a little and finally comes in.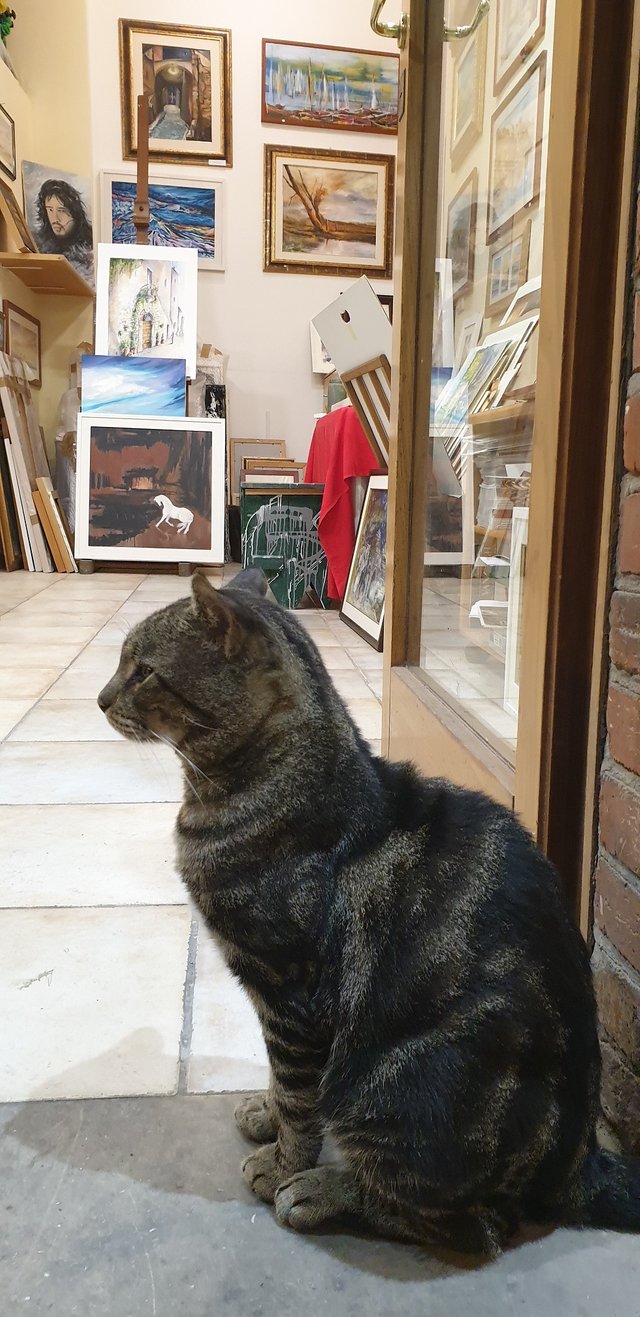 Beautiful, elegant and regal!
I have already told you that it is a stray cat, but well fed, because in the historic center of my city there is a feline colony.
He's the king of the neighborhood!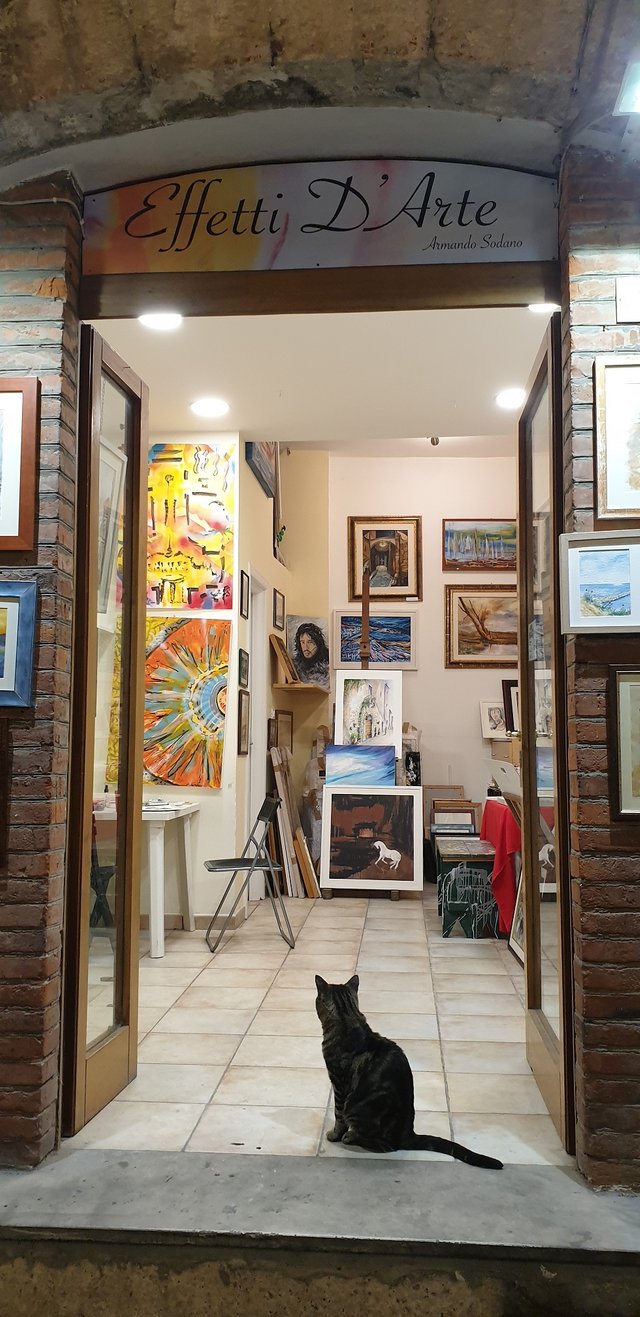 I couldn't resist the temptation to take a portrait of him!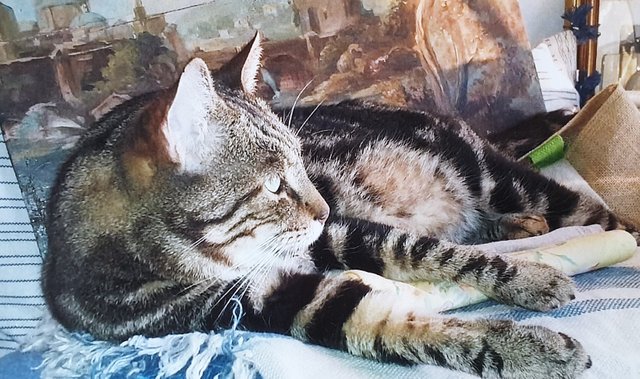 Between a cuddle and its purr I managed to frame it and paint a watercolor.
I love cats, especially for their independence and harmony of movements, like all felines.
Now I share my watercolor painting step by step.

step 1
draw with pencil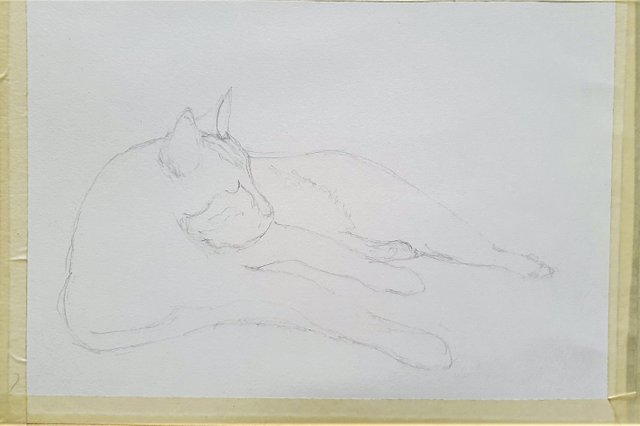 step 2
I dampen with the sprayer some parts of the subject to get the softness of the hair.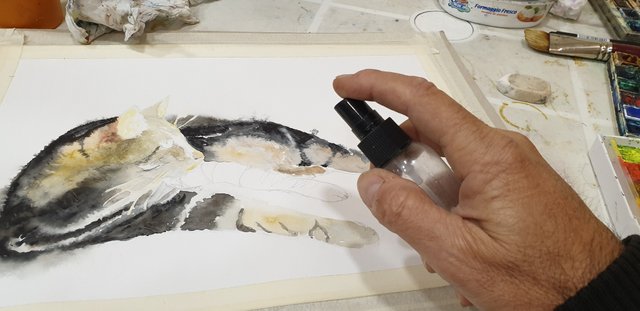 step 3
I also use a fluid masker for vibrisses and other parts that I want to leave white.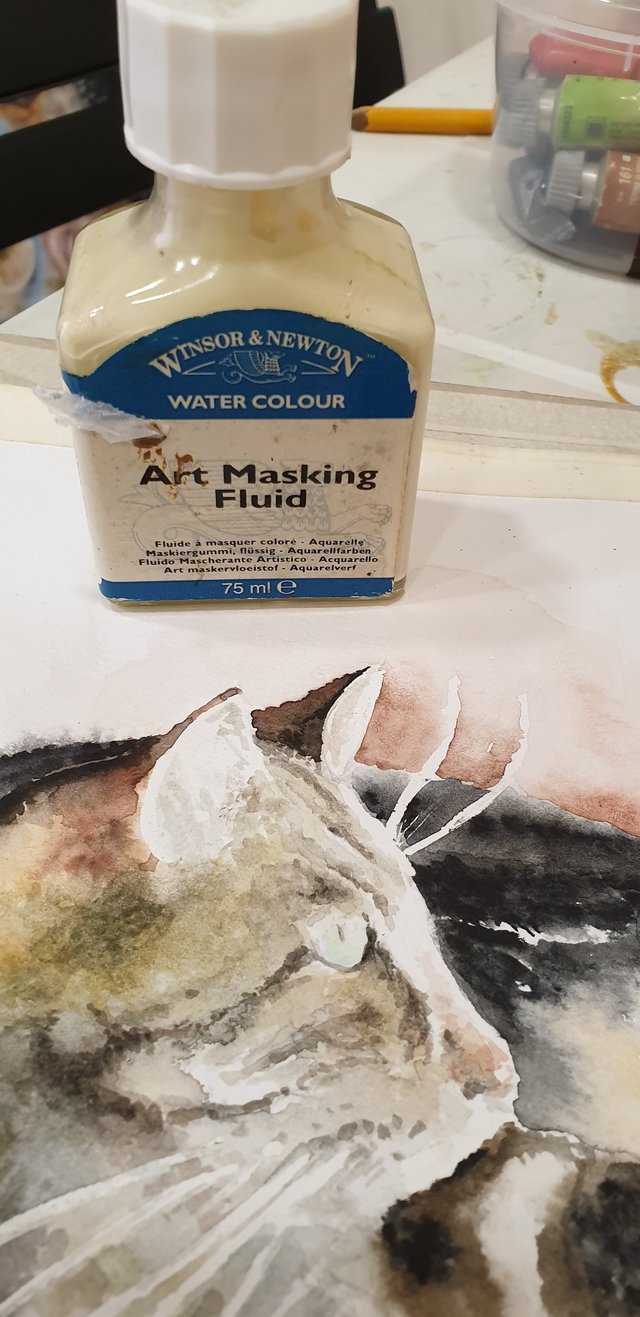 step 4
I paint with colors the body of my cat friend preemptively wet.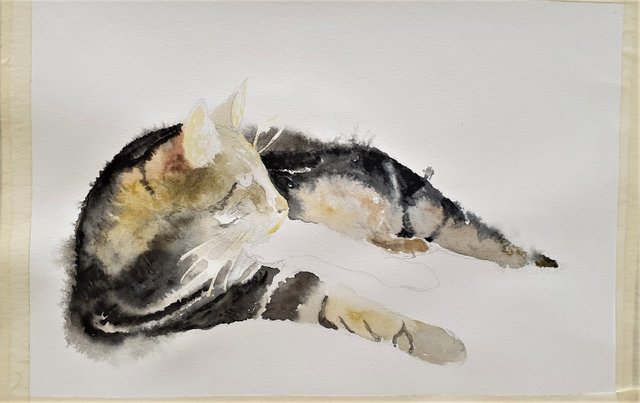 step 5
I reinforce with the colors the ears and the rest of the body.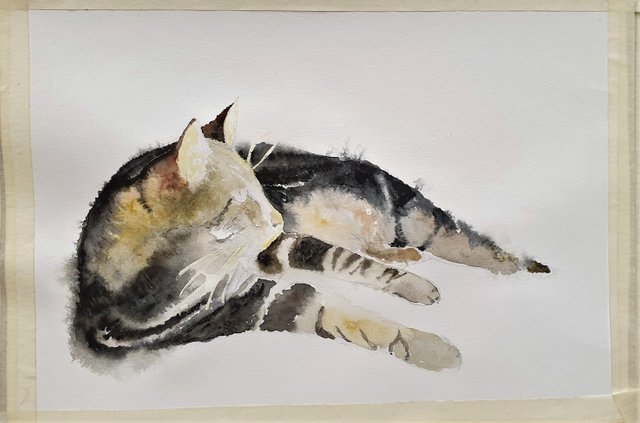 step 6
I paint the background in which my friend laid.
Final result.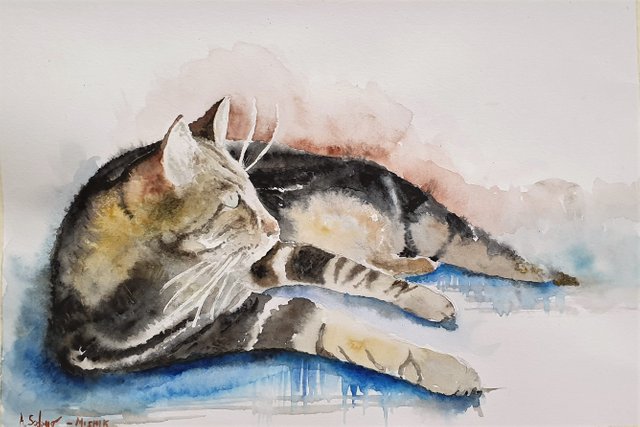 I hope my new friend likes you and we hug you.
Armando and Cat.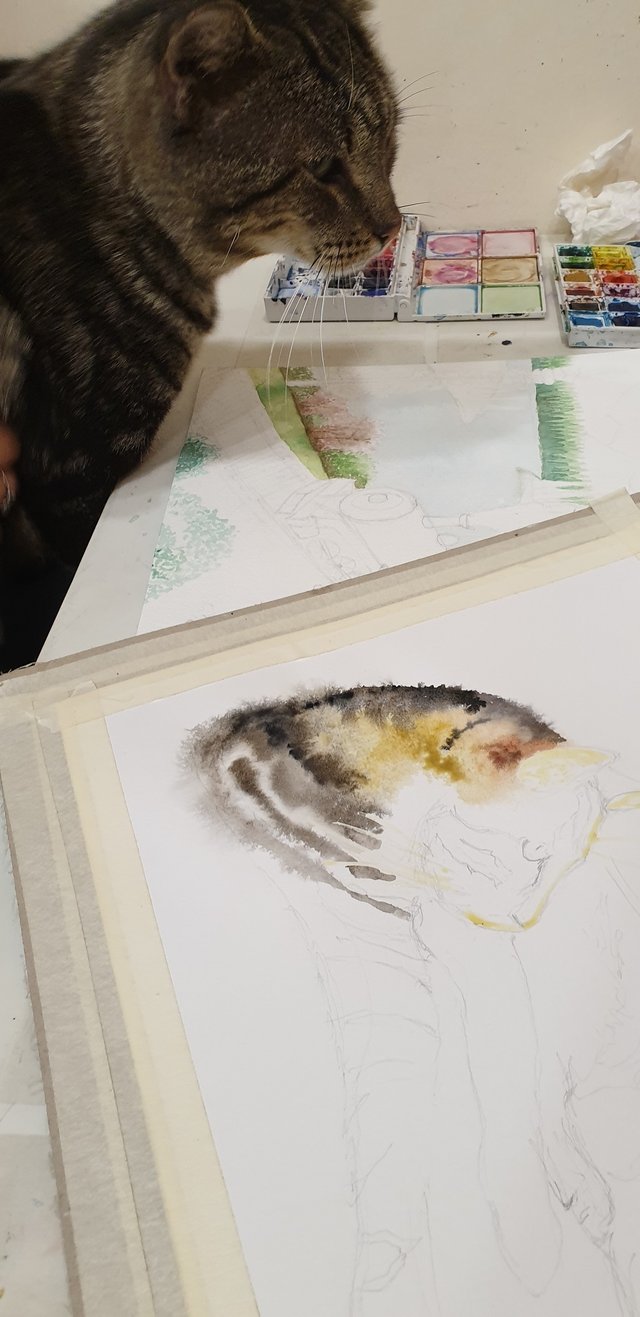 I had a hard time keeping it good...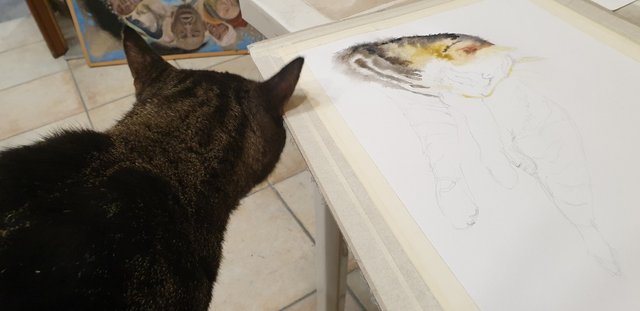 Let's talk about peace!!!
STEEM ON!!!


[ITA]
Il mio amico notturno
Saluti a tutti.
In un post precedente vi avevo accennato che tutte le sere mi viene a trovare un nuovo amico.
Un bellissimo gatto soriano di oltre 7 chili, si presenta fuori dal mio studio, si guarda un po in giro e infine entra.
Vi ho già detto che è un gatto randagio, ma ben nutrito, perchè nel centro storico della mia città è presente una colonia felina.
E' il re del quartiere!
Bellissimo, elegante e regale.
Non ho resistito alla tentazione di fargli un ritratto!
Tra una coccola e le sue fusa sono riuscito ad inquadrarlo e a dipingere un acquarello.
Adoro i gatti, soprattutto per la loro indipendenza e armonia dei movimenti, come tutti i felini.
Ora condivido il mio dipinto ad acquarello passo passo.
Spero che il mio acquarello e il mio nuovo amico vi piacciano.
Vi abbracciamo.
Armando
Parliamo di pace!!!
STEEM ON!!!

https://www.ntopaz.com/ go for a ride, for art lovers.


Art teacher
Curator of cultural activities
Artistic director and President of the Cultural Association "I Colori della Vita"
https://www.icoloridellavita.life/
and "Fuori Controllo" Festival
https://www.facebook.com/fuoricontrollofestival/