@ocdbfund first funding!
I believe it's been 2 months since I started @ocdbfund, in the beginning the @ocdb whitelist wasn't used as much, it had recently officially launched and people were still learning about what it exactly does and why exactly it is non-profit. I figured I'd buy votes in the cases of the voting power being idle and use the profits to fund something that helps Steem. The ROI being generated by Steemians who have delegated to @ocdb to help distribution surely wouldn't mind if a fraction of it's voting power were to go to something that would benefit all of us on the platform. It didn't seem like they minded, I asked in several posts and as long as it wasn't being funded by voting power from anyone else it didn't seem like something anyone would be against or found it flag-able.
After an investment of 1115 Steem and a re-investment of another 1060 Steem from the 50% liquid rewards, comparing it to a whitelisted user with max bid would have had to only use @ocdb approximately 75 days to get a profit margin of 370.9 Steem and 15.69 Steem profit from delegating to @ocdb if the invested 50% had continuously been delegated to @ocdb for approximately 60 days. Be aware that the prices of Steem and SBD have fluctuated a lot during this experiment.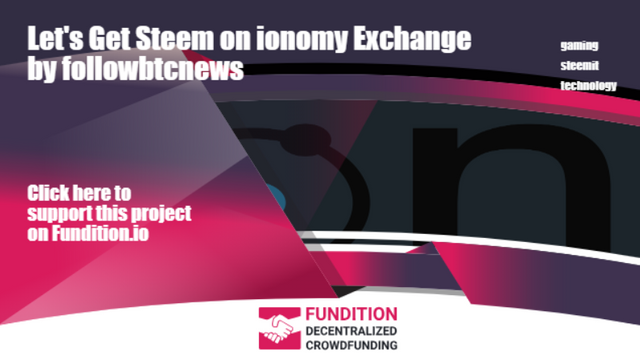 Now enough about that, I have a good idea for the next fund but with this post I wanted to make everyone aware of the attempt to get Steem listed on the ionomy exchange! Go check out @followbtcnews' post in case you haven't yet (it's on fundition) and help him reach the goal for this fund.
OCDBFUND First Funding.
300 Steem to @followbtcnews for the fund.
90% of the post rewards on this post to @followbtcnews for the fund.
10% to @steempeak for having the beneficiary feature on their front-end, thanks!
---
I usually don't ask people to vote but I hope you do on this post and give it a resteem since it's for a good cause. Thanks!