OMNI – THE MEGA MOBILE APPLICATION FOR SOCIAL MEDIA USERS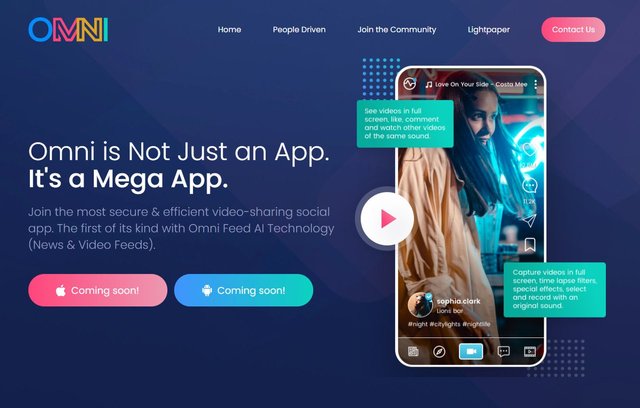 It is high time you are rewarded both for the time you spend on social media and for the efforts you put into creating content on your social media profiles.
You shouldn't expect the reward from traditional social media platforms (Facebook, Twitter, and Instagram), at least for now. The reason is that they are centralized.
As such, they wouldn't pay much attention to the benefits you expect to derive from using those platforms.
Instead, you should start channeling your social media use to decentralized platforms where your interests are mainly protected, and you are sure of being rewarded.
One of the decentralized platforms you should consider using is Omni. This is a mobile application that offers most of the features that are missing in traditional social media platforms.
WHY IS IT CALLED MEGA APPLICATION?
Omni App is called a Mega application because of the wide range of features it offers to its users.
Some of those features are discussed below:
1- An Ecosystem of Popular Platforms
Omni App is called a Mega mobile application because of the support for multiple platforms, ranging from Facebook, Tiktok, YouTube, Shopify, and Instagram.
This means that you can now have instant access to the aforementioned (and many other) supported platforms. It is better than minimizing your smartphone interface so you can use multiple platforms at once.
2- Online Shopping Made Easy
You can only buy or order products and services online when the posts made by the sellers show up on your timeline.
What happens when you have an urgent need for a product or service, but there is no seller on sight?
That is one of the features that make the Omni App one of the best mobile applications you can have on your smartphone.
Aside from the support for multiple social media platforms, the Omni App also makes it easier for you to order products and services online.
This feature is partly because of the integration of Shopify and mainly because of the empowerment it gives to business owners to create online stores where they can display and market their products and services.
The Omni online store is embedded into the mobile application, meaning that you can shop online without opening a new tab or leaving the app.
3- Less Time, More Value
Being the richest man in the world with billions of dollars in your bank account isn't all there is to be successful.
Time is the most expensive commodity in the world, and it must be protected and utilized to the highest advantage of everyone.
You tend to spend up to 3 hours every day surfing your social media profiles. You don't have to waste all that time.
Omni App helps you to spend less time and become productive via the synergy its mobile app provides. Through this channel, you can create posts, follow trends and organize your marketing strategy for different social media platforms – all from one interface.
WRAPPING UP
Omni App delivers everything you need to make the most out of using social media in one app. The ball is now in your court – will you use the Omni mobile application to boost your productivity while interacting on social media?
USEFUL LINKS:
Website : https://omni.ai/
LightPaper : https://omni.ai/omni-lightpaper-v1.1.2.pdf
Medium : https://medium.com/omni-app
Instagram : https://www.instagram.com/omni_app/
Facebook : https://www.facebook.com/omniaiapp
Telegram : https://t.me/omni_app
Twitter : https://twitter.com/OMNI_AI
YouTube : https://www.youtube.com/c/OmniPeopleDriven
AUTHOR
Bitcointalk Username: Intertek
Bitcointalk Profile Link: https://bitcointalk.org/index.php?action=profile;u=2760026;sa=summary