TOP 10 APPS FOR ROOTED DEVICES 2017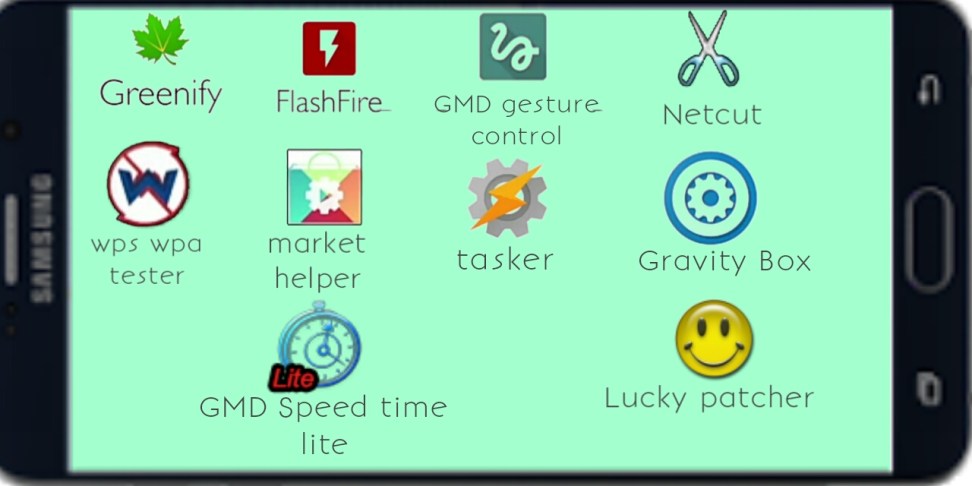 TOP 10 BEST APPS FOR
ROOTED ANDROID
Firstly, lets know about root. Basically, root means to get deep access to the control your android device. After getting the root permission, the user can get full functionalities of android. Customization, wifi hacking, access to system databases can be done through root. Due to the root permission in android, there are many apps developed to perform advance tasks. Here in this article we are going to explain top 10 apps for rooted android device.
1)FLASH FIRE
Root permission helps the user to flash custom roms, firmware or kernel in their device. But it should be done with custom recovery. Thankfully, flash fire is here for the help. With flash fire, you can flash zip files, firmware and also the updates from the manufacturers. Apart from this, it also allows you to wipe system data, 3rd party apps, dalvik cache and many more.
2)GREENIFY
Every android user may have noticed that many apps keep running on the background. Such apps drain battery and affect device's performance. In that case, you can use greenify app. It hibernates apps and resources running on the background. However it works on non-rooted device too, it provides advance functionaliity on rooted device. With root, you can hibernate the apps silently. As it is small app ,it lots of improvement in your device.
3)GMD SPEED TIME LITE
It is a cool android app the speed up your device's time. It can help you if you are playing strategy games(not online) or the farming games. It multiplies the speed of your device clock. Although you need paid version for 100x speed, you can use 10x speed on lite version.
4)GRAVITY BOX
Gravity box is one of the best customization app for android. It helps to customize almost every feature and functionalities of android UI. It brings plenty of customization for lock screen, launcher, navigation bar, power, display e.t.c. Apart from look, you can also change the functionality of button in homescreen, powermenu. Gravity box is a app from the xposed modules. So before installing gravity box, you need to install xposed framework in your device.
5)GMD GESTURE CONTROL
GMG gesture control app brings number of cool multitouch gestures for android. It also let you to create your very own gestures. For every multitouch gestures can get custom actions. It includes opening apps, shortcuts, activity or opening the launchpad. It also let you choose the action on per app basis. You can choose when the gesture remains active and when not.
6)MARKET HELPER
There's many case while downloading app when the app is not available in the country or unsupported for device. Well in that case you can use market helper to spoof your device model, carrier and region. After that you can download those apps which you were not able to download before. Not every app downloaded through this method will work for the device. This app just virtually increase the compatibility of the device.
7)WPS WPA TESTER
Well now, its time to get into hacking through root. Are you wondering is there any app that can hack wireless networks or wifi? Yes, wps wpa tester can do it if your router has wps pin enabled. Basically, wps wpa tester tries to guess the default wps pin of the router. Then it uses wps pin to extract the wifi password and connect to it. It is not sure it will work on each and every wifi networks.
NETCUT
Netcut is the app similar to wifikil. The reason why wifikil is not in this list is netcut has better functionality than wifi kill. It cuts the connection of other's android device from your network. You can also search for the device using device name or IP. You can adjust the speed of internet on other's device which is unique feature. Fortunately, this app can be downloaded from google play.
9)LUCKY PATCHER
Lucky patcher is the multi-purpose hacking app that works well on both rooted and non rooted device. Well by root you will get much. It hacks in app purchases, remove license verification, remove google ads and many more. Apart from these, it can also block ads and provide installation of modded google playstore. You can also install any app as system app.
10)TASKER
Tasker is the automation app for android. Although it works on non rooted phone too, it provides its best on rooted one. It automates tasks, activities and system settings. For instance, you can set the music player to be played when the headphone is connected. If you start using it, you will get hang over it.