Steemit Open Mic Week 102 Winners - See Who Won Open Mic And Join Us This Week
This week due to a variety of natural disasters, bad weather, the Steem blockchain being down, and other technical difficulties beyond our control, only one judge, @meno, was able to post winners for the week. That's why this post is a day late this week. Thanks for your understanding and patience.
Also, it seems that for the time being all Steem Monster cards are sold out so those will no longer be part of the prizes
Thanks to everyone who entered and supported Open Mic Week 102. Community support for Open Mic has been tremendous and is one of many projects bringing the music community together on Steemit.
We had 132 valid entries this week! Awesome guys!
Support Musicians On Steemit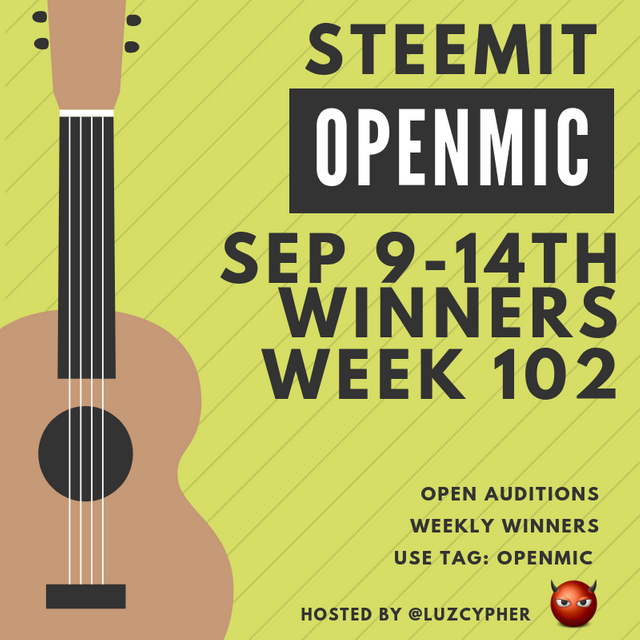 Let's Keep @pfunk In The Top 20 Witnesses By Voting For Him As A Steemit Witness
@pfunk has been sponsoring Steemit Open Mic since I first started it and I want to give a big thank you to him and all the people who support and take part in Steemit Open Mic.
@pfunk is a Steemit witness and helps keep the platform working and you can vote for him here Please go vote for him right now. This post will show you how.
Vote For Pfunk For Witness And Keep Steemit Open Mic Growing Strong We Need Your Help Now
---
More Open Mic Sponsors
Over the last week Open Mic was contacted and offered some more sponsorship from:
@ausbitbank is a top 20 witness on Steemit involved in more supporting projects on the Steem blockchain than I can list. He is a big part of the minnowsupportproject.org, the Peace, Abundance, and Liberty network on Discord, and delegates to many good causes on Steemit. You can vote for him as a wtness here. He just reached out and donated 100 Steem per week to help Open Mic

@Curie helps curate new people who contribute good content and has been supporting Open Mic musicians behind the scenes since Open Mic started. They helped me and countless others get our posts seen when we first started on the platform. Many Open Mic musicians have been featured on their weekly Author's Showcase posts. They are a top 20 witness and have contributed 25 Steem per week for the next two months to help Open Mic. You can vote for them as witness here
MSP-Waves Radio in association with the Minnow Support Project and the Peace, Abundance, Liberty Network is a weekly radio program hosted by @Krystle, @swelker101, and @isaria that features the weekly Top 5 judges picks from Steemit Open Mic. Not only do they give weekly prizes to audience picked performers from the contest, but they have also started sponsoring Open Mic with a 25 Steem weekly donation! How cool is that? Thank you for helping support musicians on the Steemit platform.
---
And thanks to @meno's initiative the community has come together to support Open Mic. Many of you have created posts in support of the Open Mic community and have donated a portion of the rewards from those posts to @openmic so we can keep doing what we do, build a great community of musicians on Steemit. You guys are the best and we feel appreciative and inspired!
Steemit Open Mic Rules
The cutoff date for entries was Friday the 14th of September, 2018 at 12 UTC TIME Find your UTC time here.
Only 1 entry per person per week
"Steemit Open Mic Week 102" must the beginning of the post title.
"Steemit Open Mic Week 102" must be said at the beginning of your video and your username.
Live performances only specifically made for this contest.
openmic must be the first tag
Add a link to your post in the comments of the contest post.
You must upvote this post.
If your song is an original song then add the word "Original" somewhere in your title
You can use DTube but include an embedded YouTube or Vimeo video too.
Entries must follow these rules to earn prizes.
Big shout out to @lukestokes who delegated 5,000 SP to the @openmic account! Thanks for your support.
I just want to remind everyone that votes are only part of the selection process. Entertainment value and performance is factored in too.
To learn more about the rules to entering the contest please read What Are The Rules To Enter Steemit Open Mic And Why Do We Have Rules Anyways
Common Questions When Entering Steemit Open Mic --- by @luzcypher

The coolest thing about Open Mic is it brings the Steemit community together and that is the whole point of this project.
---
Meet up with the Open Mic community at Open Mic on Discord and chat with all of the people who enter Open Mic there. It's a great way to interact with the Open Mic community. Your links to your entry is automatically added to the Discord channel, so please don't add links, just come to chat with the community.
Join the Facebook page for Steemit Musicians you can read about here or go straight to the page here. A lot of players from Steemit Open Mic are there.
Steemit Open Mic Judges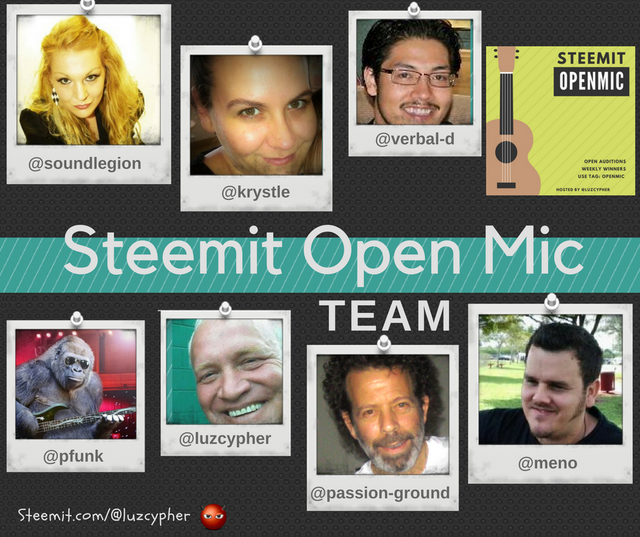 Music Creators Guide To Copyrights, Royalties, And Recording Contracts
Common Questions When Entering Steemit Open Mic --- by @luzcypher

How To Support Musicians On Steemit And Earn Curation Rewards By Following The Open Mic Trail --- by @luzcypher

Steemit Open Mic Is About Building A Community Of Musicians On Steemit Not About Winning --- by @luzcypher

Open Mic Week 102 Top 5 And Honorable Mentions --- by @meno

5W5Vkg Steemit Musicians With Krystle Shane And Isaria Msp Waves Radio 30 Steem Prize 25 Steem Weekly Donation To Open Mic --- by @isaria

Steemit Open Mic Loves Dtube So Why Do I Have To Add A Youtube Video To My Open Mic Entry --- by @luzcypher

Special thanks to @meno for help judging the contest this week. Great job.
Steemit Open Mic is not about winning or losing, it's about building a connections on Steemit through music. Watching the collaborations happen online between musicians who played and met on Steemit Open Mic is very rewarding and many of the people who play and post earn some nice rewards for playing a song.
For many, it's easier to get some Steem in your tip jar by playing for Steemit Open Mic than it is to play music on the street.

Steemit Open Mic Trending Posts
---
Top 20 Trending Open Mic Posts
The openmic tag has earned a total of: 239,308.702 SBD worth $229,613.83 USD At Today's Prices of $0.959488 SBD (Average of $2,251.11 per week in 102 weeks +plus has paid out over 28,700 Steem in prizes!
NOTE: Having a trending post is not how judges pick entries for their Top 5 weekly picks. Sometimes you will trend because of a variety of reasons. Congratulations! You don't need to win Open Mic to earn rewards and build your audience. As you can see, sometimes trending posts earn more than the contest rewards! You could trend by getting curated by other curation groups like @curie for example. The judges look for entertainment value which, of course, is very subjective and varies over time. Just keep playing and engaging with the community which is the whole point of Open Mic. If you love music, we love you.
The most recent top earning posts were:
This chart is provided by @carlgnash.
Congratulations to all of you who trended this week on Open Mic!
Winners from Steemit Open Mic Week 102
It is not getting any easier to pick with all this talent and it is so hard picking winners every week even with 5 judges.
---
and the winners are...
1st Place
You won 80 Steem
---
Steemit Openmic Semana 102 Moccamonica Ft Jose Cabrera (Billie Jean - Cover) --- by @moccamonica

---
I loved every second of this performance. The house band, as I will refer to them from now on, sound amazing and the way you guys exchanged the vocals duty was just brilliant. I kept on thinking to myself, "oh, the falsetto is coming" and then Monica would jump in and kick it up a notch.

What can I say? How could it not place as my number one... Beautiful collab from beautiful people. - @meno
---

2nd Place
You won 40 Steem
---
Steemit Open Mic Week 102 - "Kisses for Breakfast" (original song) --- by @veganpetite


---
I never thought someone would convince me to replace my breakfast, my most sacred meal with some chocolate kisses. But today, yes, well actually, yesterday, it happened. What an awesome little tune, I'm so happy it got some love from the @curie peeps, because it freaking deserved. - @meno
---
---

3rd Place
You won 26 Steem
Steemit Open Mic Week 102 Steem Adventure Feat The Steem Sisters --- by @steembirds

---
Impossible not to smile watching this video, just impossible. The @steembirds the birds of steemian lineage joined forces with @coruscate and @maryjaney and went all out in silliness and fun. This is what this whole thing is all about people, making friends, enjoying life, this. It's that simple, yet that powerful. - @meno
---

4th Place
You won 26 Steem
Steemit Open Mic Week 102 Hey Nay Hey Jude The Crypto Version --- by @skycorridors

---
Well, the trap was set and it was perfect. I'm a huge Beatles fan and this so happens to be my favorite Beatles song possibly ever. Yes, the one that I default to when I think of Beatles. So @skycorridors grabs my favorite song and then puts crypto in it, What? - @meno
---

5th Place
You won 26 Steem
Steemit Openmic Week 102 Minuetoacademy Amor Originalsong --- by @minuetoacademy

---
I just enjoyed this tremendously, for some reason it was nostalgic to me. I felt as I've heard this before, as if the soundtrack belonged to a different timeline. As I'm typing this I'm thinking that is precisely what it is. It's a soundtrack to a movie not yet filmed. - @meno
---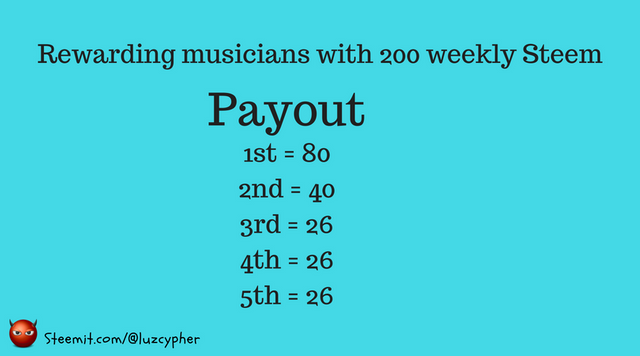 Here's a screenshot of the prizes transferred to the winners this week.

Congratulation Everyone And Thanks For Playing Steemit Open Mic.
---
Congratulations guys! Thanks again to everyone that entered. Thanks to our sponsors @pfunk, @ausbitbank, @curie, @aggroed, @isaria, and @steemmonsters for sponsoring Open Mic!
Vote And Enter Open Mic Week 103 by Following This Link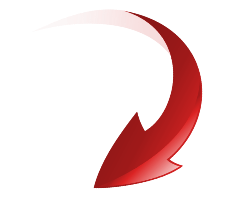 Related Posts
Music Creators Guide To Copyrights, Royalties, And Recording Contracts --- by @luzcypher
How To Support Musicians On Steemit And Earn Curation Rewards By Following The Open Mic Trail --- by @luzcypher

What Are The Rules To Enter Steemit Open Mic And Why Do We Have Rules Anyways --- by @luzcypher
Behind The Scenes Look At The Steemit Open Mic Selection Process How We Pick The Top 3 Entries --- by @luzcypher

---