OFFICIAL: Open-Mic | @passion-ground's Top-5 Entries for Week 75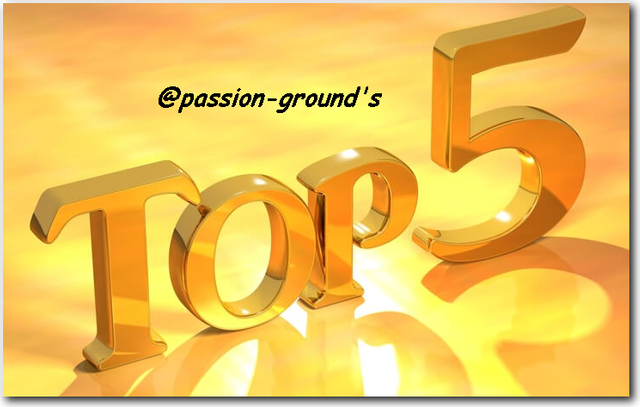 Summary
...So here it is, only Wednesday, and I'm already starting my Top-5 commentary! While it's all still fresh in my emotion, I just wanted to share just how much each individual artist means to me. Sure, I can easily become disappointed about the lack of support from STEEMIT's Whales or Witnesses - or frustrated and down about any other of a variety of administrative challenges. No doubt! However, when I click on "play" to watch and hear each of you playing and singing your hearts out – all that negativity goes away for me – and I become one with all of you and your music, and that's such a very beautiful thing for me, thank you all for that, from the bottom of my heart.

Fast forward, and now it's Saturday night, and I've just finished ordering my "Top-10," "Honorable Mentions," and all of my extensive "Shout Outs" for the week. I have to tell everyone just how proud I am of my selections and mentions. Before submitting, I listen to each of them in order (as should each of you) and I just sit back in utter amazement as to how great each and every one of these entries truly is. They are MY PEOPLE, man - week in and week out – they keep me grounded, humbled, and forever impassioned. Please do take the time to listen to each of these artists, I am quite certain that you will be glad that you did!

So with that little bit said, following some further insights as to how I judge, let's get it on, shall we?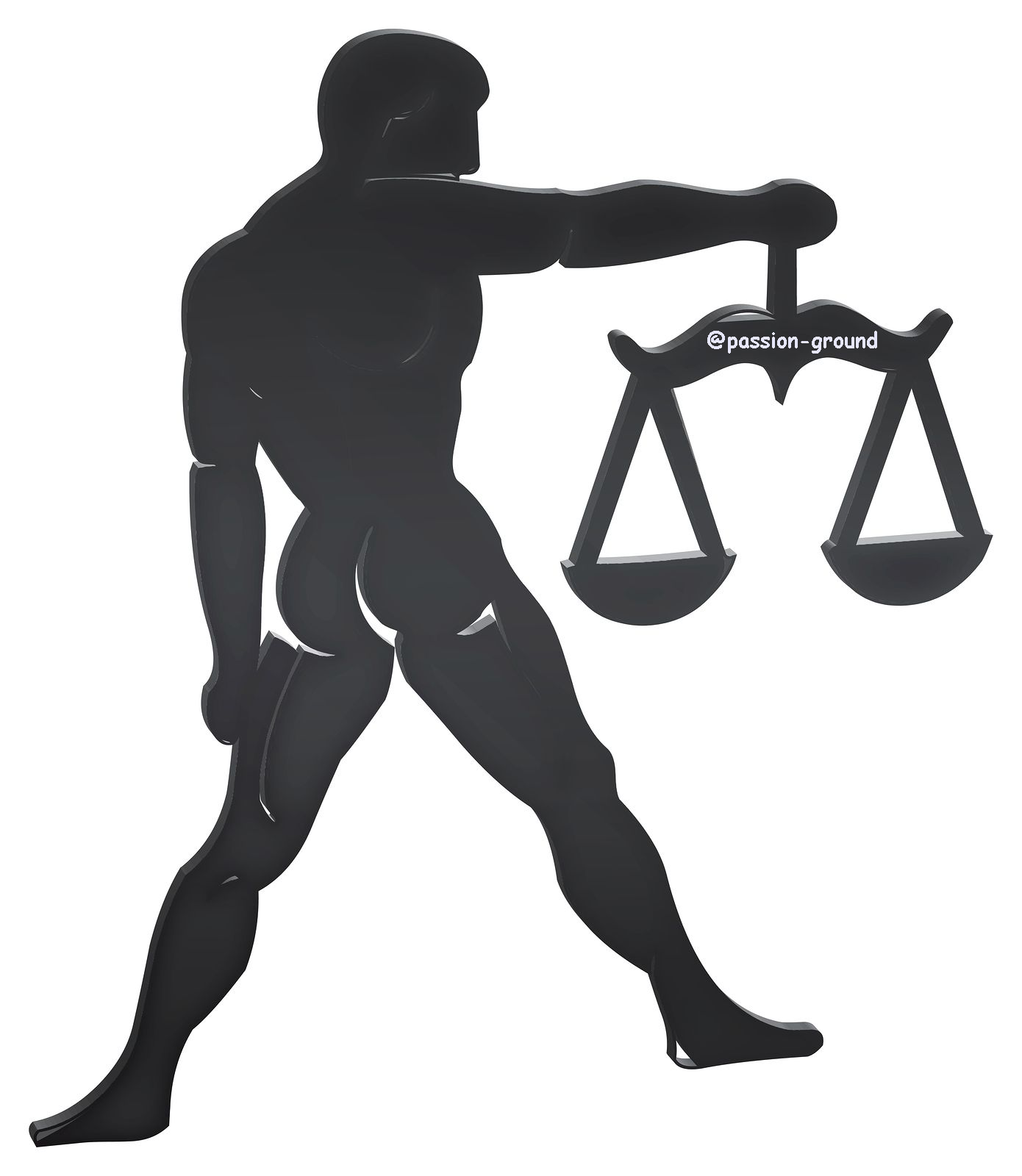 My Process

As one of the esteemed Open Mic judges, it is my job to come up with (or "curate" as it were) a short-list of my top 5 entrants each week. With all of the great talent here, that is by no means an easy task. Sure, tossing in another 5 honorable mentions helps, but not when my weekly list starts out with 100 or more of my favorite entries... You guy's rock - I'm tellin ya!

Yes, I am a Libra – so I have an inherent drive deep within me to be fair and balanced – good qualities for a "judge" if you ask me. That being said, I'm still human – filled with emotion and subjective feelings – just like you. So, in order to mitigate my subjective tendencies to the best extent possible, I've come up with a method by which to narrow down my selections in a more objective vs. arbitrary manner.

Here's how I go about my personal judging process: I first start out with a list of 100 or more of my most favorite entries for the week, and score them (yes, subjectively) in six distinct categories via a spreadsheet. The categories I've selected for scoring are in general harmony with those explained by @luczypher in his post titled How We Pick The Top 3 Entries, referencing such.

To get a more in-depth perspective as to how I personally go about selecting my artists, please refer to What I go through as an Open-Mic Judge.

Even though it's still a "subjective" process – diligently going through each scoring category to come up with a "total" score for each entrant helps to minimize any overzealous subjectivity that I may harbor with respect to any specific entrants.

Quite often, this exercise doesn't give me the exact results I would personally prefer to see – but that only means that my system of judging is working as intended and designed. With all of that said, here are...
My Top-5 Picks in Order

FIRST PLACE: @pedromrmourato - "There Is Love" - (Original)
I mean, come on, man – this performance is simply "the BOMB!". You just have to listen, people – shortly thereafter, there will be no doubt that this particular entry was far and away the standout amongst all of the top tier entries for week #75. You guys killed it here, dudes – NICE @pedromrmourato!
https://steemit.com/openmic/@pedromrmourato/steemit-openmic-week-75-there-is-love-original-song

SECOND PLACE: @pechichemena – "Sendas del Pasado" - (Original)
Pechiche is one of my all-time favorite STEEMIT Open-Mic artists! This is no secret by any means. Pechiche has recently been stretching himself outside of his comfort zone, which is a good thing. However, this week, my man, Pechiche returned to his comfort zone and knocked it out of the park! I'm telling you, people, you owe it to yourself to take 4-minutes and listen in awe to the pure magic that is @pechichemena!
https://steemit.com/openmic/@pechichemena/steemit-open-mic-week-75-sendas-del-pasado-pechiche-mena-original-song

THIRD PLACE: @petrajordan – "City At Night" - (original)
PJ, as I like to call her, is a relative newcomer to the Open-Mic. Here in week 75, she graces us with the first of hopefully many more original songs! PJ is a true artist, and you really must hit play and listen to her "City at Night" composition to fully appreciate the talent, creativity, and artistry that this special individual has been blessed with. You go, PJ!
https://steemit.com/openmic/@petrajordan/steemit-open-mic-week-75-city-at-night-original-by-petrajordan

FOURTH PLACE: @danieldyemusic – "Georgia" - (Original)
Wow, man! Daniel and Ben collaborating yet again! I was just taken by the lyrical content, the melodic transitions, and yes – the harmonies, and well, yeah, Ben's skills with the brushes on that golden drum kit! Folks, you most definitely need to click play here people, and check out one of the finest Open-Mic Collaborations to date! Beautiful work, Daniel & Ben!
https://steemit.com/openmic/@danieldyemusic/steemit-openmic-week-75-original-song-georgia-with-ben-lee

FIFTH PLACE: @mightyjoenolan – "San Francisco Girl" - (Original)
I'm tellin' ya, man – I just LOVE Mighty-Joe-Nolan! He's got the musical spirit of Bob Dylan and Cat Stevens running through his veins – and man, what a special gift that is! His lyrics in "San Francisco Girl" in concert with his structured melodic transitions and driving rhythms are truly something to behold. You definitely want to hit play here, people. Might Joe rocks, and rarely disappoints. Check him out, Steemians!
https://steemit.com/openmic/@mightyjoenolan/steemit-open-mic-week-75-original-song-san-francisco-girl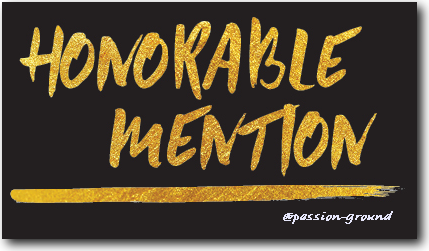 My Top-5 Honorable Mentions in Order:

First: @byrongrant – "Front Door Blues" - (Original)
https://steemit.com/openmic/@byrongrant/open-mic-week-75-front-door-blues-an-original

Second: @javierdunn - "Paper Tigers" - (Original)
https://steemit.com/openmic/@javierdunn/steemit-open-mic-week-75-original-song-paper-tigers

Third: @vera.carla – "Naked" - (Original)
https://steemit.com/openmic/@vera.carla/steemit-open-mic-week-75-naked-original-song

Fourth: @ray.luv.music – "Without Me" - (Original)
https://steemit.com/openmic/@ray.luv.music/steemit-open-mic-week-75-ray-ray-without-me-original-song

Fifth: @thesimpson – "Needle and the Damage Done" - (Cover)
https://steemit.com/openmic/@thesimpson/steemit-open-mic-week-75-needle-and-the-damage-done-thesimpson

Thank you for reviewing my selections for this week's Open-Mic contest. If you find this content I've curated entertaining and of value to you, then please consider up-voting and/or re-steeming it.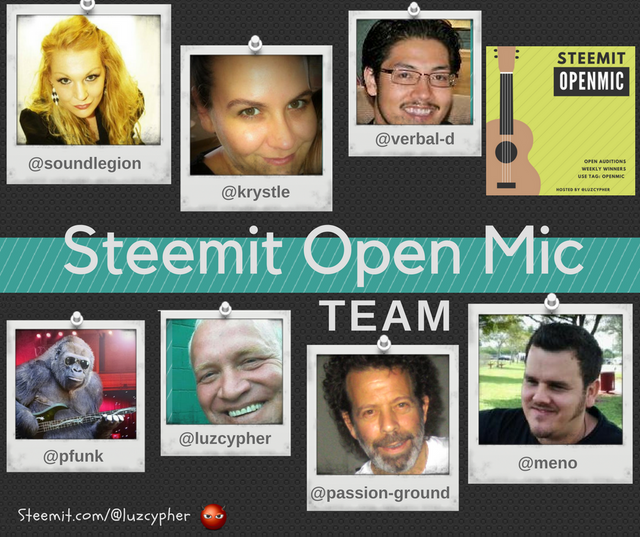 Peace, Love, and Justice for All

A Very Special Shout Out To:
The following 20 artists who were very much on my radar, each within a splitting hair of making it into my overall top-10, and whose performances I loved, cherish, and respect most assuredly. This special list is very much an extension of my most honorable mentions.

They are - in no particular order:

@kayclarity, @tomashofficial, @tfeldman, @maerod, @abelfernandez, @juliolunar, @rodrigocabrera, @rhavi, @paintingangels, @disclaimerhffmn, @donroberts, @cezanne, @wethepatsies, @luisferchav, @ed-the-songster, @klynic, @silviagoh, @alejandra23, @mrbloom, and @danshawmusic.


Another Special Shout Out To:
The following artists whose performances I very much enjoyed this week.

They are - in no particular order:

@pollocyber, @markaustin, @cutramadhani, @brendahcaroline, @chaifm, @badcamper, @caracortada, @rial17, @jgvinstl, @lillym, @edenmichelle, @builtinfire, @drewsmusic, @ceparl, @gaborockstar, @luisortiz.a18, @mcmusic, @gabrielinho, @musiccircle, @malvarezmusic, @elisonr13, @steevc, @mosdad, @melodeons, @proxytech, @honeymoon-1611, @kaizag, @yoi, @lk666, @prayer11, @jonsnoww, @cesaralejandro, @drewley, @jaredkhamanah, @coruscate, @fafavasquez, @donirosayandi, @gemdi, @temistocles123, @rafapercussion, @williansjmm, @olivercuico, @narta, @donatello, @guifaquetti, @palmimusic, @wilins, @nelsooona, @baiver86, @jphogan2k9, @fnux, @davidfar, @andreag, @teukurobbybinor, @steemmatt, @roman.musica, @edwardstobia, @leomolina, @dhannabao, @luispc89, @jumpmaster, @acousticsteveo, @belenlopr, @manurodriguez, @gibber, @silentscreamer, @camuel, @andii, @smollrecord, @paulove, @graceleon, @armoniritmia, @andrewmarkmusic, @chrisroberts, @chimtivers96, @itinerantartist, @martinsandersuk, and last but not least, @mrprecious!


Much love and thanks to each and every one of you who have touched a part of my heart and soul - not only this week but forever!