CLOSED - NEW CHALLENGE - CREATE PROMOTIONAL GRAPHICS - CLOSED
CLOSED Hi Steemians!
A new day, a new challenge! We like you to create Promotion Material for STEEMIT OPEN MIC. These images and videos will be used by us, and the rest of the community to promote STEEMIT OPEN MIC on Steemit and other Social Media.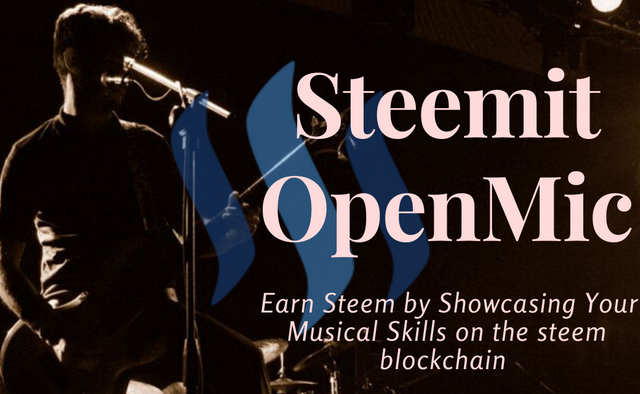 by @tolustx
THE CHALLENGE
To promote Steemit Open Mic, we love to have more visual material. For that reason, we like to have a database with graphics in many different sizes. These creations you make NEED to be free to use and you have to confirm that in your post. The community can use these graphics to promote the contest on all Social Media.
WHAT WE LIKE TO SEE
As always, impress me. I don't like to put a lot of restrictions or rules. We just want to have more professional looking graphic designs and we want to give you the opportunity to make some extra STEEM. These can be videos, images, gifs and even memes. Everything needs to be your own creation and completely copyright free to be eligible.
Comment on any post of @steemingcurators the link to your post when ready!
HOW TO MAKE GRAPHIC DESIGNS
If you do not have photoshop or any other professional photo editor, you can find a lot of free tools online.
These are some:
https://canva.com
https://crello.com
https://befunky.com
https://vectr.com
https://figma.com
https://giphy.com
https://spark.adobe.com
What Sizes for the graphics?
If you use the above sites, then you can usually choose the size from the start. Each Social Media has their own formats and sizes. To make your visual creations look perfect, the correct size matters.
Go to this post - Social Media Image Cheat Sheet (it is amazing)
POINTS DISTRIBUTION
We are still counting the points of the community that have participated in previous challenges. So if you are competing in the monthly challenge, all points earned by this challenge will be added.
For EVERY ELIGIBLE visual presentation you create, you get a point. Please put them into 1 post because we do not have enough Voting Power to vote for all your posts. The more you create, the more points you get! This challenge is open the entire month of JUNE
Image graphics get 1 point
Video graphics gets 3 points (minimum 10 seconds)
Every Friday we count the points and add the leaderboard in the post. At the end of the month, the 7 users with the most points, get a 100% upvote form @steemcurator02 and a 25% upvote from @steemcurator01 extra!
PLEASE SHARE AS MANY POSTS ABOUT STEEMIT OPEN MIC AS POSSIBLE! WHEN YOU HAVE SHARED IT ON OTHER SOCIAL MEDIA, INCLUDE THE LINK IN COMMENTS OR YOUR POSTS TO GET EXTRA UPVOTES!!!