Should you ridicule a fallen star?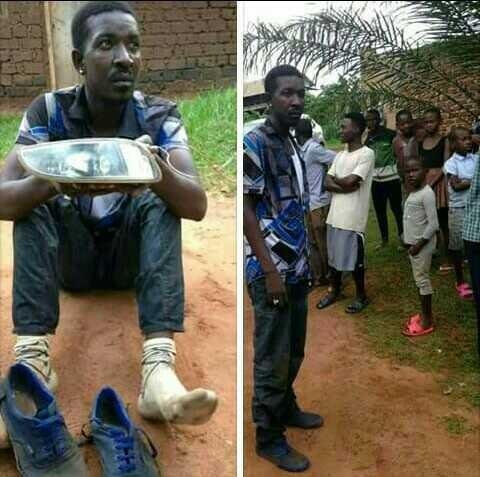 This is Cute Kaye, hitherto a successful musician with a fanbase to reckon with. Does his rather prophetic song #ginkeese ring a bell? Well, apparently he has survived lynching today morning, after being caught stealing a car side lamp. Depending on the car model, this item doesn't cost anywhere near UGX 150k, and he wasn't going to sell it for more than 50k.
What if he has turned to this level of desperacy because time came when he could no longer afford a recording studio? Yet seeing him travelling on a boda would make front line news on Bukedde? And that he now feels disillusioned that the fans who used to sing his praises, the very people who used to tell him "I am your #1 fan, in actual sense didn't give a damn about him and where he ends up in life? That when he needed them most, they never turned up? And yet somehow during his lowest moment, they still expect him to live by the highest moral standards expected of any reasonable member of society? Look at his facial expression again and tell me.
I refuse to blame Cute Kaye for what he has turned to, because we are partly to blame.
I insist that there is something wrong with us as a country/society/community that we can watch our peers rise to the apex echelons of success, and then fall with a thud but somehow we remain unbothered, or blame their "flashy" lifestyle and things like that.
I will keep saying that it is unacceptable that we lack a social support system in place which could have shored up people like Cute Kaye, and prevented them from hitting rock bottom, yet here we are now complaining and pretending to be surprised and angry that he has turned into the very thugs who terrorise us day and night.
For as long as we cannot put proper systems in place to ensure that everyone lives a comfortable life and that s/he will always have a shoulder to fall back to when times get tough, we are in for more trouble!
Anyone of us can become this version of Cute Kaye at any moment in our lives. Starve for just two days, and tell me you will not want to get anything to eat by hook or crook.