Buddy: development automation platform made by developers for developers.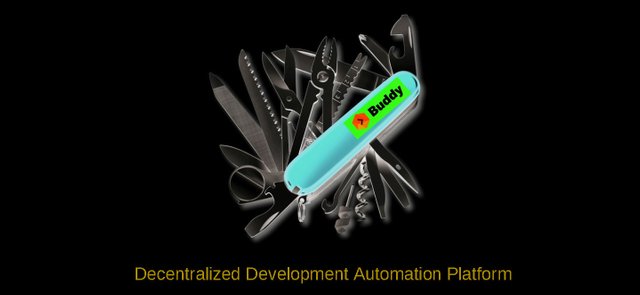 In a brief journey through history, programming is linked to the appearance of computers, and languages ​​also to its evolution. Initially it is programmed in binary code, that is to say in chains of 0 and 1, which is the language that the computer understands directly, an extremely difficult task; then the assembler language was created, which although it was the same as programming in binary, being in letters was easier to remember. Subsequently, high level languages ​​appeared, which in general use English words, to give the orders to follow, for which it uses an intermediate process between the machine language and the new source code, this process can be a compiler or a interpreter
A compiler reads all instructions and generates a result; an interpreter executes and generates results line by line. At any time, new programming languages ​​have appeared, some so-called structured and currently, instead, object-oriented languages ​​and event-oriented languages.


Now, what is a programmer?
To make it simple a programmer is the person who is responsible for making the applications and platforms that we use in daily life, are responsible for designing web pages, also the game that you like so much on your cell phone, others make the system you work , Finally the programmers or developers have a hard task, and when they are large projects, groups of these professionals are created for the task, now with the pace that is currently carried out, these people need help quickly and efficiently.
Today there are platforms on the web that give the help that developers need to do a job faster, these platforms provide tools that streamline the process of creating projects, also provide skilled labor to perform specific tasks, some of these platforms is Buddy


Buddy and his story
The team was founded in 2007 while Springloops was starting, a popular Subversion hosting platform with deployment tools for web developers. The acquired knowledge, experience and new technology trends finally led to invent Buddy.
Established in 2015 with the mission of applying automation vertically in the application development process, so that developers can focus on creative challenges, do not waste time on repetitive tasks
Launched in 2016 to a great positive response from the community, it quickly became a partner of Google, Github, Microsoft and other key players in its search to help developers deliver faster results and better quality products.
Since 2017, the team, enthused by the traction, has been delivering updates and improvements in a fast track of weekly launches.
Buddy wants to help the blockchain
The blockchain is expanding rapidly, this technology has seen millions of companies grow, although the way to design their platforms are well known the reality is that there are new issues on the table, the technology of the blockchain is accompanied by new members in the game of investment in the web to put a simple example we have smart contracts, programs designed to protect exchanges of assets and which are responsible for safeguarding hundreds of cryptocurrencies with a high value of money
To design their smart contracts, the new blockchain companies need tools that help them generate them, design them in a better way and likewise with their platforms within the blockchain this is where buddy comes in with their experiences and proven tools to make this work faster, easier and safer, with buddy developers can count on a platform that will help create and test their ideas


To better understand the subject we are going to make an example, where we want to form a shipping company that works under the technology of the blockchain


If we want to make a shipping company worldwide, that not only accept dollars, but also payments in cryptocurrencies, that the service can be used globally and with a high standard security, we will use the blockchain
Within this idea the first thing that comes to mind is to create a group of people who design our platform and our specific blockchain for our company, so we choose the best within the group and we make a scheme of what our platform should be, where the client can register, pay, track their product and have information about our offices, among other things
After designing our platform, our specialists generate a series of tasks in block, in this part we will give a specific work to each part of the group, if we have programmers they will take care of the database of all the information, if we have designers of the website they are responsible for that task, and so each group works on what they do best
After seeing how much work we have ahead of us, it is logical to think that we need external help, we need to delegate work that takes time and that delays the project, an example of that type of work is to create a database for clients, surely someone else has a made that suits us, so if we go to the safe buddy platform in your area called Automation Market we will get what we are looking for


Buddy automation market:

Buddy has more than 80 carefully designed automation actions that help users develop and deploy software. The actions are organized in pipes, creating, testing and implementing just a few clicks, even when it comes to complex applications and workflows in multiple clouds.
To further expand accessibility, the platform is open to third-party developers, who can deliver their own actions within the Buddy ecosystem and use them in their own development automation pipelines.
As with Android apps on Google Play, everyone can submit their own Buddy DevOps Marketplace stock, free or paid. Buddy itself provides more than 80 integrated actions)

more information on the white paper of Buddy
In short, buddy has a market for developers, where the two parts of the coin can be found
Since we are creating our platform for the shipping company, we go to the buddy platform and look for the necessary tools to streamline the creation process, some action (application or program already designed for a specific task) can surely help us, if our developers want to choose to buy a database already made and that fits our needs here can do it, you can also generate tasks for external staff to make them and so focus on other important or relevant parts of our project
Equally buddy has proven tools to help reduce the times in the creation of projects like ours
The important thing to note is that buddy and its technology is available in the blockchain so all the available tools are 100% compatible with this technology


And if we hire external people does not endanger the security of our project?


To carry out tasks in your buddy platform creates two types of GRID (automation network) which may be public or private, thus ensuring the security of the projects, depending on the type of work we need to develop we can choose any of the options
If our project needs an "action" to execute a job with the customer's data we can make this tool under a public GRID, and at the time of placing it under test in an environment based on the blockchain we can do it under a private GRID and thus protect the draft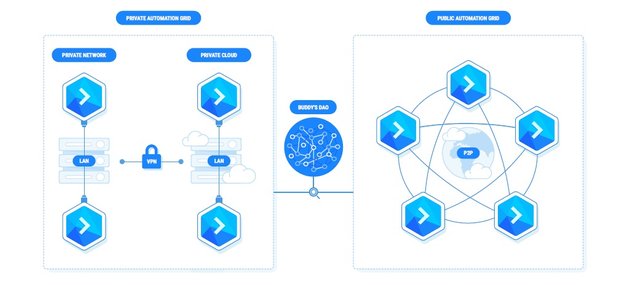 To facilitate this type of work together the open source lines remain in the Buddy's Cloud and so can be designed and programmed from anywhere in the world, giving the facility to do remote work without any problems
This is great, if I need someone who is in another continent for my project I can easily integrate it
Test possibilities in Buddy


After we have developed our platform for the blockchain, we will need to test in a real environment and thus be sure of the functionality of our network, in addition trial and error tests are fundamental to correct possible failures before placing the public a platform
Buddy has functional tools for this job
Blockchain-as-a-Service distributed:
Buddy allows Blockchain developers to be more productive by allowing them to focus on building exactly what they need, be it an application financial plan, supply chain tracking, an ICO, document notarization, decentralized authentication, or more.
A user can create a new Blockchain of any type compatible with a single click it is possible to implement unlimited Blockchain nodes by Buddy
This creates the perfect test environment for our platform and thus runs the system in a 100% reliable test and safeguards the integrity of our project


The BUD token generates the economy on the buddy platform
BUD is a utility token based on Ethereum (ERC20). Create a decentralized economy driven by the community in Buddy, the development automation application platform made by developers for developers.
So when using the different platform tools in our project or generating tasks to help shorten the working time we can access this platform and cancel services with the BUD TOKEN can also be generated by offering functional applications for other projects by developers
Encompassing the theme: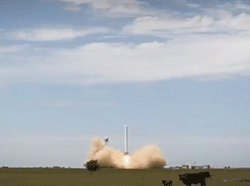 the takeoff of applications in the blockchain thanks to Buddy


Currently, thousands of projects are growing under blockchain technology, a network that expands exponentially and millions of dollars at stake in a thriving economy
When born under new technology many lack a good guide or platform to accompany the project, on the other hand, good developers are trying to enter the blockchain market, but we need a space where we are all together, a space with all the tools to create a functional and high performance ecosystem
Buddy helps to be this reality, providing functional tools already tested on the ordinary web, now with its experience in the market it offers service so that the blockchain generates its projects in a more secure way, it also generates a new culture of programming that is necessary for the expansion of the blockchain
Buddy will become the home of thousands of developers that will promote the creation of applications for the blockchain and will guide thousands of projects in its growth in this type of platform
For more information watch this review: