In The Blink Of An Eye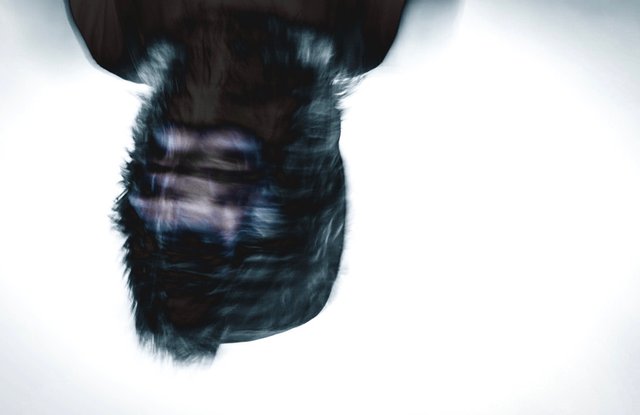 I didn't plan on writing an article today. My plan was to walk up to the top of the hill with my wife to see what this valley looks like from up there. On our way back down we would've stopped for a cup of coffee before returning to our stay and do a whole bunch of nothing—typical Sunday, that was the plan. I didn't plan on this opening paragraph reading the way it just did either. #life has an undeniable way of proving its already written itself before you reach for a keyboard.
I have a saying I like to tell anyone who's listening, the timing has to be right but it goes like this, "the path's already been paved, all we have to do is open the door and walk it." That one requires timing. Another one goes like this, "plan is a funny wOrd." The first message I read this morning was on discord from one of my buddies back home in LA, I didn't plan on that—I sure am glad I got him going on discord before we left California. For the sake of keeping his identity private, we'll call him 'Chad.' The coffee hadn't even finished brewing yet when I got the message. Chad told me he lost his right arm, broke his leg in a few places, broke a bunch of ribs, and punctured a lung. Here, I'll just show you—this is what I woke up to this morning: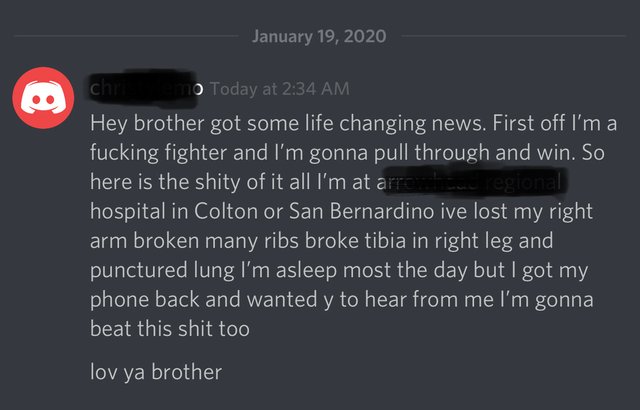 That's the message I woke up to—a surreal dose of reality. Chad is 40 years young, he works for a freeway landscaping company and was working alongside a busy freeway in Southern California a little over a week ago. That's what he does to support himself, his wife, and his two sons. He's been in ICU for 10 days now, since the time of the incident, he just got his phone back today and shot me that message.
He operates an industrial wood chipping machine used to spread mulch at rapid quantities per second in comparison to your typical wood chipper—this one is far from typical. Just to transport the thing requires its own semi-truck engine and it's equipped with its own high-voltage power source. I looked online and this is the closest comparison I could find.
I was reminded this morning how quickly life can change. For about three hours, I didn't know what happened, all I had was that message. He finally called me on discord. He told me he opened the doors of the unit, something he's done countless times in the past, which is supposed to de-energize the machine automatically—this time it didn't. He planned on conducting a routine inspection of the system's hydraulics, fuel levels, etc and, when the machine didn't disengage, he turned the key to shut the machine down manually. That's when the augur of the machine grabbed ahold of the hood on his sweatshirt and yanked him off his feet, lifting him approximately six feet in the air, pulling him toward the saws and rotating gears that turn trees into mulch near instantly.
After a terrifying fight which cost him his right arm to be severed at the shoulder, a broken leg amongst other broken bones and, enough damage to his face that he's already began plastic surgery, he managed to pause the machine for a fraction of a second with his remaining arm—miracle. In that split second, he narrowly escaped the rotating gears and fell to the ground. He said he was screaming as loud as he could for help but with the noise from the machine and the sound of passing freeway traffic, his co-workers couldn't hear him. It wasn't until he attempted to crawl toward them for safety he got their attention.
A helicopter ride and multiple surgeries later, while currently receiving around the clock medical attention, he was able to tell me the story in his current sedated state the best he could. I didn't plan on talking to Chad today nor did I plan on telling you about our conversation.
The majority of my articles come with a side of humor—my idea of humor anyway. Lately I've been sharing our travel adventures with you. I definitely like to switch up my content but not like this, I had a tough time deciding whether or not I wanted to tell you about this one. I was in the shower when I decided I'd write it, my idea was to emphasize how quickly everything you think you have can be altered and that the wOrd 'plan' is just a wOrd—I'm guilty of taking tomorrow for granted too. Instances like this really bring me back down to earth and suddenly the things that were or are bothering me go away because, unlike Chad, I have both of my arms. Something as ridiculous as being irritated about my GoPro not functioning properly is actually something I should be embarrassed to admit.
I don't mean to be preachy, I'm just speaking from my own perspective. I was dealt a heavy dose of reality today and wanted to use this example to remind you we're nothing more than a finite group of atoms that will be forever forgotten in about 100 years, don't take what you have for granted. The saying about today is a gift isn't just a saying. Next time I get pissed off at the mailman for delivering an IRS notice, I'll try to be thankful I have two hands to reach for it. Suddenly getting mud on my shoes or the lady who cut in front of me in line isn't worth mentioning.
I love Chad. He and I have been really good friends for about 25 years now and do you want to know what I told him? I told him I'm glad he had two arms that day and the machine only got one of them and that I'm glad he's here to tell me about his near catastrophe. I told him I'm glad I didn't hear from someone else he lost the fight with that machine and I would be regrettably missing his memorial because I'm on the other side of the Atlantic. The amount of damage done to his body shows the sheer power of that machine as it crumbled him up like a tree preparing to spit him out into mulch. I told him I'm happy he's able to tell me his horrific #story. Today has been an earnest day.
Appreciating what we have and thinking less about the things that bother us is a challenge, life has a funny way of making the two opposites seem equal in comparison. The proceeds from this article, as well as the proceeds from my two active articles will go directly to Chad. I know he doesn't have a Bitcoin wallet so I'll probably end up exchanging the steem through blocktrades into my own wallet which I'll then sell to PayPal. I'm sure he has a PayPal wallet—I'll figure something out.
I love you brother Chad, sorry that happened to you man, and I'm sorry you're reading this right now from a hospital gurney on discord. We'll be back in the states in about a year brother, I can't wait to see you again—we got some serious left-handed games of chess to play! Give our #love to 'Nancy,' you're lucky to have her, and please give the little ones some knuckles for me—I'll talk to you soon homie and I hope you don't mind I did this.
:update: I just signed off discord with Chad (he's happy I wrote this). After spending two weeks in ICU, he's being transferred to a specialty treatment facility in Southern California that's more familiar with and better equipped to address the severity of his injuries. Thank you all for your kind words, donations, and prayers, he's in surprisingly good spirits at the moment! Also, I was mistaken with the machine I pictured above, the machine he got tangled up with is a Peterson BT90.