People Photography Of Rome, Italy - A Little Bit Of Everything And A Couple Of Weird Ones
I've mentioned before how random photos of people, both willing participants and unsuspecting pedestrians, add personality to even the most iconic scenery—this article is an example of that. The pictures you're about to see were captured during the recent Christmas holiday in Rome, a city famous for it's picturesque, iconic structures and known for tourism. Add Christmas and New Years to the party and the amount of people in the streets on any given day is about 10X the amount you'd encounter during the rest of the year.
After this, I have one remaining article to share with you from our 30 day stay in Rome, between this one and that one, my phone is so heavy with pictures, I can hardly hold it my pocket. In this first group are seven pictures of various people who make a living by providing services whether it's roasting chestnuts (which are delicious by the way), embroidering aprons that I know people like @lizelle, @farm-mom, @viking-ventures, @anggreklestari and a whole bunch of others would love to get their hands on, to florists, horse and buggy transportation and, last but not least, entertainers.
The cover image is a sand sculptor who's no Daniel Doyle but iheart dogs and iheart art, "guilty," so he made the cover image. I won't take these types of photos without tipping the individual, whether it's a Pound, Euro, etc but sometimes I don't always have that much change in my pocket and I may only have 50p or 90p or something—if I don't have anything on me to donate, I won't take the picture. The last guy in this first series, a Charlie Chaplain impersonator, I didn't have a whole Euro on me, I had like 75p (about $0.90 USD) I think. Before I snapped the picture, I tossed what I had in his tip bucket to which he bent down, looked at, and frowned at me. Before he posed for the picture, he turned around, showed me his azz one time by bending over and flipped his coat tails at me—I wasn't quick enough for that shot. We both got a good laugh out of it.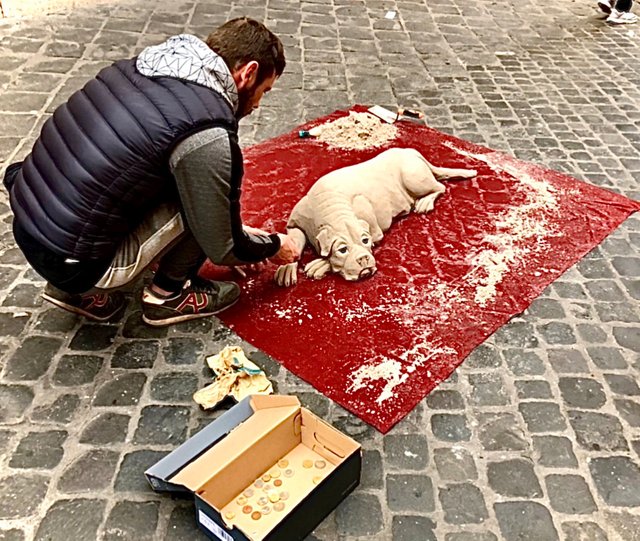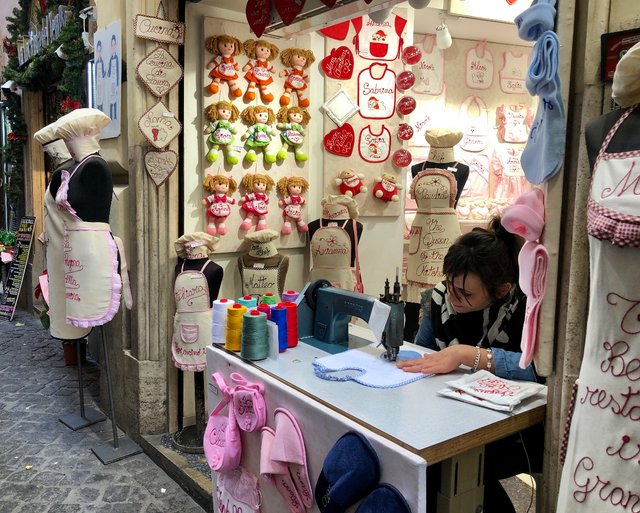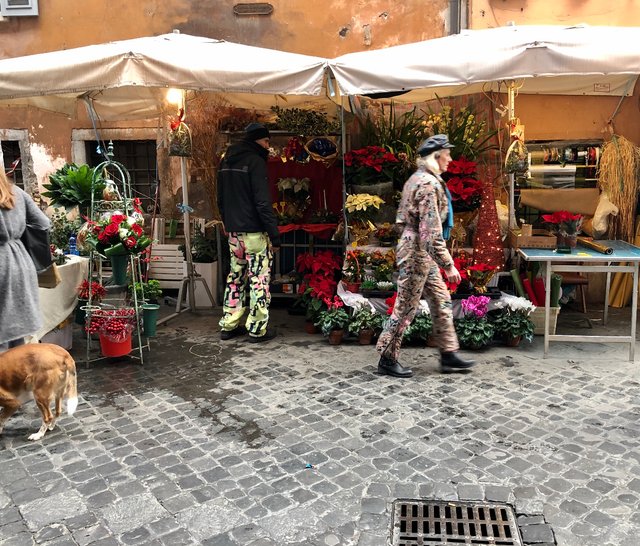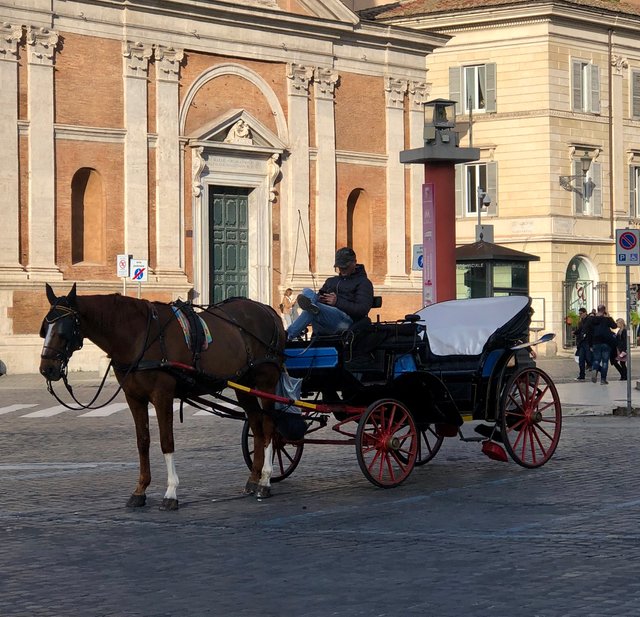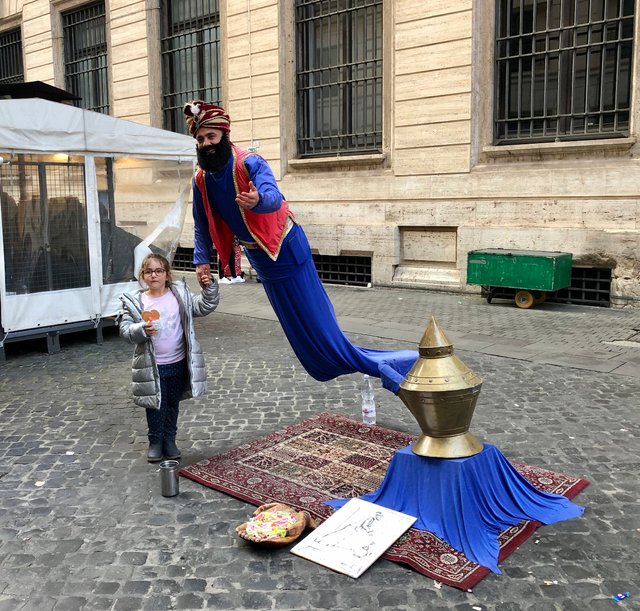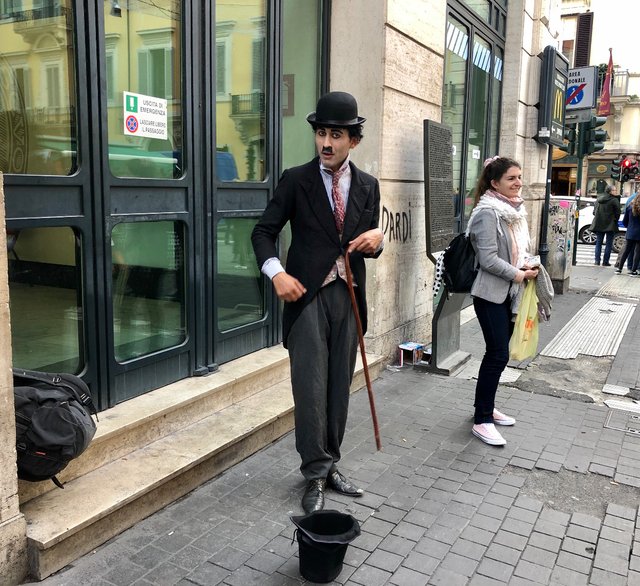 The guy in the genie lamp is kind of like this song minus the singing and the music. Minus the blonde hair, too, I guess and the hips, he doesn't have blonde hair at all actually, in fact, he has a beard and he's performing on a cobblestone road instead of a beach. Come to think of it, 🤔 he's nothing like that song at all, forget I said that. This paragraph never should've made the article.
The following series is 12 photos of the many buskers who make a living by performing music day in, day out, in and around Rome, Italy—it's nice. It seemed like everywhere we went, from bridge crossings to outside the restaurants while enjoying a meal, someone is singing, playing guitar or both, playing a slide guitar, a stand up bass, harp, etc. Their backdrops are historical as you'll see in a few of these and the addition of live music makes it even more memorable. The last guy was playing guitar outside Pantheon while covering a John Lennon song I'm sure you've heard, Imagine—arguably the best song ever written.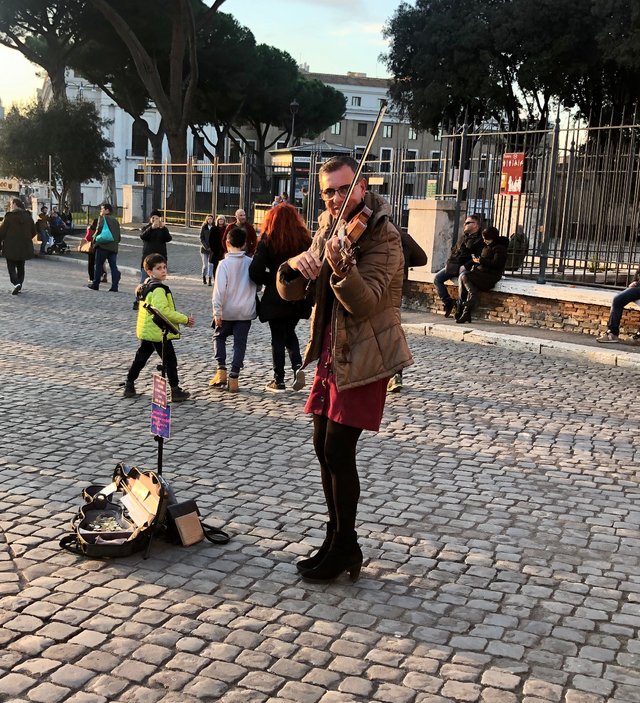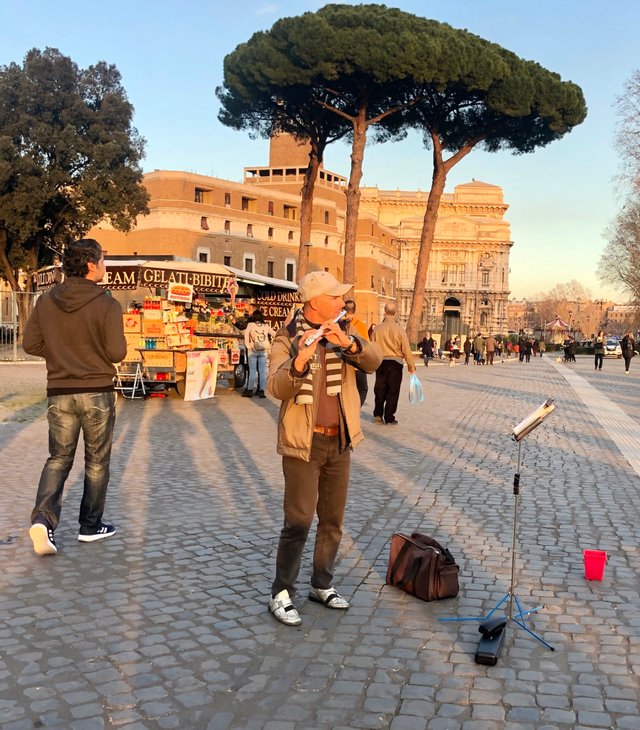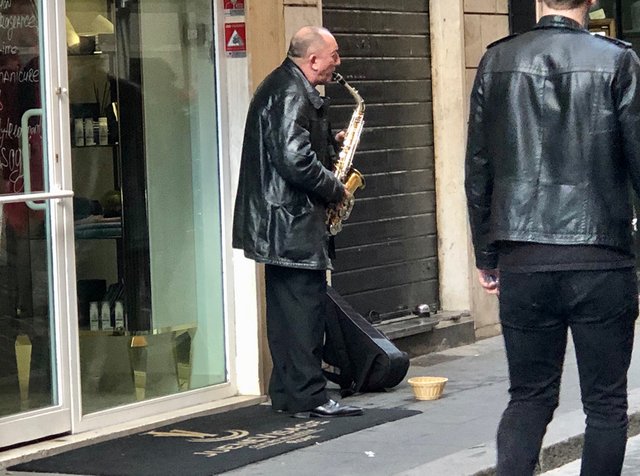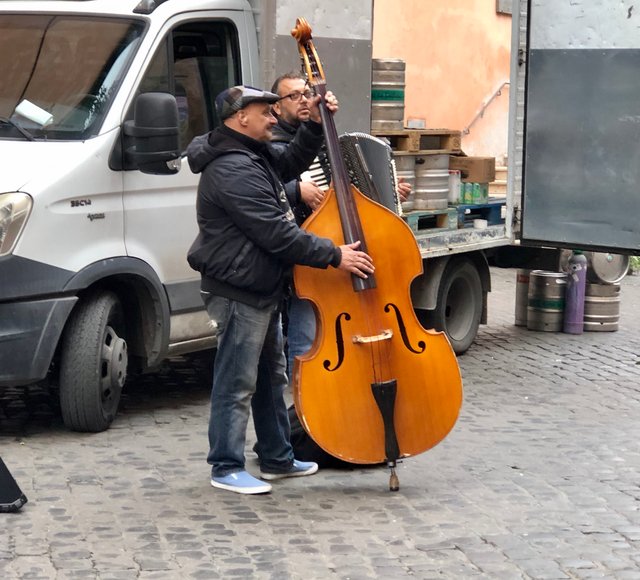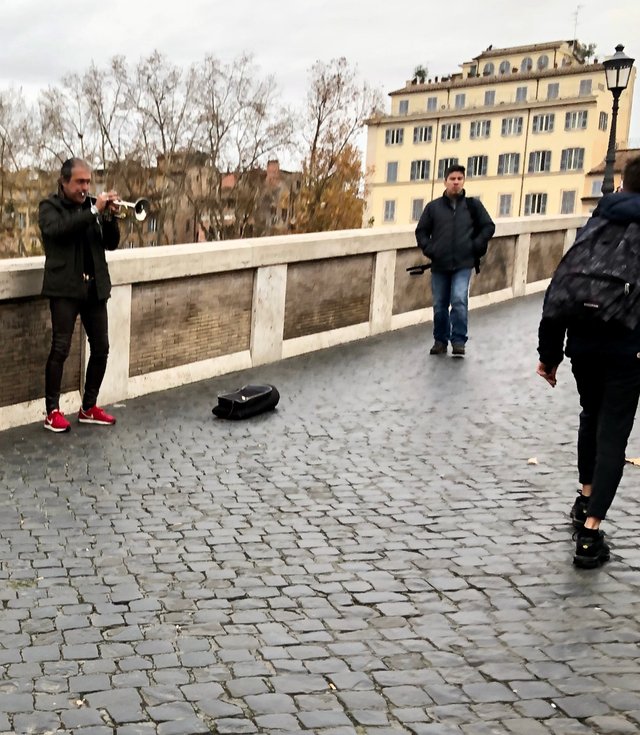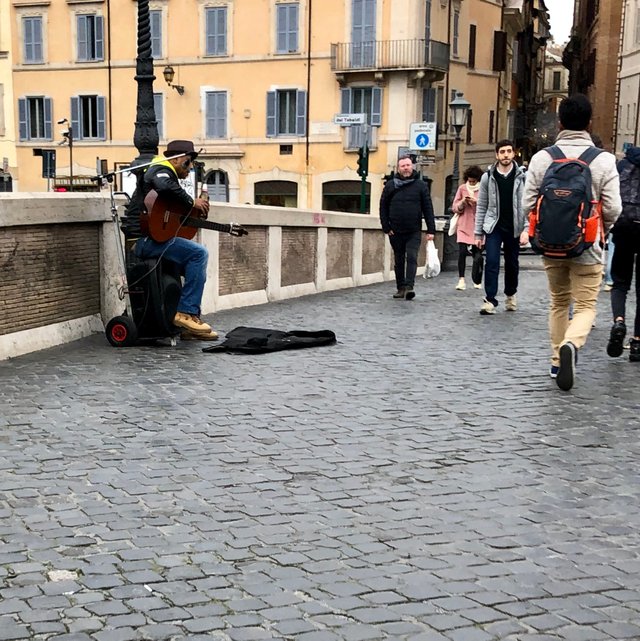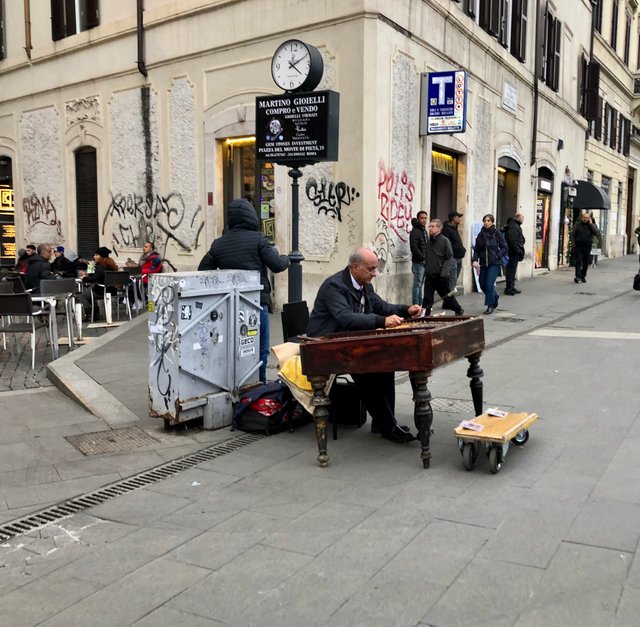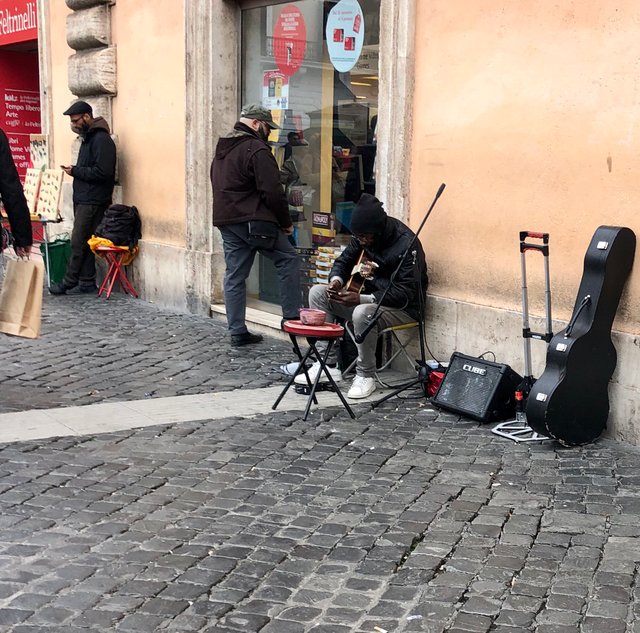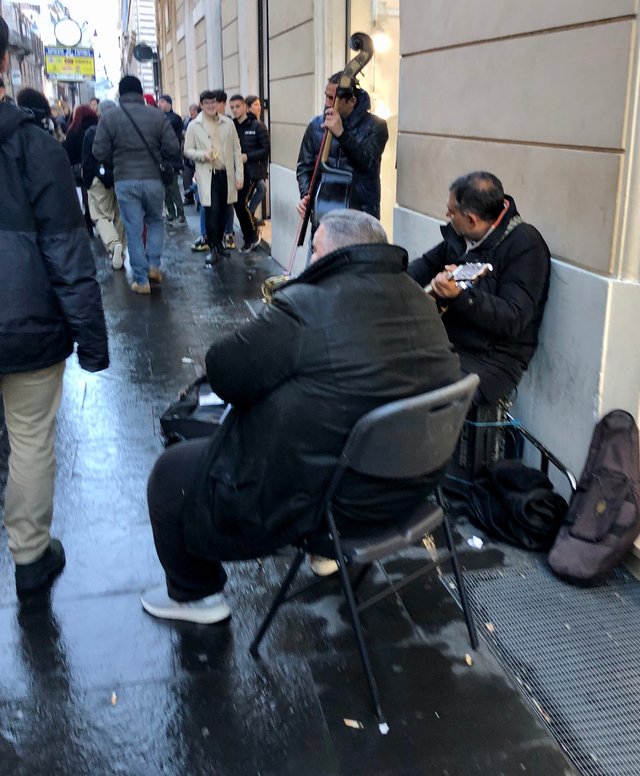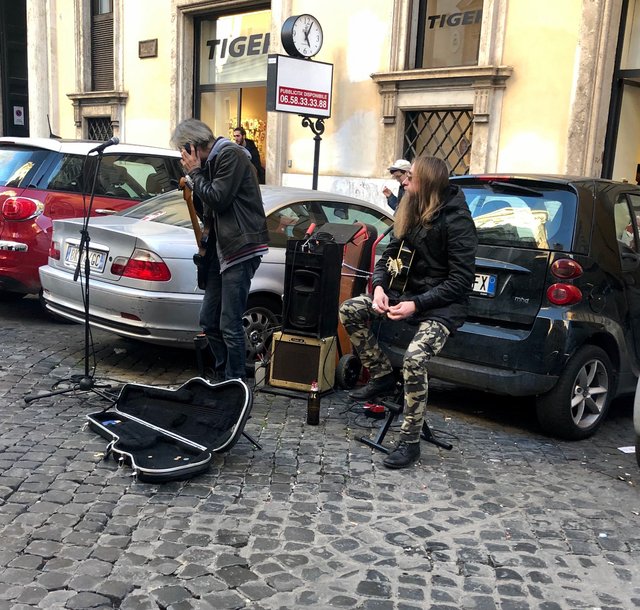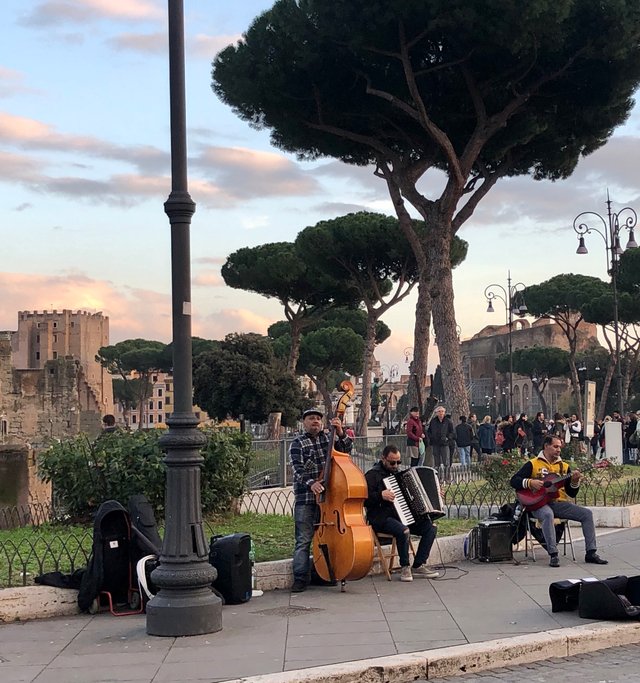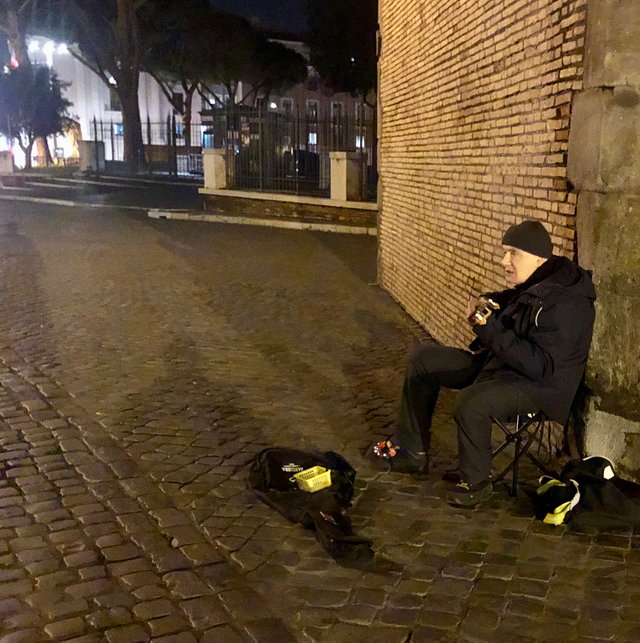 This next group of five photos are of people selling collectibles in Rome beginning with two artists who use spray paint, sponges, and plastering tools to create gorgeous works of art—if we had a wall to call our own, I would've loved to get one. The third guy makes figurine type, ornament figures out of dried palm leaves and the last two are selling toys, wood carvings, dinnerware, and similar items.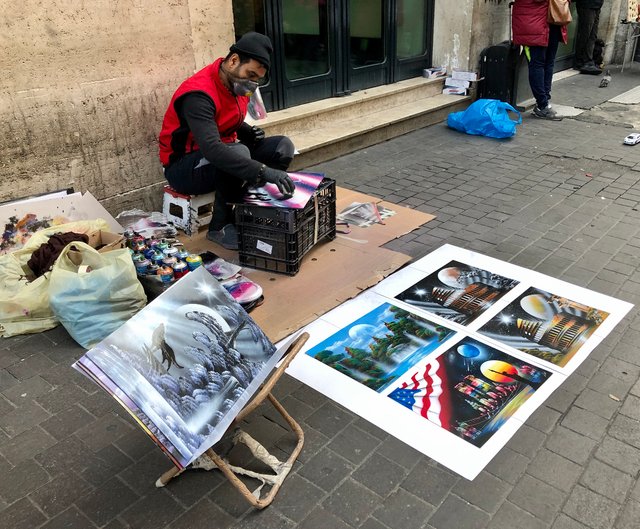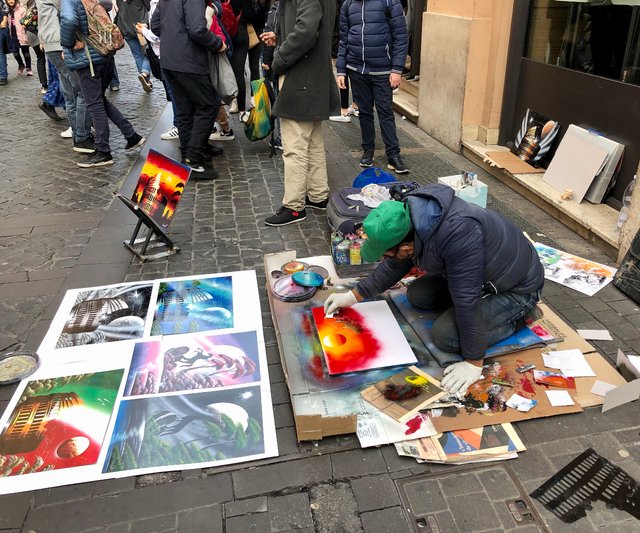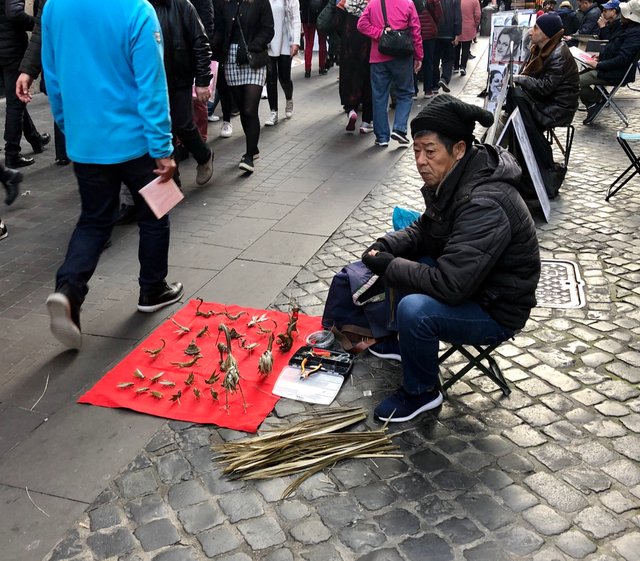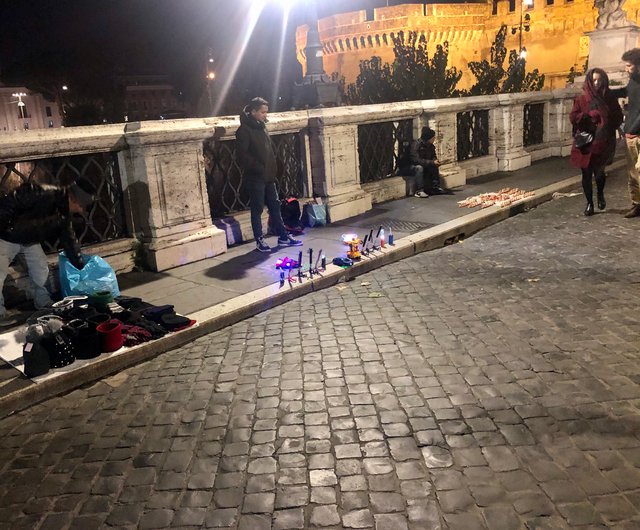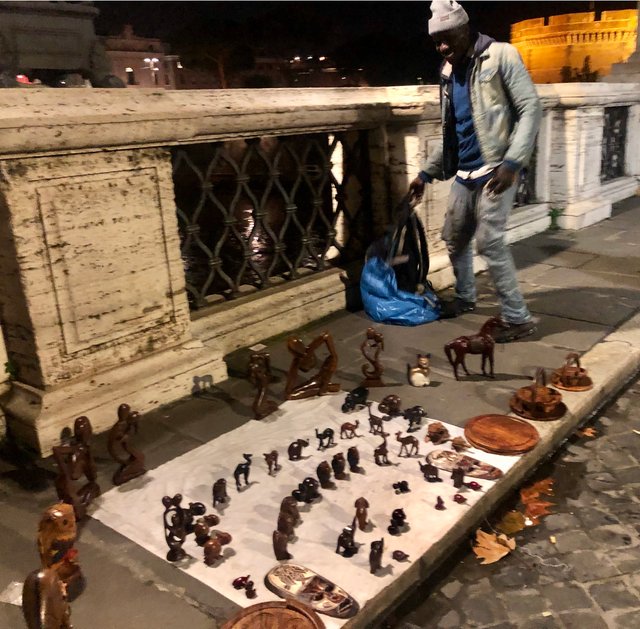 These next two are of the heavily armed Italian military strategically placed at what seems like every street corner in Rome. It feels as though you're under constant surveillance and they're intimidating with their finger on the trigger at all times. Their personal firearms remain holstered but their assault rifles are always chin high and we never saw a soldier with a relaxed trigger finger. I know they're trained professionals but it was intimidating none the less.
I asked one of the cabbies what it was all about and we were told two years ago, after several years of protesting about feeling unsafe on their city streets, the entire city's work force went on strike and, in his words, "demanded the military personnel get out from behind their desks and protect the streets of Rome." After a short strike which shut down all transportation, public services, and businesses, the Italian government responded by placing around the clock military protection in pairs all around the city—they've been in place ever since. Although I only saw it happen once, the soldiers were talking (with their finger on the trigger) to a pedestrian and assisting her with what appeared to be directions.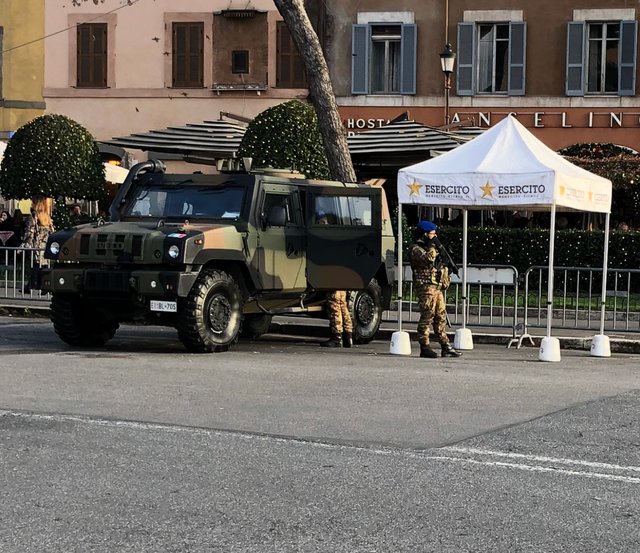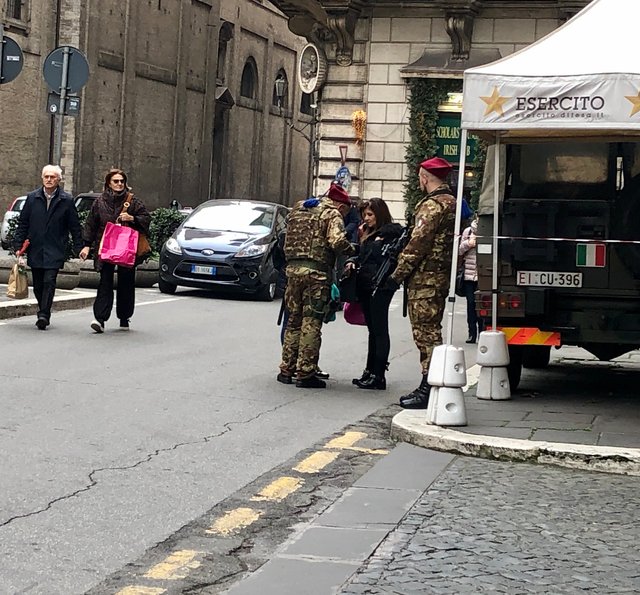 The first of these next three photos was taken on Christmas Eve near Spanish Steps, located directly in the center of Rome. The amount of people getting in their last minute Christmas shopping was shoulder to shoulder. The second picture is one I showed you on Christmas Day, it's how we woke up on Christmas—five guys dressed as Santa Clause with classical instruments playing classic Christmas jingles. Shortly after they passed, the street closed down as a Christmas Day marathon began. @plantstoplanks, we didn't stick around to see who was bringing up the rear but I know that isn't you in the front. You were probably one of the runner's in the middle forced to dodge those two tourists playing frogger to avoid colliding with you as they narrowly crossed the street—nothin like a good game of chicken on Christmas.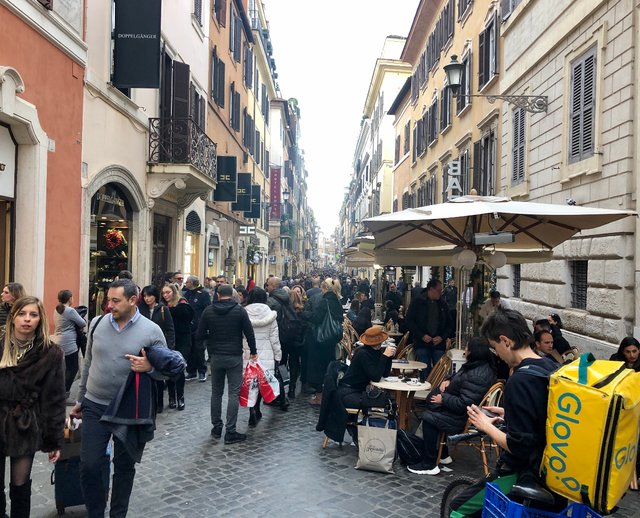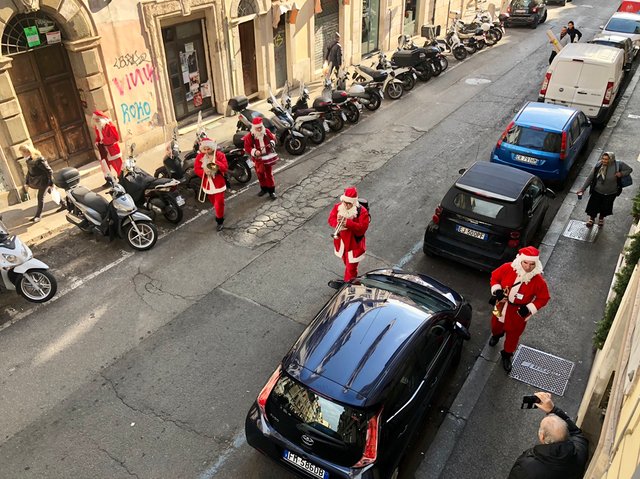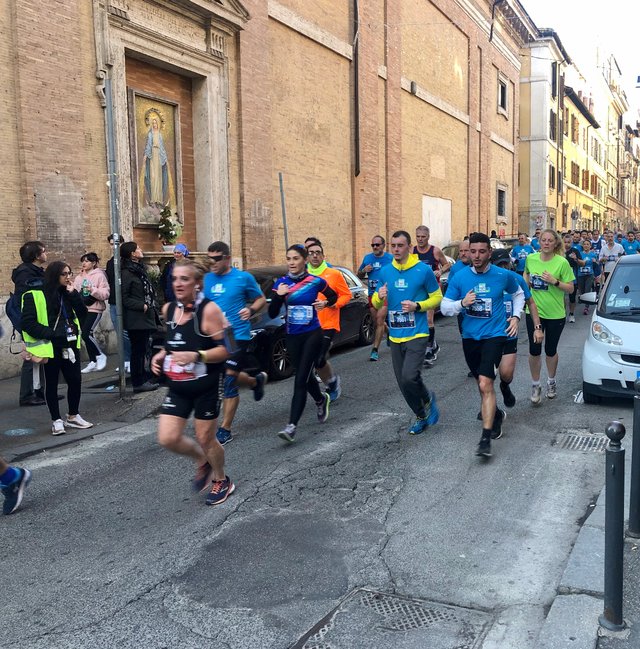 Three more—the first two are, well, I have no idea what the f..first two are and the last one is self explanatory. The stunning @puravidaville and I were on our way back to the stay from a cooking class she forced on me we enjoyed taking together. As we crossed the bridge at Ponte Sant'Angelo, we found ourselves in the middle of hundreds of people watching a group of probably 30 or 40 people all dressed in black, long-draping robes, herding about a dozen other people, also dressed in back robes, however, the ones being herded wore sequenced veils to hide their face.
With more than 900 churches lining the streets of Rome, herding the group to the front doors of one didn't take long. We watched as the group with their faces covered stood still in front of this monument. We stuck around a few minutes and, during that time, the others continued twirling their black flags around while circling the masked group and chanted sounds at random as loud as they could. I'm not sure what it was, if you know, do tell—to a couple of foreigners such as Pura and I, we didn't know what to attribute it to other than some ritualistic ish.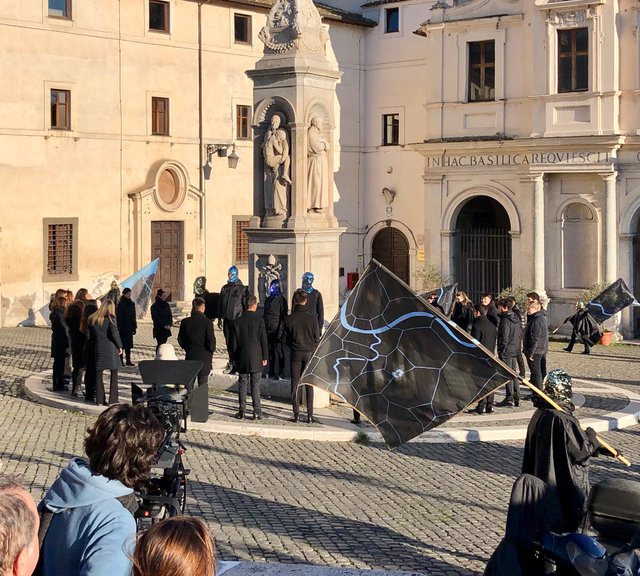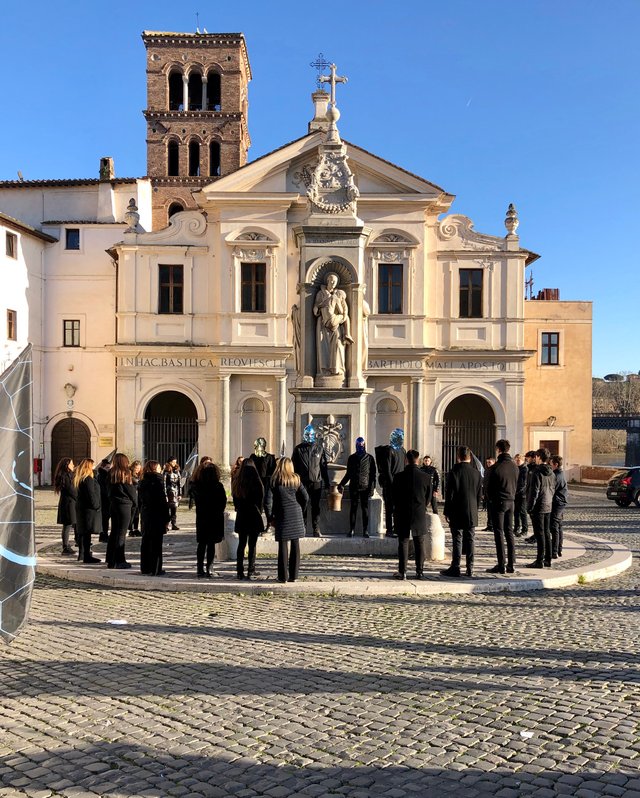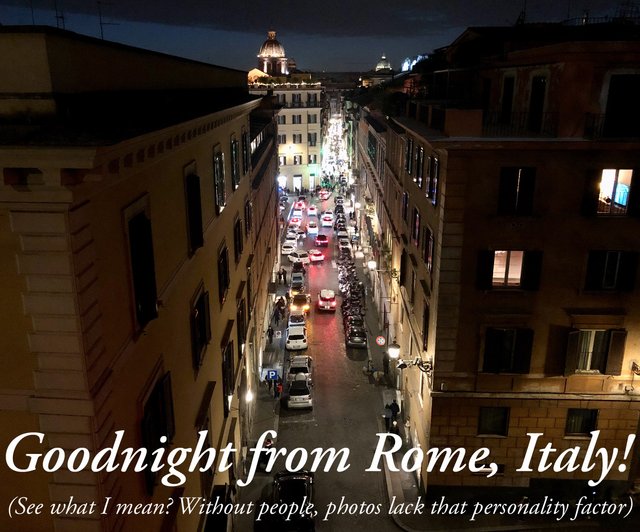 Sunday • Wednesday • Thursday • Friday