Splinterlands CCG - My Favorite Untamed Splinter
Ready to play Splinterlands? Sign up Here!
Splinterlands (aka Steem Monsters) is an online Collectible Card Game running on the STEEM blockchain and with some Tron blockchain functionality. This is the decentralized app (dApp) game that I play on a daily basis. It's such a fun game! There are constant improvements and some of the upcoming features are truly mind blowing. If that wasn't good enough there are several ways to earn money playing Splinterlands!
I've got a new video for you today that was inspired by a challenge posted by @simplymike. I'd like to invite @clove71 and @rentmoney to participate! You can view that challenge here: https://steempeak.com/steemmonsters/@simplymike/untamed-challenge-2-show-off-your-favorite-untamed-splinter-and-win
In this video I give a brief introduction to Splinterlands and then I discuss which "Splinter" (magic type) I like best from the new Untamed edition cards that were recently released.
Spoiler Alert! I prefer the Death splinter cards mainly because they compliment my existing Beta edition Death cards. They really enhance my strategy. To get the full details, please watch the video below:
For your reference, I've included a screenshot of the new Death splinter cards from the Untamed edition below: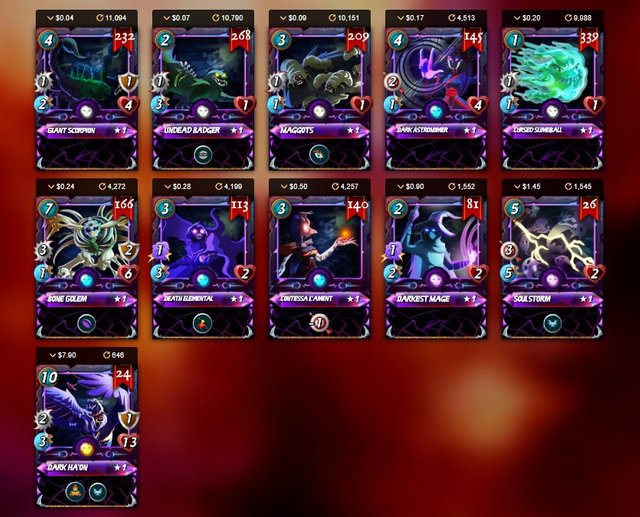 So what are you waiting for? Enter the Splinterlands and start battling it out and earning some extra crypto-cash along the way!
Ready to play Splinterlands? Sign up Here!
Connect
If you're interested in connecting with me elsewhere:
My Website:
www.crypto-spore.com
Steemit:
Steemit.com/@crypto-spore
Twitter:
www.twitter.com/Crypto_Spore
YouTube:
www.youtube.com/channel/UCJndBuZ3aoAjqDDzW_IbJ8Q